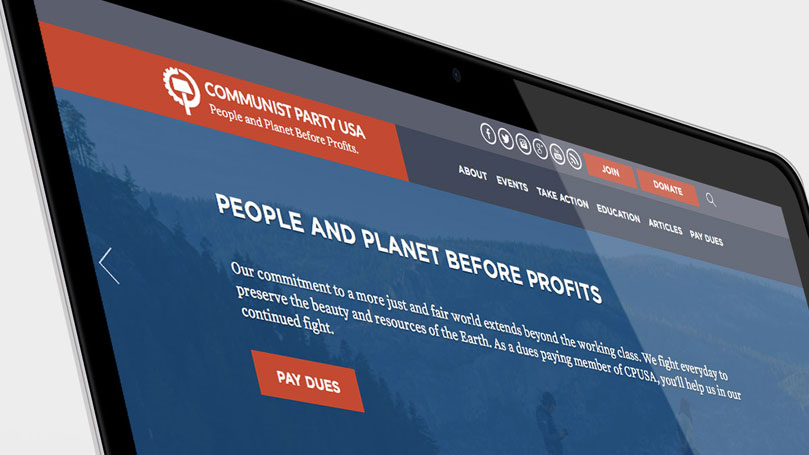 Yes, you've arrived at the right place. Welcome to the brand-new CPUSA.org – stick around and check out all the new features!
In 2014, CPUSA began talks about redesigning the existing CPUSA.org web property. We had outgrown our old site and needed something that tied together all of our efforts in an easy-to-use platform for users and contributors alike. Through the tireless work of many of our leaders and members over the last two years, what you see is the result of that monumental effort.
What we discovered during this process was that this was less of a redesign and more of a relaunch. Our new website will combine video, podcasts, education tools, and action items to offer you a new experience while also helping you interact with CPUSA and our members.
And that's exactly what our 21st century revolutionary party of Bill of Rights socialism needs: a platform that will allow us to actively engage in the battle of ideas along with the day-to-day struggles for health care, jobs, relief from student debt and against police violence and murder. That's what you've asked for and that's exactly what you get: the new site is easier to navigate, has a powerful search feature, and is designed to emphasize action, engagement and state of the art communication.
So…what's new?
Enhanced Device Compatibility
CPUSA.org not only looks great on a laptop, but you'll get a great user experience across all of your devices. Utilizing responsive web design, our new site allows for all information to be easily accessible and clear on devices of varying sizes. Fast, efficient, and responsive – just like us.
Homepage Hub
At CPUSA, we have a lot going on, so our homepage represents our current efforts and activities. From upcoming events to Take Action items, you can get caught up quickly on what we've been doing and dive deeper to learn how you can participate.
CPUSA Mailbag
We've placed an emphasis on hearing from you: got a question about our position on gun control? Interested in knowing more about our stance on drug legalization? Need to know how to get involved on a local level? Use our "CPUSA Mailbag" platform to ask us, and read through our past answers to better understand what CPUSA values and believes in.
Take Action
Taking action on big issues on behalf of our working class and people is a top priority. Petitions, calls to action, phone banks on election work, union organizing, and more will be highlighted in our Take Action section.
Connect With Us
Interaction and discussion on social networks will be highlighted on our homepage and throughout the site. Whether it is Facebook, Twitter, or even Instagram, you can join in on the discussions that matter most to our members and you can stay up-to-date on what CPUSA is doing on a national and local level.
Party Voices
Last, but certainly not least, you'll be able to see and exchange ideas with our membership in the new Party Voices department. This area will allow for you to view the activity of local clubs, individuals, and collectives through a variety of media (video, articles, podcasts, speeches, and more).
Fresh Content That's Easy To Find
Our monumental effort to make the CPUSA.org homepage an information hub extends further than just providing you with more content. The new design helps prioritize material that is most important to our users, drawing in the latest People's World articles and upcoming events in an easy-to-navigate scheme. Looking for a particular article or interested in a specific topic? Our enhanced site search will drill down the articles you desire by subject, relevance, and date, delivering the right content using our smart, exhaustive taxonomy structure. Long story short: you'll get what you want, faster. It's that simple.
The relaunch of cpusa.org is a vote of confidence in our future and, therefore, in you. We view it as a socialist property. We encourage you to join with us in the project and take ownership of it. It's success largely depends on you. Your articles, videos, comments, photos, use of the petitions, phone trees and educational materials will be our measure of success. Based on your response so far, there's no way we can lose! Welcome to the new cpusa.org!
Comments