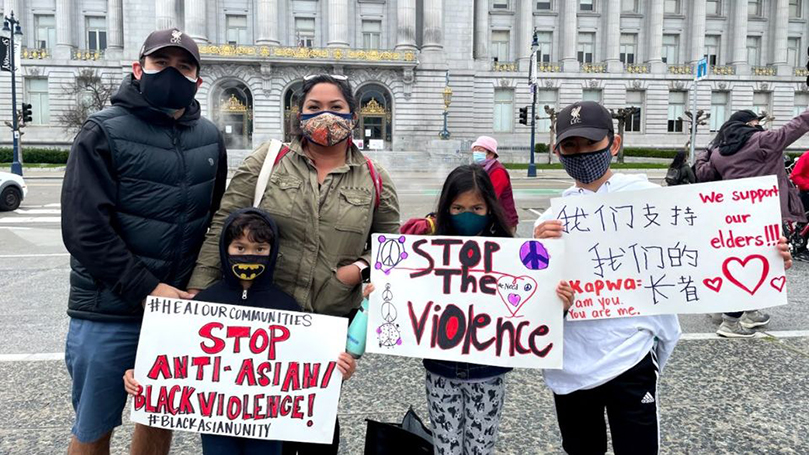 The Communist Party USA stands in solidarity with the families of the eight dead in Georgia, the people of Georgia, and the nation's Asian communities in the wake of the recent attack that occurred in Acworth and Atlanta. The result of one gunman's hate rage is eight dead, of whom six were Asian Americans, seven were women, and two white. A Guatemalan immigrant is hospitalized in critical condition.
This hideous crime,  borne of racism, misogyny, or both, occurred in a country where these attitudes are woven into our nation's fabric.
Hate crimes against Asian Americans are not new, but the number rose by 150% in 2020, when the previous president blamed China for the spread of COVID-19, naming it "Kung flu." No matter that an Asian American may have roots in Japan, Korea, or Thailand — in the minds of racists, they're all the same. Remember Vincent Chin, the Chinese American murdered in 1982 by two white thugs in Highland Park, Michigan, because he was perceived as Japanese and blamed for a declining auto industry.
Misogyny, too, reaches into every corner of our society, from schools and the workplace where 90% of young women are sexually harassed, to the steps of the U.S. Capitol, where U.S. House Representative Ocasio-Cortez was verbally attacked by a so-called colleague.
Hatred is learned, and some of its best teachers are leaders. The anti-China rhetoric from No. 45 spread throughout the media, and as it turns out, words matter. According to a report by Stop AAPI Hate, released the same day as the murders, xenophobic comments about China and Chinese people are directly linked to the rise of hate crimes against all Asian Americans.
In the days and weeks to come we will see and experience the same grieving process and calls for justice that we have become all too familiar with and desensitized to. There will be testimonials, media outcry, and hashtags. There will be people calling for change, rightfully so, and people demanding answers as to how this individual was turned into yet another killer in a rising tide of racist terrorism in this country. This is the same cycle we've seen play out after countless other attacks, with countless other victims, and yet nothing seems to change.
It doesn't have to be this way. In the short term, measures can be taken on at least one front: life-saving gun control legislation. The killer was found with a 9-millimeter handgun purchased the same day he went on a killing spree. How can we weigh the profit of the gun store owner and the weapons manufacturer against the human capital lost on March 16? Literally, and in the deadliest of terms, "profit over people" rules.
In 2020 over 19,000 people were killed due to gun violence, a 25% increase over the previous year. At the minimum, we should tighten background checks, reinstate the ban on military-style assault rifles, and ban large-capacity magazines.
In the longer term, we need to strengthen our mental health "system," invest in violence-interruption programs, and build healthy communities so that everyone plays a meaningful role in society.
But on a deeper level, it is time for all of us to understand that the racist and misogynistic divisions that have been sown in our communities are the direct result of the exploitation we face every single day under the current system.  Racism is a ruling-class ideology and device. So long as we are fighting each other, we cannot fight our real enemies.
The Communist Party calls for all workers to unite, to find our common ground, and to work together to fight back against our oppressors.
We must fight back against racist and misogynistic terrorism, and we must fight back against the exploitative system that foments it. That means recognizing the special forms of racist oppression directed against Asian Americans, Latinos, African Americans, and Native American Indians.
It also means working-class whites have a special responsibility to take up the fight.
Let us embrace and learn from one another and stand together in solidarity.
Our very lives depend on it.
Image: CAA Facebook.

Comments