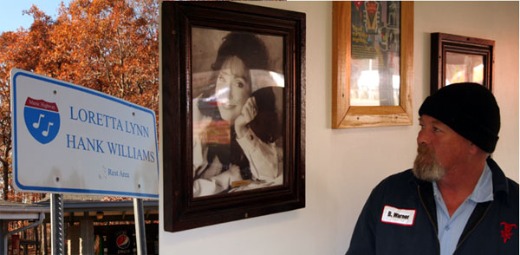 MEMPHIS, Tenn. — A man named B. Warner, who works at the Loretta Lynn/Hank Williams rest stop on Highway 40 in Tennessee, is an important asset for this state. Scott Marshall and I had just left Memphis with a very good feeling about the state when we met him.
Our two political meetings in Memphis went very well, and we're proud to announce that the Memphis club of CPUSA is established. Not that Scott and I did so much. We found a very high caliber of serious minded activists there, and they taught us as much as we taught them, but they had apparently awaited our arrival before putting the club together formally!
All of them were thinking working people. A man who had been born in the North before moving to Memphis talked about how racism had soaked into the South so deeply that workers hardly notice it. Others spoke about the same thing, and the Memphis Commercial Appeal daily newspaper seemed to agree. One of the articles said that the Governor of Tennessee believed that State Representative Curry Todd had chosen his words poorly when he called pregnant undocumented women, "breeding rats!"
Letters to the editor in the newspaper weren't as kind as the governor had been. Anthony Culber of Cordova, Tenn., wrote that Todd was supposedly a Christian, but "Perhaps his minister should remind him that people of faith are called to welcome the stranger, not declare that there is no room at the inn. The lack of hospitality and the cruelty shown to immigrants by racist elected officials like Todd weakens our nation's soul."
Jeff Bloomfield of Germantown wrote, "State Rep Curry Todd has suggested that pregnant immigrants will 'multiply' like 'rats' if they are not asked about their citizenship status. The Nazis had films depicting Jews as rats. I wonder if that was his inspiration?"
Stephen NcLaughlin of Cordova wrote, "From Arlington to Knoxville, Tenn., politicians continue to make national news for their bigoted or racist comments or actions…"
On the front page of the November 13 paper, a City Councilwoman reported to jail for the stupendous crime of skipping motor vehicle inspections. I knew she was African American before I read the article. It's always minority political leaders who get scandalized and charged with petty crimes.
Memphis activists were very concerned about the economic crisis and wanted to get to work on helping the unemployed. Some of them had questions about the elections and about the CPUSA's role. Scott explained that we had stood by the working class, as we always do, whether they win or lose. There is no higher principle.
The discussions were outstanding because of the high levels of intelligence and knowledge of the new comrades. One of them, a first-year college student I believe, could re-state anything that Scott or I said, and he did it so clearly and so succinctly that that we wished we'd put it his way to begin with!
On Nov. 14, we left Memphis in a pretty good mood, and it was a downright pleasure to talk with Mr. Warner at the Loretta Lynn/Hank Williams rest stop on Highway 40. He told us inside details about Loretta Lynn's nearby home and about the days when Jessie James had hidden in the area.
Comments