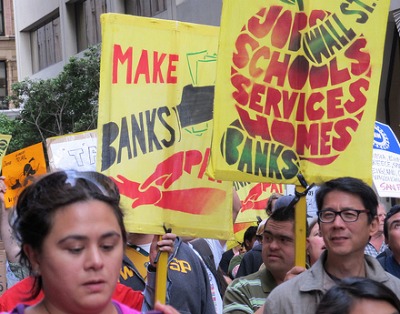 The Great Recession of 2008 is looking more like the Great Depression of the 1930s. The economic crisis of U.S. (and world) capitalism is entering its fourth year.
And no recovery is in sight. To think otherwise is wishful thinking.
In fact, a downward turn, aka, a "double dip," is more likely than a surge upward – not to mention a resumption of sustained and robust economic growth.
Currently, 25 millions workers are looking for full time work and that figure hasn't changes since 2008. So what to do?
We know that the country can't rely on the private sector; it is sitting on over two trillion dollars in investable capital now.
Nor can we rely on a burst of consumer spending; working people are working off accumulated debt.
Thus we have to turn to government to create jobs.
Two weeks ago President Obama introduced the American Jobs Act to a joint session of Congress. It is sure to meet stiff resistance from the Republicans in Congress. A massive outcry of millions of American people insisting on the Act's passage is necessary.
America Wants to Work (AFL-CIO) in alliance with many community and activist organizations including Moveon.org are organizing a week of actions Oct. 10-16 demanding jobs. Thousands of grassroots actions, marches, vigils, delegations and speak-outs are being planned in cities and neighborhoods across the country.
Click here to organize or join local actions.
A national National Teach-in called Students and Youth Rising for Jobs and Economic Justice will take place Oct. 12.
What you can do to mobilize support for the American Jobs Act:
1. Circulate the attached petition among coworkers and neighbors or the online petition being circulated by the AFL-CIO and other organizations.
2. Join with others who are supporting the American Jobs Act and help organize an action during Oct. 10-16.
3. Secure endorsements of the bill from prominent individuals and organizations.
4. Help organize and participate in delegations visiting your congressperson.
5. Explore the possibility of a city council hearing.
6. Organize a jobs committee in your neighborhood or community organization.
Additional resources
Let's get positive and win by Sam Webb
America Wants to Work Action plan
Trumka: In speech, Obama 'goes to the mat' to create jobs
Obama: fair taxes on rich will pay for jobs
Labor launches new drive to back Obama on deficit
President Obama's jobs plan in context
The President's jobs speech – Ben Jealous, president, NAACP
The American Jobs Act: National Council of La Raza
Obama speech to Congressional Black Caucus (Youtube)
CEPR Statement on American Jobs Act and work sharing
Comments