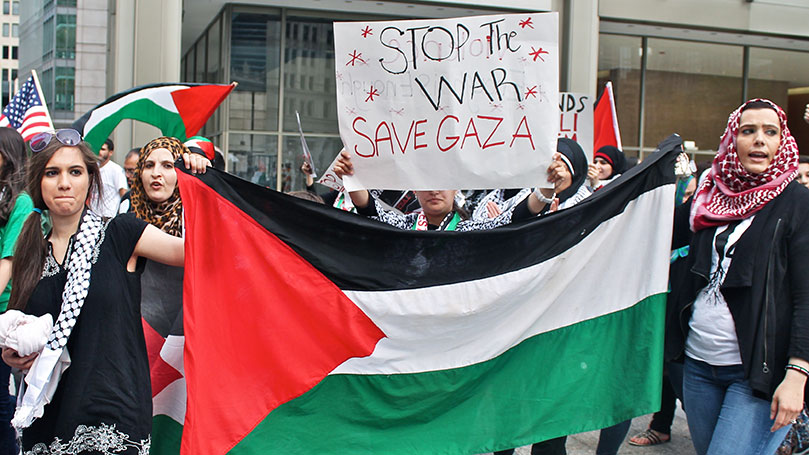 The Communist Party USA unequivocally condemns the continuing violence committed by the Israeli police, occupation and paramilitary forces against the Palestinian people and the desecration of the Al-Aqsa Mosque.
According to the Geneva Conventions, the targeting of civilians and the targeting of religious sites are both war crimes. The horrifying videos showing Israeli forces brutally beating civilian worshippers in the mosque is clear evidence of multiple war crimes being committed by the apartheid Netanyahu regime. The CPUSA condemns these crimes, urges international condemnation and actions, and calls for the serious prosecution of perpetrators.
That these vicious attacks occurred during the spring season of religious celebrations is an abomination.
Indeed, the Netanyahu government is well aware of the sensitivity to Islam and its allies around the Al-Aqsa Mosque. Despite this fact, the fascists in his cabinet are willing to incite such violence with the intention of provoking violent resistance by Palestinians in order to justify further violent suppression of the Palestinian people. Due to the Netanyahu-led "judicial coup," the Israeli public is deeply divided. It is clear that Netanyahu hopes that increased violence between overwhelming Israeli forces and the Palestinian people will both unite Jewish Israeli citizens behind his fascistic government, and also distract them from his efforts to avoid his own criminal prosecution for corruption.
The CPUSA renews its demand that the United States government cut its funding of the Israeli military and police forces. Every year, at least $3.8 billion is sent to Israel's military, which props up the military and security machine that enforces the Netanyahu government's criminal attacks on Palestinian right to self-government and funds the many war crimes committed by Netanyahu's government.
The CPUSA renews its demand that the Biden administration cease politically protecting the Netanyahu regime from condemnation for its attacks on Palestinian nationhood by the UN Security Council and other international bodies; and further, that the U.S. government take positive steps to oppose all forms of oppression against the Palestinian people and support their just demands for statehood.
Rather than funding such crimes, this money would be better spent to help the U.S. working-class and people who continue to go without affordable healthcare, to suffer hunger, and to live with crumbling infrastructure; who are trying to make ends meet under an ever-rising cost of living; and who continue to lack many other human needs.
The CPUSA marches in solidarity with the Palestinian people and all peace-loving people in the region, including progressive-minded Jews and Palestinians in Israel who oppose the anti-democratic actions of their own government.
We march in solidarity with our fraternal parties in the region and support their efforts fighting for liberation, sovereignty, and peace.
Image: Free Palestine demonstration in Chicago by Bob Simpson (CC BY-NC-SA 2.0)
Comments