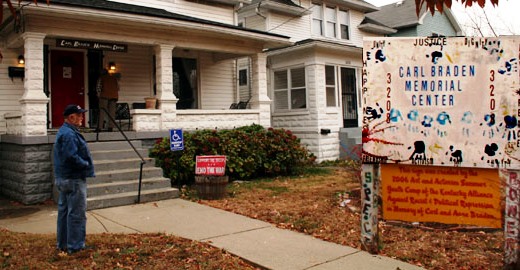 LOUISVILLE, Ky. — Rick and Tanya were the first people Scott Marshall and I met here in Louisville. They had a little time before the afternoon shift, so they showed us around. The Louisville economy relied heavily on gambling, cigarettes and whiskey, Rick said. The Churchill Downs racetrack, Phillip Morris tobacco, and the worldwide center for commercial bourbon are all Louisville. He added that they also make a lot of baseball bats. Scott, who has been here many times, said it's also a railroad and transportation center. Rick agreed, and said the Teamsters are the most important union in Louisville because UPS has a package hub here.
Our guides were pretty proud of Louisville's artistic and cultural offerings. They pointed out the Muhammad Ali Peace Center is here, along with the Carl Braden Center. Scott wanted to see that, because he had known both Carl and Anne Braden back in the days when they were among the best-known civil-rights activists in the world. Carl, Rick told me, was sent to prison on bogus charges. His real crime had been to buy a house in a "white" neighborhood and try to sell it to an African American family!
Scott had some pensive moments outside the center dedicated to his old comrades in the fight for justice. Louisville's big political issues are similar to other cities: racism, especially against immigrants, corruption, and, more than anything else, the jobs crisis. Unemployment here even exceeds the national average, he said. The daily newspaper, the Courier-Journal, backed him up on that. It carried a long, front-page story about Ford autoworkers who had been laid off in July 2009. Most of their unemployment benefits had expired in June, but they did everything possible to stay in their homes. A bunch of them capitulated on November 14, and agreed to ship themselves off to a Chicago Ford plant for jobs with medical insurance. Most Kentuckians, of course, don't even have that option.
Back at the motel, Scott and I e-mailed and called people for tomorrow's meeting. They seemed pretty enthusiastic about joining the Communist Party. They are driving in from surrounding towns. They seem to bear out something that Scotty and I agreed to during our long driving hours across Texas, Arkansas, and Tennessee: People want to join the Communist Party because they see how terrible things are in America right now, and they want to be as effective as possible in making a change.
Comments