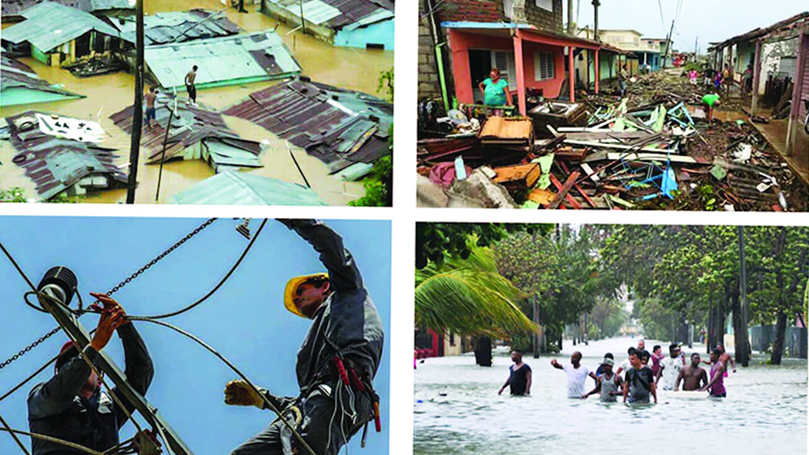 In early September, Hurricane Irma, one of the most powerful and destructive storms on record, recently tore through the Caribbean and then turned up through the Florida Keyes, killing people and causing widespread damage. Most affected were Antigua and Barbuda and the U.S. Virgin Islands, plus Cuba.
In Cuba there were only ten deaths, because of the very efficient methods that the Cuban government and society have developed for thorough evacuation.  But there was extensive damage to infrastructure along the country's northern coast, including small islands and sections of the capital city, Havana.  Agriculture has also been severely damaged.   Rebuilding will be an arduous and expensive process, but all the while, Cuba has not stopped providing its own forms of aid to neighboring countries.
Unfortunately, the Trump administration has chosen this moment to continue restrictions on trade with Cuba under the "Trading with the Enemy Act".  This will make it harder for Cubans to buy the equipment and building materials that they now need to repair schools, hospitals, roads, bridges and other public facilities, as well as people's homes and workplaces.
Rather than considering Cuba, and the Cuban people, as our "enemies", we should now be making an expanded effort to extend our own hand of friendship to them.
We should be giving what material help we can to Cuba, confident in the fact that helping Cuba also helps the other affected countries, because it enables Cuba to keep up its extensive solidarity programs with the poorer countries of the Latin American and Caribbean regions, and beyond.
A number of reputable charitable organizations based in the United States have stepped forward to help in this.  Here are two particularly valuable ones; there are others.
MEDICC (Medical Education Cooperation with Cuba) is an organization of health professionals and activists who have developed strong ties to the renowned Cuban healthcare system.  They are working in cooperation with the Pan American Health Organization (PAHO) and Global Links to assess the damage Irma did to health care and related facilities in Cuba, including hospitals, clinics, maternity homes, senior homes and others, and to help channel international donations to where they are most needed.  It would be especially good if people who are involved in the healthcare field in the United States would take advantage of the offer by MEDICC and PAHO to help at this time.  MEDICC and its partners are licensed by the U.S. government to do this work.
IFCO/Pastors for Peace is a faith based organization that has worked for decades to show solidarity with Cuba and other struggling countries around the world.  Their daring "Friendshipments" are highly appreciated in the island and respected worldwide. Currently they do not have tax exempt status, as the U.S. Treasury Department has revoked it.  They are fighting to restore it, but meanwhile are also continuing to provide help to the Caribbean peoples in the wake of Hurricane Irma.  If you send a donation through them, make sure to check the box in the linked form which specifies that this is how you want your contribution to be used.  Note that they are raising money for all the islands devastated by Hurricane Irma.
Beyond the immediate need for help, we have a responsibility to change the U.S. policies which make it harder for the Cuban people to cope with disasters like Irma.
On September 28, Congressman John Conyers (D-Michigan) and others circulated a letter which asks the Trump administration to waive restrictions on the purchase the supplies it will need for rebuilding after Irma in the United States.  Also signed onto this letter are Congresspersons Rick Crawford (R-Arkansas), Barbara Lee (D-California) and Tom Emmer (R-Minnesota).  We can all ask our Congressional representatives to support this bipartisan initiative, which, as well as helping the Cuban people, will create jobs for many workers in the United States.
You can find out how to contact your congresspersons and senators at the official website of the United States Congress.
Photo: Cuba Venezuela Solidarity Committee
Comments