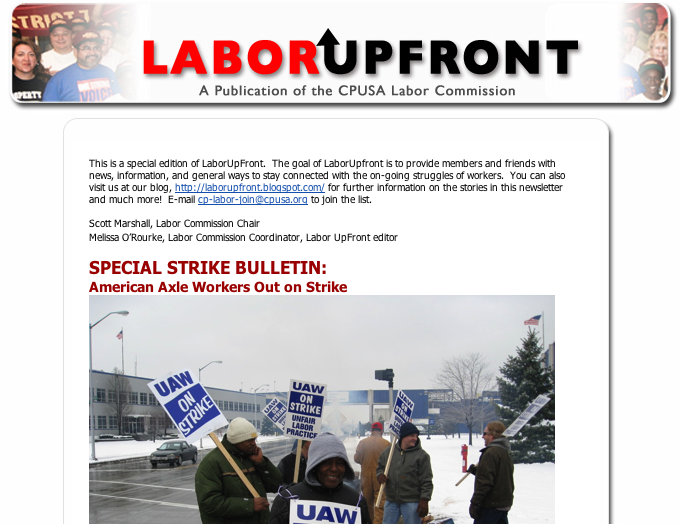 This is
a special edition of LaborUpFront. The
goal of LaborUpfront is to provide members and friends with news,
information, and general ways to stay connected with the on-going
struggles of workers. You can also visit us at our
blog, http://laborupfront.blogspot.com/
for further information on the stories in this newsletter and much
more! E-mail cp-labor-join@cpusa.org to
join the list.

Scott Marshall, Labor Commission Chair
Melissa ORourke, Labor Commission Coordinator, Labor UpFront editor

SPECIAL
STRIKE BULLETIN:
American Axle Workers Out on Strike

By John Rummel

Detroit–The United Auto Workers struck American
Axle &
Manufacturing Holdings Inc at 12:01 a.m. Tuesday when no deal was
reached on a new labor pact. The largest proportion of American Axle
parts are for GMs pickups and SUVs. Affected are more than 3,600
workers in
plants in Michigan and New York.

At American Axles Detroit Manufacturing Complex, sitting on the border
of Detroit and Hamtramck, it was not the best weather to be forced to
walk out in smack into the middle of a February snowstorm. But
workers do what they have to do, weather be damned. That was evident
by the crowded local hall full of people signing up for their picket
line duties. UAW Local 235 Vice President Bill Alford said everybody
is doing their part and many are signing up for multiple shifts.

Alford said the union is charging the company with unfair labor
practices because they have not provided the union with any
information to back up the cuts they are asking workers to take. The
union says the company is demanding wage reductions of up to $14 an hour as well as elimination of future retiree health
care and defined benefit pensions for active
workers.


UAW Local 235 Vice President Bill Alford

We are hard-working, working people,' said Alford. 'Nobody here is a
millionaire except the guy in the big chair. We will be out as long as
it takes and well fight every step of the way.

While Alford said the townsfolk have been great, bringing things like
hot coffee to the picket line, the specialty of Hamtramck is homemade
Polish sausage. Were still holding out for that, Alford said.

The same hospitality cannot be said of the local police. Theyve
forced the workers to put out the barrel fires they were using to
stay warm. I now have to go find propane heaters he said.

To remove your name from our mailing list, please e-mail cp-labor-leave@cpusa.org

We're welcoming questions, comments and stories for our next
newsletter. Send them to us at laborupfront@cpusa.org
or call (773)
446-9920, ext. 212.
Comments