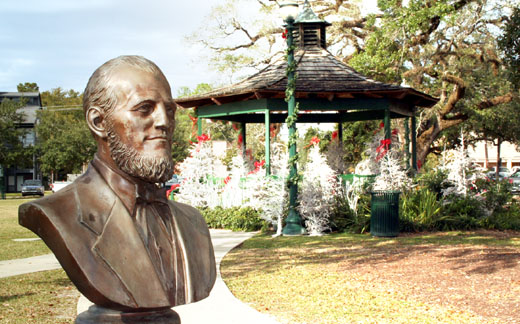 HAMMOND, La. – Scott Marshall and I wound up CPUSA's Southern Organizing Tour in this pretty college town just across Lake Pontchartrain from New Orleans. The 2009 population was 41,000 after a big population boom caused by hurricane Katrina's devastation of the areas south of Tangipahoa Parish. Survivors moved to Hammond and just stayed, a local resident told me.
Future history books may well take note of the student groups forming on the Southeastern Louisiana University campus, because they are not only very active but smart about it, too. We met with them in a coffee shop near the campus. (If you want to know anything about coffee in the South, ask us, because we drank several gallons each as we traversed from Texas to Louisville, then south to Mobile and west again to Texas while talking with Southern activists, mostly in coffee shops.)
As it became more and more obvious that working-class students are facing a major education crisis in Louisiana, our new friends joined in a statewide effort to bring people together. The result was a giant rally in the capital, Baton Rouge. The links between colleges were forged by the tech-savvy students themselves, and it is expected that an even larger fightback is coming.
The Hammond group wisely decided to try to go much further than joining with other students. They want the parents, the civil rights movement, and the unions to join them. They were particularly interested in Scotty's assessment of the growing militancy in the union movement. They also listened carefully as we talked about the developments around the One Nation coalition that formed around the jobs issue this Fall. The joining of the labor movement, with civil rights and peace groups in a coalition is exactly what they had been thinking about.
Working and thinking on their own, they had also figured out that something far worse than tuition increases and college staff cuts is going on as American capitalism desperately tries to right itself after almost capsizing in 2008. None of them thinks that we're going through a temporary adjustment or that "a few bad apples" in Washington are causing the problems. They know it's the system. They know it's the system and they intend, deliberately and thoughtfully, to do something about it.
That's why they were interested in talking to representatives of the Communist Party.
Photo: Reminders of the civil war, slavery and the confederacy are all around the South. Here is a bust of C.E. Cate of Hammond who made shoes for the Confederate Army. In the background is a Cate Square Gazebo. (Jim Lane/PW)
Comments