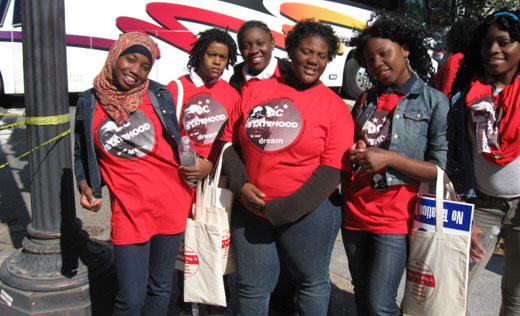 Please join us for tonight's CPUSA teleconference celebrating African American History Month. The topic is "Contemporary Black Women in Popular Culture, 'Real' Culture, and Everything in Between" with teacher/film maker Tokumbo Bodunde.
Date: Tuesday, February 21, Time: 8 pm EST, 7 pm CST, 5 pm PST
Call 605-475-4850 access code 1053538# at the prompt.
Join us for a conversation with Tokumbo Bodunde, who will talk about recent images and stories about black women in the mainstream media in relation to black women's lived realities and material conditions. Check out PeoplesWorld.org and Political Affairs for continued coverage throughout African American History Month. Please pass the word and invite friends to join us on the call.
Photo: From Jobs Not Cuts march in Washington D.C., October 15, 2011 (PW/Margeret Baldridge)
Comments