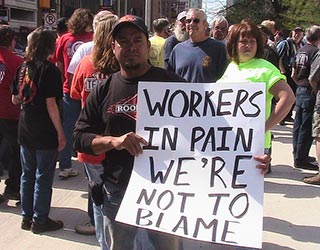 We hope you can join us for a special presentation Tuesday, July 26.
Art Perlo, Chair of the Communist Party Economics Commission, will discuss the current crisis around the federal debt ceiling and how it affects the jobs crisis and the escalating global class war against working people.

JOBS, THE ECONOMY AND DEBT CEILING CRISIS
Feat. Art Perlo, Economic Commission, CPUSA
Tuesday, July 26, 2011
8:00 pm Eastern (GMT -04:00)
This is our first event using multimedia software for the presentation. We encourage you to join us online since this is a multimedia presentation, but you can call in by phone from the U.S. or Canada with or without watching on your computer:
Phone: 408-600-3600
Access code: 660 282 552
NOTE: You may be subject to long distance charges by your carrier.
Join in at our webinar page 10-15 minutes early so you don't miss a thing
Check ahead of time to see if you meet the system requirements
Photo (top): Some rights reserved by aflcio
Comments