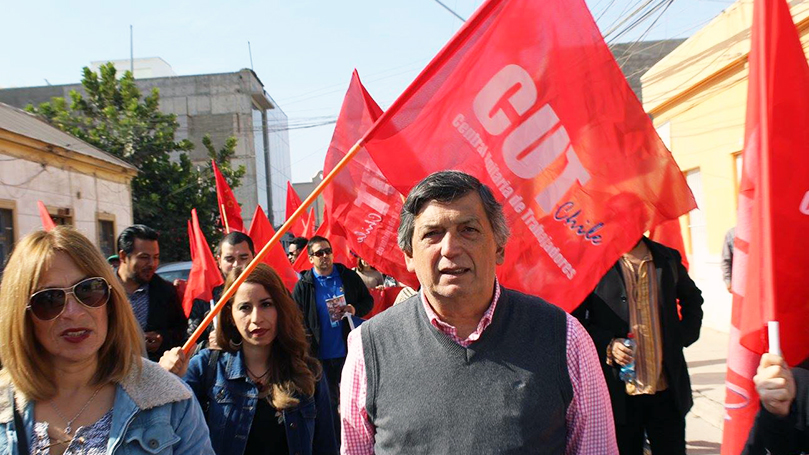 Chile:  Communist leader supports new Ministry of Indigenous Affairs
Lautaro Carmona, the Secretary General of the Communist Party of Chile, who is also a member of the Party's leadership in Congress, has praised the passage of a  new constitutional measure in the lower house of the Chilean Congress which creates a Ministry of Indigenous Communities (Ministerio de Pueblos Indígenas) in Chile.   The measure now awaits approval in the Senate.
The new ministry's mandate will be to help strengthen the rights of the country's indigenous peoples in the economic, legal, social and cultural contexts.  Indigenous Chileans, especially the large Mapuche population, had made advances during the progressive government of Socialist President Salvador Allende Gossens (1970-1973) but were subjected to harsh repression, alienation of lands and a rollback of rights under the military dictatorship installed after the coup d'état of September 11 1973.    There has continued to be friction between indigenous activists and the government since then.
Carmona referred to the accusation that dissident Mapuche leaders are engaged in terrorism, saying "if truck drivers organize, very well; if truck drivers mobilize, that's perfect, it is an expression of democracy. If our Mapuche brothers and sisters do so, it is given a connotation of terrorism.  This is prejudice and an abuse on the part of those of us who now have representative duties.  We will not tire because we think that treatment [of the Mapuche people] should be one of absolute respect, without discrimination of any kind."
Turkey:  Communists say Erdogan is not Qualified to stand up to Trump
The Communist Party of Turkey issued a statement saying that Turkish President Recep Tayyip Erdogan is not the man to stand up to the imperialistic policies of U.S. President Donald Trump.
As tensions between Turkey and the United States have mounted in recent weeks, culminating with the arrest of a U.S. consular official in Istanbul, the communists point out that Erdogan and his AKP party themselves have longstanding ties to imperialism.  The Communist Party statement pointed out the invalidity of the idea held by some that Erdogan is an "anti-imperialist" and that the West is really promoting "democracy" in Turkey.
Instead of preferring either Erdogan or the U.S. and West, say the communists, the Turkish people should chart a course for change that is independent of, and opposed to, both.
Burkina Faso:  30th anniversary of the assassination of Thomas Sankara
The 30th anniversary of the overthrow and murder of the much loved left wing president of Burkina Faso, Thomas Sankara recently took place.
Sankara, himself a military officer, had come to power in a coup in 1983.  But unlike other military men who took power worldwide, Sankara proceeded to reorganize Burkinabé society on a basis that was beneficial to the mass of poor farmers, workers and their families.  He made a special effort to steer clear of indebtedness to, and domination by, powerful Western corporations and governments.  For this reason, and because of his charismatic personality, Sankara was greatly loved and sometimes referred to as "the Che Guevara of Africa".  It was he who changed the name of the country from Upper Volta to Burkina Faso, which means "land of men of integrity".
He was murdered in a military coup carried out by a former comrade in arms, Blaise Compaoré, who ruled Burkina Faso with an iron hand until being driven out of power by a popular uprising in 2014.  Since then, Sankara's family and supporters, strongly supported by the Communist Party of France and other international allies, have been pushing for a thorough investigation of the circumstances of Sankara's death, and for Compaoré to be brought back from exile to stand trial.
Comments