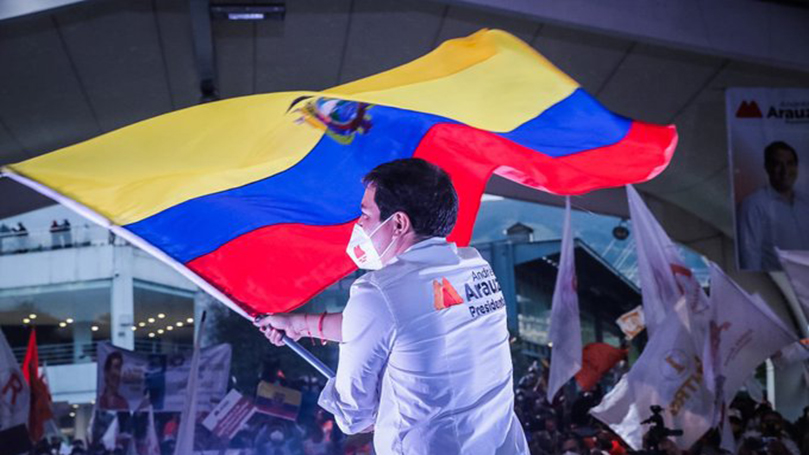 Will the tide turn back in favor of the left in Latin American elections in 2021? In recent years, the "Bolivarian Pink Tide," which, starting with the election of Hugo Chavez as president of Venezuela in 1999, has been ebbing, with right-wing governments winning power from the left in a number of countries. However, there are signs that the fortunes of the Latin American left, including communist parties, are again on the upswing. The reversal of the U.S.-supported coup in Bolivia may indicate a trend. Here are some upcoming elections:
Ecuador has presidential elections on Sunday, April 11, a runoff between the two top-scoring candidates in the original election held on February 7. The Communist Party of Ecuador and other left and working-class groups strongly support Andrés Arauz, who was a member of the cabinet of former left-wing President Rafael Correa and is running as the candidate of UNES, the Union of Hope Party. His opponent is Guillermo Lasso of the CREO-Social Christian Party coalition. Lasso strongly supports neoliberal policies promoted by the International Monetary Fund, and also runs on an anti-abortion platform. Arauz has vowed to dump the International Monetary Fund neoliberal agreement foisted on Ecuador by the outgoing right-wing administration of Lenin Moreno. In the week before the runoff election, Arauz has a small lead over Lasso.
Peru also has elections on April 11. Amid a plethora of right-wing and ultra-right candidates, the support of much of the left, including the country's two main communist parties (the Peruvian Communist Party and the Communist Party of Peru-Red Homeland) is going to Verónica Mendoza of the Together for Peru (Juntos Por el Perú) coalition. Mendoza has run for president of Peru before (in 2016), and received strong support from poor indigenous rural populations. She has the advantage, in that many of the right-wing candidates are accused of corruption, and the disadvantage of being red-baited for her moderate socialist views.
In Chile, the right-wing government of President Sebastian Piñera is super unpopular, so the left has an opening in the November 21 general elections. Daniel Jadue, the communist mayor of Recoleta, a suburb of Santiago, Chile's capital, is showing an advance in very early polls for the presidential election. He got 17.9% in an early March poll, more than any other candidate. There are several other leftists running, as well as a large number of right-wing and centrist candidates.
Elsewhere in the Americas, there is a constitutional referendum in Haiti on April 25, a presidential and legislative election in Haiti on September 19, elections to the Mexican Chamber of Deputies on June 6, a legislative election in Saint Lucia, a legislative election in Argentina on October 24, a presidential and parliamentary election in Nicaragua on November 7, and a presidential and parliamentary election in Honduras on November 28.
Image:  Presidential candidate Andrés Arauz, Union of Hope Party, Twitter.
Comments