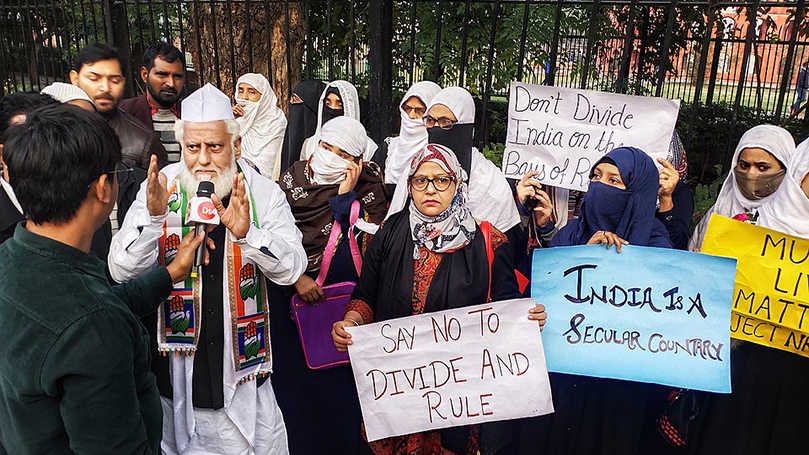 Protests against the discriminatory Citizenship Amendment Act in India.
India: Communists accuse Delhi police of targeting the left instead of instigators of communal violence
The Communist Party of India (CPI) has sharply criticized the federally controlled police of the city of Delhi for its supposed "investigation" of February riots in that city which left 53 people dead, others injured, much property destroyed, and many Muslims forced to flee.
The CPI points out that the rioters attacked people peacefully demonstrating against a new national citizenship law (Citizenship Amendment Act, or CAA) which blatantly discriminates against Muslims, and then went on to carry out a violent anti-Muslim pogrom. Many sources point to police collusion with Hindu chauvinist rioters, and instigation by ranking members of India's ruling BJP (Bharatiya Janata Party). Yet the police report blames the communists for the riots, singling out for a frame-up CPI National Executive Member Annie Raja, Communist Party of India (Marxist) General Secretary Sitaram Yechury, and other leftist figures, who had supported the peaceful protests against the citizenship law. BJP leaders who had really incited the violence are not mentioned in the charges.
Colombia: Communists denounce Pompeo visit, police violence
The Colombian Communist Party opposes increased repression and efforts by Mike Pompeo to foment a war between Colombia and Venezuela. The communists point out that, under the extreme right-wing government of President Ivan Duque, there is ever-increasing violent repression against people who are working for social justice and opponents of the government's policies. The government has refused to undertake reforms of the National Police with its "military character," which is increasingly being used, with lethal force, to suppress growing social protests.
In the middle of this situation, U.S. Secretary of State Mike Pompeo visited Colombia on September 19, announcing his support for President Duque and trying to incite a war between Colombia and neighboring Venezuela, which the Colombian Communists describe as "fratricidal." The communists also demand an end to U.S. bases and the military presence in Colombia.
Germany: Communists point to alarming ultra-right infiltration of police
The German Communist Party is criticizing Interior Minister Horst Seehofer, of the right-wing Christian Democratic Union, for failing to take seriously information about the infiltration of police forces by fascist and ultra-right tendencies. Writing in the party newspaper Unsere Zeit (Our Times), Markus Bernhardt cites the scandalous finding that 20% of the police officers of North Rhine-Westphalia are firmly linked to right extremism.
Others have denounced the racist comments of police officers on extremist social media. German Communist Party leader Patrik Köbele calls these revelations "the tip of the iceberg."
Finland: Communists campaign for LGBT rights in the workplace
The Communist Party of Finland calls for a greater effort, Europe-wide and internationally, to defend the rights of LGBT workers. "Improving the working conditions of LGBTI (Lesbian, Gay, Bisexual, Transgender and Intersex) people means being able to come out of the closet at the workplace, an inclusive and non-homophobic work environment, recognition of sexual and gender diversity, having visible LGBTI references in working life and in unions, decent wages, strong public services in health, education and housing that are LGBTI people."
The Finnish Communists emphasize that transgender people are especially impacted by discrimination and exclusion, leading them to have high rates of unemployment in European countries. The communists call upon unions and political parties to take up this issue more effectively.
Image: Sanjeev Yadav (CC BY-SA 4.0).

Comments