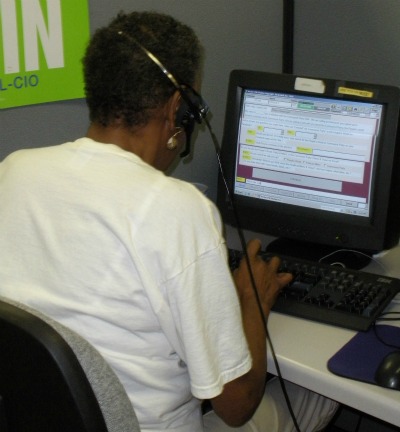 ST. LOUIS – "It's our job to make sure they are contacted quickly," Bill Davis, a Communist Party leader from New York, said, as volunteers debriefed their phone-calls to around 1,300 new members of the Communist Party, USA, here July 9. (See video below.)
"If we don't answer their questions – and quickly – somebody else will," Davis continued, urging district organizers and local leaders to contact and meet new members as quickly as possible.
Derek Souleotes, a new member from Kentucky, couldn't agree more. He said, new CPUSA members want to get involved. They want to be a part of "struggle, mass actions, going to rallies and marches" and "see what they can do to contribute" to the party.
Esther Moroze, chair of the Communist Party's new members' committee, said, she was initially "nervous" about calling 1,300 new members. "But once you get started," she continued, "it's really cool, because people are waiting for you to call them."
The calls were made using a predictive dialer system typically used in election campaigns. Members were asked to "friend" the People's World and the Communist Party on Facebook, sign-up for the Communist Party, People's World and Political Affairs email headlines, and make a financial contribution to the Communist Party.
This round of phone-calls was part of a continuing effort by the Communist Party to regularly contact new members, many of whom live in rural areas far from major cities with party organization.
John Rummel, Michigan Communist Party District Organizer, said, he "talked with people from coast-to-coast." "They want to participate in this movement to make our country better. They're good people!"
Comments