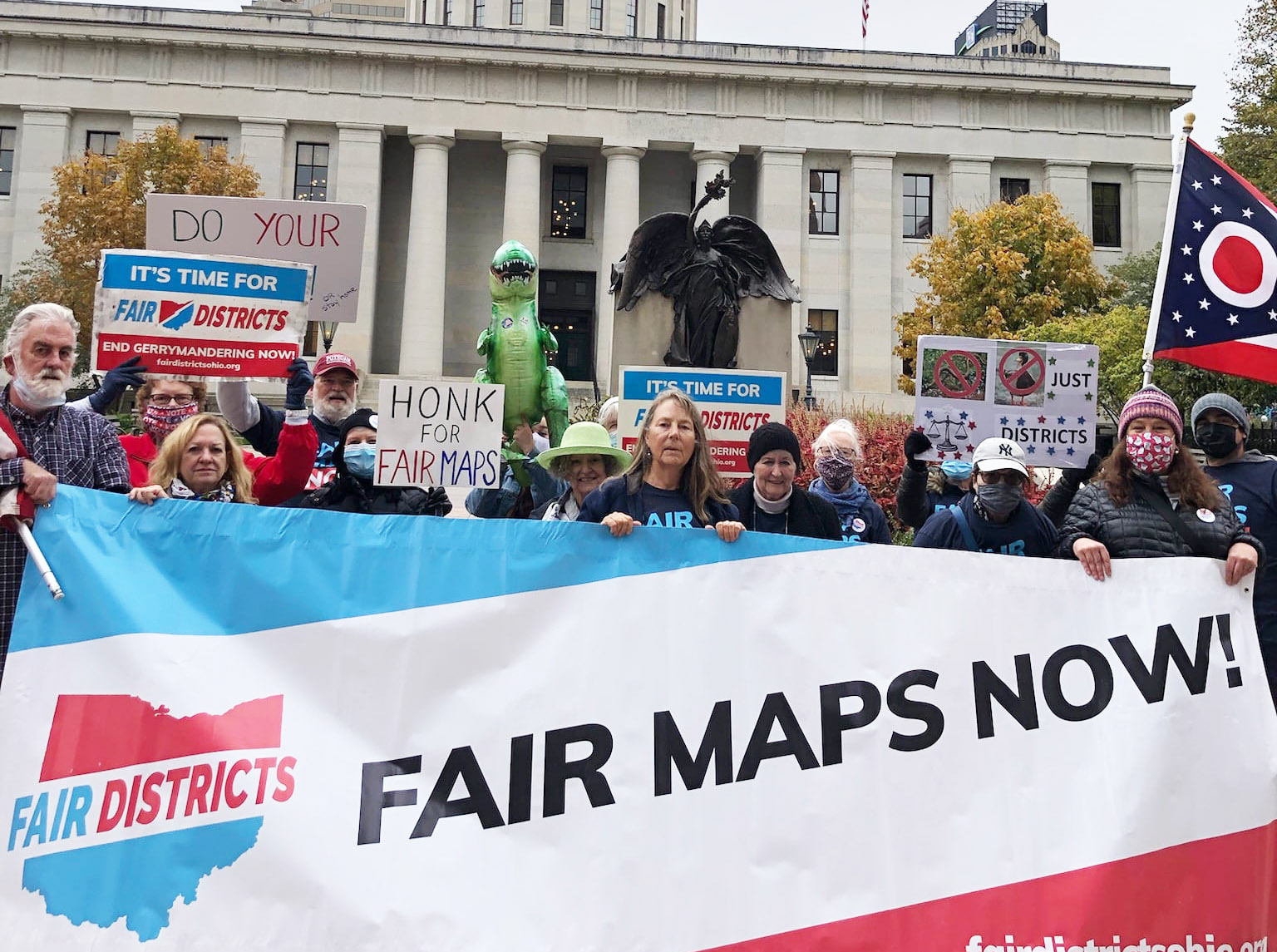 The following report was prepared for the Feb. 13, 2022, National Committee meeting.
Coming up to the 2022 midterm elections, the democratic movement in Ohio is getting battered by Republicans' shameless gerrymandering at the level of the state legislature and congressional districts. The new maps for both have been rejected twice by the State Supreme Court, and the GOP-dominated Redistricting Commission has thumbed its nose at the Court and failed to meet a deadline for a new map. Despite a popular voter referendum several years ago that aimed to establish a "non-partisan" Redistricting Commission, the Commission is composed of mostly Republicans and is only required to "try" to map out fair districts. The Republican legislature came up with a map that secures 12 or even 13 of the 15 available congressional seats for Republicans, in a state where 45% of the voters vote for Democrats. As the Washington Post headline put it, "Ohio Voters Asked for Fairness in Redistricting. They Didn't Get It." Republicans are very good at drawing maps that maintain their advantage over the long term. They redrew the maps in 2010 to yield 12 Republicans and 4 Democrats, and none of those districts have changed parties in the ten years since. Is there no hope for the opposition party?
Statewide elections are immune from gerrymandering, and there are two important ones coming up: for the governorship and for the Senate seat that Rob Portman is vacating. Democrats do not do that badly state-wide. In 2018, Democrat Sherrod Brown got more than 53% of the vote to hold his Senate seat and defeat Jay Mandel. That same year, Republican Mike DeWine just squeaked by with 50.4% of the vote to become governor.

A window for the Dems?
The race for governor this year will probably pit incumbent Mike DeWine against one of two Democrats: Mayor Nan Whaley of Dayton or Mayor John Cranley of Cincinnati. The Cook Political Report rates that race "Likely Republican." According to most pundits, there isn't much chance for the Democrats in the Senate race either. Our own Political Action Commission doesn't list Ohio among the battleground states, and the 538 Politics website also doesn't view it as one of the seven "races to watch." Is there no window for the Democrats in the Senate race?
The Cook Political Report hints that things could turn around in the last few months before the election, which will be crucial in deciding how this race goes. That report also rates the Senate race with a more tentative "lean" rather than "likely" Republican. We must think back to early January 2020, when predictions were made about the races for Senate seats from Georgia. The victories of Jon Ossoff and Rafael Warnock in those contests seemed remote, but they were suddenly at hand. But they weren't plucked out of the air: they were built by hard work registering voters and mobilizing supporters.
There is every reason to try to prevent another Republican from replacing Portman, who has been a very conservative force in the Senate, who voted with Trump 88% of the time. (Recently and incredibly infuriatingly, Portman was one of three senators who pressured the archivist to refuse to certify the Equal Rights Amendment, consistent with his history of anti-women political action.) It was the Republican advantage in the Senate that denied Merrick Garland a Supreme Court seat and delivered instead Neil Gorsuch, Brett Kavanaugh, and Amy Coney Barrett.

The Senate candidates
The three front-runners for the Republican nomination are all loyal Trump sycophants. Josh Mandel fully endorses the Big Lie and believes that the damage done on January 6 was perpetrated by liberal infiltrators. He thinks the January 6th commission should be replaced with one studying how the 2020 election was stolen from Trump. Second is Cleveland investment banker Mike Gibbons, who kickstarted his campaign with an $11.5 million loan from his own assets. Polling in third place is J. D. Vance, the finance capitalist who recast his biography in "Hillbilly Elegy." He is in the race with the wealth of Peter Thiel behind him to the tune of $10 million. Vance's history as a public never-Trumper seems to have doomed his bid with the Trump loyalists who will be voting in the May 3 primary. Fourth is State Senator Matt Dolan, an attorney from the suburbs of Cleveland who has never courted a Trump endorsement and may make it more difficult for Trump to endorse any of the candidates. Dolan has appeal for the John Kasich wing of the Ohio Republicans. Finally is Jane Timkin, former Ohio chair of the Republican party, another Trump loyalist who recently won the endorsement of outgoing Senator Portman.
On the Democratic side, there are two candidates, Representative Tim Ryan and attorney Morgan Harper. Morgan Harper is an attorney who worked with the Consumer Protection Bureau and ran unsuccessfully for the third congressional district nomination against Joyce Beatty. She takes very strong, progressive stands and argues them well. She supports universal health care, labor rights, and women's reproductive rights. However, her name recognition statewide is very low, and her fundraising can't hold a candle to that of her opponent Tim Ryan. While Ryan had amassed $5 million, Harper had just $400,000 on hand. The Ohio Democratic Party recently chose to endorse Ryan. The only debates we've seen so far in the Senate race are between Josh Mandel and Morgan Harper, who have faced off twice. Each of these candidates seems to relish the opportunity to express their polar opposite views, making some riveting video. Harper is an ever-more polished and persuasive speaker, and we expect to see her in future contests in Ohio.
Tim Ryan, for his part, is presenting himself as a working-class candidate, pledging support for labor rights, infrastructure spending, and investment in manufacturing. Over the past few years, he has reversed his earlier anti-women's reproductive rights views. In his chats with voters, he couches his spiel in an alarming anti-Chinese rhetoric. In a recent trip to Portsmouth, Ohio, for example, Ryan engaged in a mutual China-bashing rant with a cross-fit instructor who had made shirts for his employees that read "Portsmouth vs. China."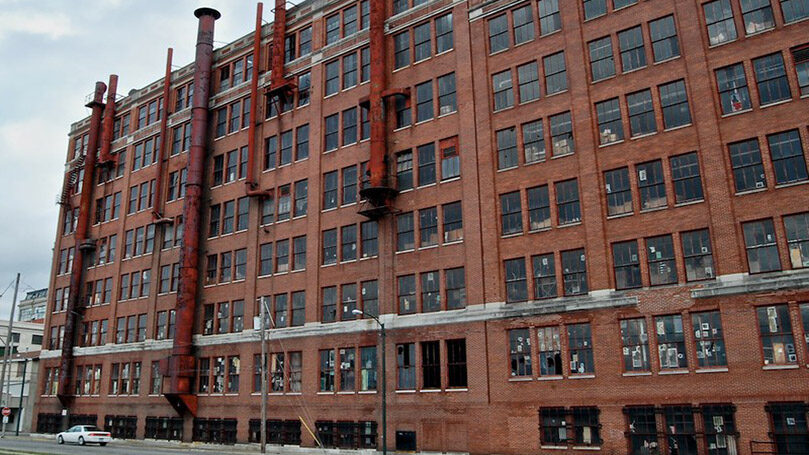 Ryan is notoriously anti-communist and anti-socialist. As he began his short presidential campaign in 2020, he claimed he would "fight socialism." Retired steel worker Bruce Bostick recalled reminding Ryan's office that socialism never shut the mills in Ryan's district — that was capitalism.
Despite his shortcomings, Ryan might be the majority of one that keeps Mitch McConnell from becoming Senate leader. What would it take to keep the likes of Josh Mandel out of the United States Senate?
As in Georgia, the key is voter registration, organization, and mobilization. The proportion of eligible voters who are registered in Ohio is 66.3%, in the median range compared to other states. In contrast, in Michigan just to our north, a whopping 81.3% of eligible voters are registered. If Ohio could achieve that rate of mobilization, there would be almost 9 million additional voters added to the rolls, more than doubling the current number.
Meanwhile, we need to focus on the issues and continue to fight the fascist threat in Ohio, which comes in the form of restrictions on protesting, banning books and banning the teaching of history in schools, and singling out trans youth for the brunt of their divisive restrictions. In their rush to the right, the Republicans' nominee may well be someone who will alienate a large portion of the voters in a general election. With a more fully mobilized electorate, we have a chance to send two Democrats to the Senate like the people of Georgia did in 2020.
Images:  Protest against gerrymandering, League of Women Voters of Ohio (Facebook); Shuttered Ohio factory, vistavision (CC BY-NC-ND 2.0).

Comments