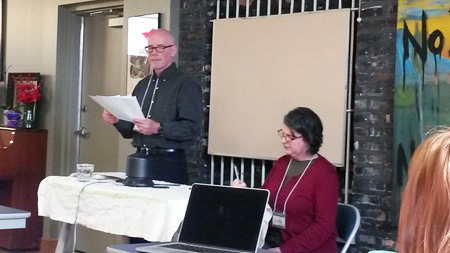 (Editor's note; This interview was orginally published under the title "Mistakes were made: A talk with the head of the Communist Party USA.)
The United States of America has a Communist Party. John Bachtell is its national chairman. We spoke to him about American politics, the mistakes of the Soviets, and communism's "branding problem."
Bachtell grew up in Ohio, with parents active in the civil rights and antiwar movement. He became interested in communism in college, and has been a member of the party since 1977. All the while, he's been involved in political campaigns as well. We met him last week at the Communist Party USA's headquarters on 23rd street in Manhattan to hear what modern American communism is all about. It's not your daddy's communism.
Gawker: Your involvement in electoral campaigns is mainly organizing for progressive Democrats?
John Bachtell: Yes, mainly progressive Democrats and independents at every level, whether it be city council, state rep, Senate, Presidential. I was really active in both Obama campaigns. Actually I was his precinct captain for his Senate campaign in Illinois.
Gawker: Do people ever reject your help because they don't want the Communist Party associated with their campaigns?
JB: Not usually. I tend to be more tactical, so it doesn't really become an issue. I don't make it an issue-we don't make it an issue. We're all about coalition building in the electoral arena… It's hard for us to run candidates that are not within the framework of either the Democratic Party, or independent politics.
Gawker: How has the party changed in the nearly 30 years you've been in it?
JB: I think we have gone through a lot of different changes. Unfortunately I think we're a little smaller now than we were back in the 80s. There were huge setbacks that took place back in 1991, and that had a big impact on not only the Communist Parties around the world, socialist parties-it had a big impact on the labor movement. I don't know that people fully appreciate the extent of that setback to mass movements. But certainly it had an impact on our party, and I'm not sure we've fully recovered from it. At the same time, it prompted us to embark on a very deep examination of our politics and organization, and since then we've been embarking on a lot of changes. We call them transformative changes that modernize the party, that make us a party of 21st century socialism, that bring us from the political margins into the political mainstream.
Gawker: And by that do you mean focusing more on coalitions with more mainstream movements on the left, or what?
JB: It entails first of all rooting ourselves in the political and economic realities of today. Our main strategic concept that we've been working with since 1980 is the rise of the right-the extreme right-its domination of politics in the US. That all rose with Reagan and the right wing takeover of the Republican party. And that's been with us since then. We've seen it as recently as the last election cycle and everything that's come out of that, and the domination of state governments by extreme right wing Republicans, and what they've been able to do on worker rights, women's rights, voter suppression, and a whole bunch of different things. There's a real threat to basic democratic rights as we see it. We were one of the very first organizations to sound the alarm and call for a very broad multi-class united front against the extreme right. And I think that's been validated. Now it's a very broadly accepted concept. But the extreme right's not gonna be defeated without a multi-class movement that involves those sections of Wall Street that don't go along with the Koch brothers; that also involves the labor movement, communities of color, women's organizations, youth and students, and all the Democratic movements, immigrant rights, gay and lesbian rights, seniors, you name it. All have to be part of this. Otherwise we won't be able to advance to any other stages of struggle in this country.
To read the rest of the interview click here.
Comments