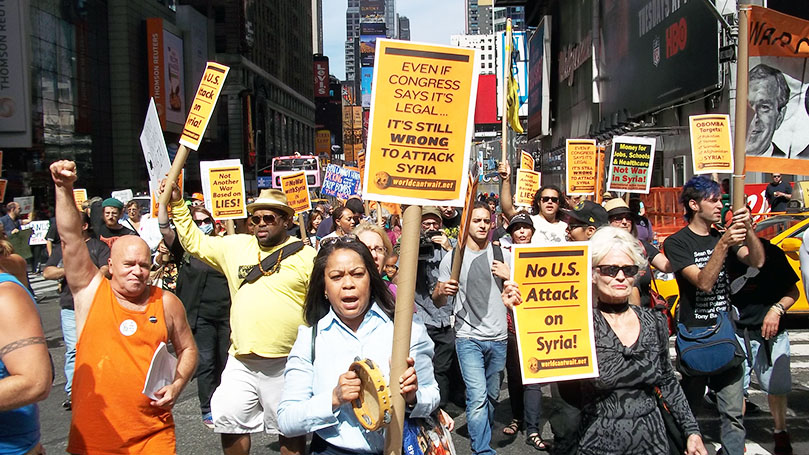 An illegal military strike on Syria by the Trump administration has occured. This reckless action and the expected scrapping of the Iran Nuclear Deal increases the danger of a wider war in the Middle East and even an open military conflict with Russia.
Check out the People's World editorial HERE.
Trump's missle barrage must be met by a huge outpouring of public opposition and should become part of the resistance that will oust the GOP Congressional majorities in November.
The militarization of the U.S. economy, the nuclear weapons modernization and increased military spending come at the cost of schools, infrastructure, housing and health care. The fight against poverty, joblessness, racism and climate change are all interconnected with the fight for peace.
Join the Communist Party USA this weekend for actions taking place around the country on Saturday and Sunday, April 14-15, to "End the Wars at Home and Abroad."
These actions will be taking place in Oakland, CA; Los Angeles, CA; Minneapolis; Washington, DC; Chicago; New York City; Buffalo, NY; Rochester, NY; Atlanta; Greenwich, CT; around the state of Maine; Seattle; Greenfield, MA; Mount Dora, FL; Portland, OR; Kalamazoo MI, and Pittsburgh, PA; Detroit; El Paso, TX; and Vancouver, Canada. Check out the full list of actions with times, location, and other  information here.
For the first time in many years, actions will be taking place all over the country to oppose the war economy which is militarizing U.S. society, destroying the planet, and robbing working and oppressed people of much-needed social services and public investments here at home.
We also urge participation in the 40 days of non-violent actions of poor, clergy and advocates by the Poor People's Campaign: A National Call for Moral Revival.
Meanwhile, people in war torn countries are being murdered and displaced in mass proportions, and forced to watch their homelands, cultures, and national infrastructure destroyed, and their right to self-determination grossly and openly violated.
With the recent tweet from the war-monger-in-chief threatening Russia that the missiles "will be coming, nice and new and 'smart!' " the extreme ultra-right Trump administration is once again actively working to push the world toward devastating wars, all to serve the interests of U.S. multinational corporations, especially the powerful weapons and oil industries, and their financial investors. In the face of this extremely dangerous situation, there is a tremendous need for the largest possible expression for peace.
Let's act now to prevent war in the future.
Image: Creative Commons 3.0
Comments