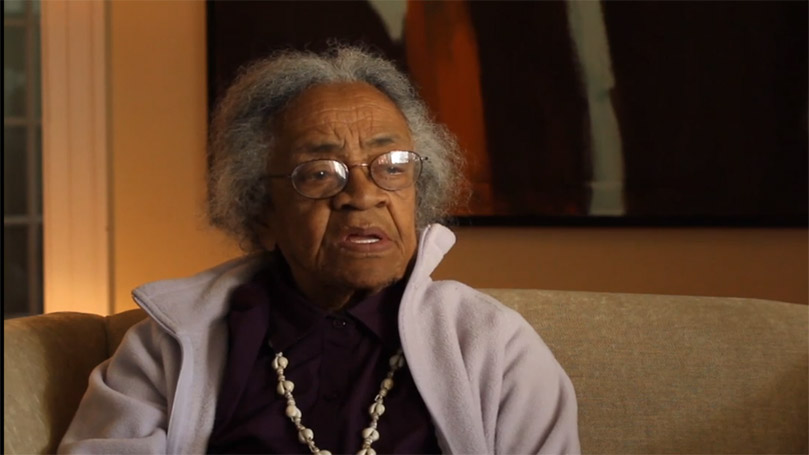 The Amsterdam News published an article on Dorothy Burnham, an African American activist who turns 107 years old on March 22. Dorothy was a long-time member of the Communist Party, which goes unmentioned in the article.
Dorothy's radicalism may have begun while a microbiology major at Brooklyn College, when she met students and teachers who were involved with the Communist Party.  She graduated in 1937 but was unable to find employment in her field. She then devoted herself to the civil rights movement, becoming Executive Secretary of the Brooklyn Negro Youth Federation of the National Negro Congress. The NNC was a broad coalition that Communists helped organize in 1936. She also was in the Christian Youth Council and the Educational Committee of the State, County, and Municipal Workers Association.
In the early 1940s, she and her husband Louis E. Burnham traveled to Alabama to work with the Southern Negro Youth Congress. Two of the founders of the SNYC were Communists James Jackson and Esther Cooper Jackson, with whom the Burnhams would maintain a long association. The SNYC "campaigned for civil, economic, political, and social rights for African Americans, organizing farmers and industrial and domestic workers and campaigning against lynching, police brutality, segregation, employment discrimination, and discriminatory poll taxes."
After the SNYC disbanded in 1948 because of Cold War, anti-communist pressures, Dorothy remained active in the civil rights struggles of the 1950s and 1960s. She was a delegate to the World Federation of Democratic Youth and attended its Paris conference in 1946. At this meeting she said, "[U.S. Secretary of State Byrnes] cannot expect to lead the world in democracy if there is no democracy in his own country . . . it is about time that he [do] something to stamp out the Ku Klux Klan and the lynchings in the United States."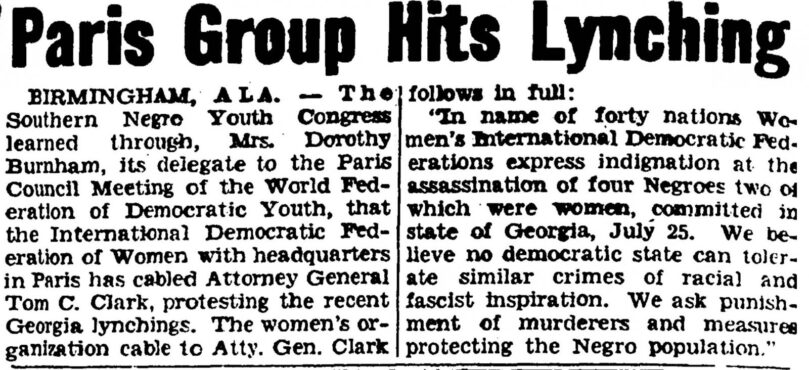 As a Communist Dorothy played leading roles in many organizations, including support groups for the Student Nonviolent Coordinating Committee, Women for Economic and Racial Equality, Women's International League for Peace & Freedom, and other groups. She wrote for Freedomways, a journal on African American culture and politics cofounded by her husband and published between 1961 and 1985.
Watch Dorothy give an interview here.
Images: Screenshot of interview by John Rich (Vimeo); Newspaper clipping, People's Voice, September 7, 1946.

Comments