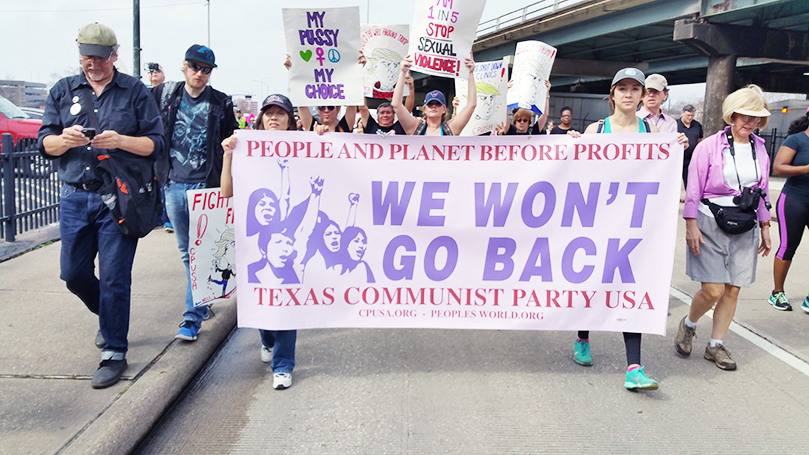 Presentation to Basics of Membership Growth Panel, CP Building Conference,  November 11-12 Chicago Ill.
First a shout out to our attendees online: we are very interested in your thoughts and ideas so please send them to membership@cpusa.org. Congratulations to all comrades who have been holding the line to keep us connected online from the various areas: you are all doing an awesome job.
Sitting here with me is Bea Lumpkin, who will be celebrating 100 years of life, she inspires us with her presence, her historic contribution and continued involvement in making this a better world for all.
One of the more challenging aspects about growing the Party is asking people to join, whether it is someone in our immediate circles or someone we have built a relationship with in our movement work. It is hard because it requires putting yourself in a position of possibly being rejected, and that is never a pleasant place to be. But we are revolutionaries, we think beyond ourselves and we sacrifice at times even our own emotions for the good of the whole.
We all agree that we need more communist activists because the battle of ideas is an important part of the current terrain of struggle. This means we need to combat the many ideas put forth that keep the working class from uniting against the ruling class and that requires many communists on the ground.
Members come into the Party at different levels of consciousness and with different passions. This requires that we provide varied entry points. We should have an education component of our activity so that new members have the opportunity to continue and or begin their study of Marxism/Leninism.
We should have a political component of the party's work for members who have an interest in being out doing door-to-door work. We should have a cultural component for members who are artists, musicians, actors, comedians, graphic designers etc. to convey our vision of socialism using these art forms.
When discussing growing our party in this panel I ask you to take the discussion through a process of looking at what is working, what is not working and what is new in this moment in time. If we don't do this, we run the risk of letting emotions determine the course of action, which could be contrary to what is needed and possible.
The fact that people are looking for solutions and toward a different system that will address the instability they are feeling helps us know what to focus on. This makes asking people to join a bit easier because we know they are looking for what we have been fighting for.
Many new members say that they see themselves spreading our message. This tells us they have found what they have been looking for: the road to a better world. Members want to help other find it as well. I encourage new members to share why they joined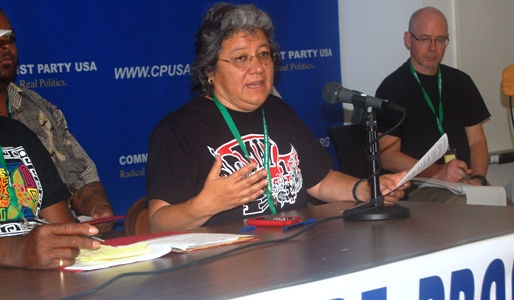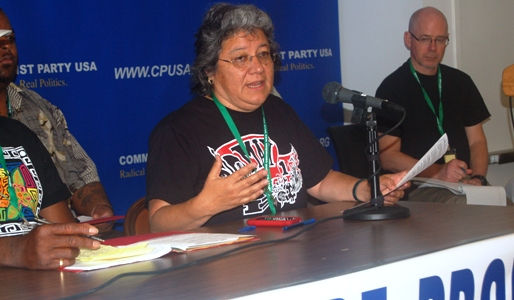 during the breakout session.
In this workshop we are going to take a look at experiences in recruiting, and club life along with examining what are some of the ways to engage new members. This is very important: Along with membership growth there is the important task of membership engagement.
How do you begin? One way is by asking ourselves: what entry points do we provide members to join and engage with us?  We need to provide members with the opportunity to use their talents and skills to build class-consciousness.
There are many forms for doing this. A main terrain of struggle is the battle of ideas. Capitalism uses all manner of forms to convince and confuse people into believing things that are against their best interests. We must also use all the skills and talents members have, along with our science, to wage this battle and bring clarity to what the ruling class feeds them. These Ideas and messaging can be put forth through political action, rallies, and marches but also through music, theater, poetry, and art.
During our new members orientation meet ups held every other month, we give a very basic now-that-you-joined, what-do-you-do framework.  I encourage all new members to attend the next one on December 19th.
In Connecticut comrades have begun to prepare younger members for leadership who they will pass the baton to. They call this the "Next Generation" of communists. We should take their lead and see how other areas can apply such an approach. Letting go is difficult but if we want to get to our 200th year anniversary, it is a must!
Education is a vital component to integrating  membership, understanding party policy, and determining our analysis at a given moment in time.
Education helps to clarify and put into perspective who our real enemy is and how to develop a fight back. It is most helpful in the battle of ideas. We have held many online classes.  The winter session continues on December 10th, with "Revolution at the Gates: 1917 writings of Lenin." Check your emails for information on how to register.
We really need to put more emphasis on culture. If we study social movements in many parts of the world, including here, we can see the role music, art, and poetry, has had in bringing working-class forces to connect with the movement. During the Vietnam war, so many anti-war songs were created that are still used and sung today.
I have visited several districts and want to offer some important points that I noted then about member engagement
   Be involved in more actions and less meetings;
   Provide different entryways into the Party, political, education, cultural work;
   Learn how to build personal relationships along with political relationships;
   Be inclusive and democratic in your organizing;
   Develop and promote political education to all new members;
   Present a clear understanding of our Party's political line;
   Provide safe and welcoming space for women, youth,  and people of color. What does that mean? Well as a person of color and a women, I want to feel that I am welcomed, which I can tell by your demeanor, that I am listened to when I speak, and when I am offended by someone's either racist or misogynistic comments, that someone will step up and correct the person.
The goal of today's panels are to  give you some tools on recruitment; some "how tos"  for growing our Party among youth and women: some grassroots organizing tips;  and finally a presentation on what club life look like.
Comments