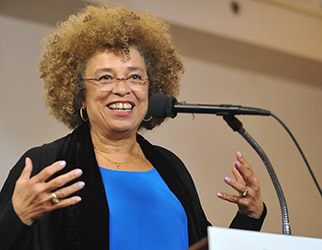 Greetings sent to the 30th National Convention of the Communist Party USA in Chicago, June 13-15, 2014 by Angela Y. Davis.
I wish you much success as you collectively engage with a range of issues related to the current economic and environmental crises and to the struggle for a democracy extricated from the exploitative and racist context of capitalism. As the system of capitalism has produced an ever-increasing and thus insatiable need for profits, this process is leading to the rapid deterioration of the very conditions of life on the planet. Our movements must reflect a deep understanding of the idea that capitalism, if allowed to move along its logical trajectory, may ultimately lead to global death. The alternative trajectory — the way of life — is socialism.
Thank you for keeping the ideas and ideals of socialism alive. It is our only hope for the future.
PHOTO: Reberto Mercado, used with permission.
Comments