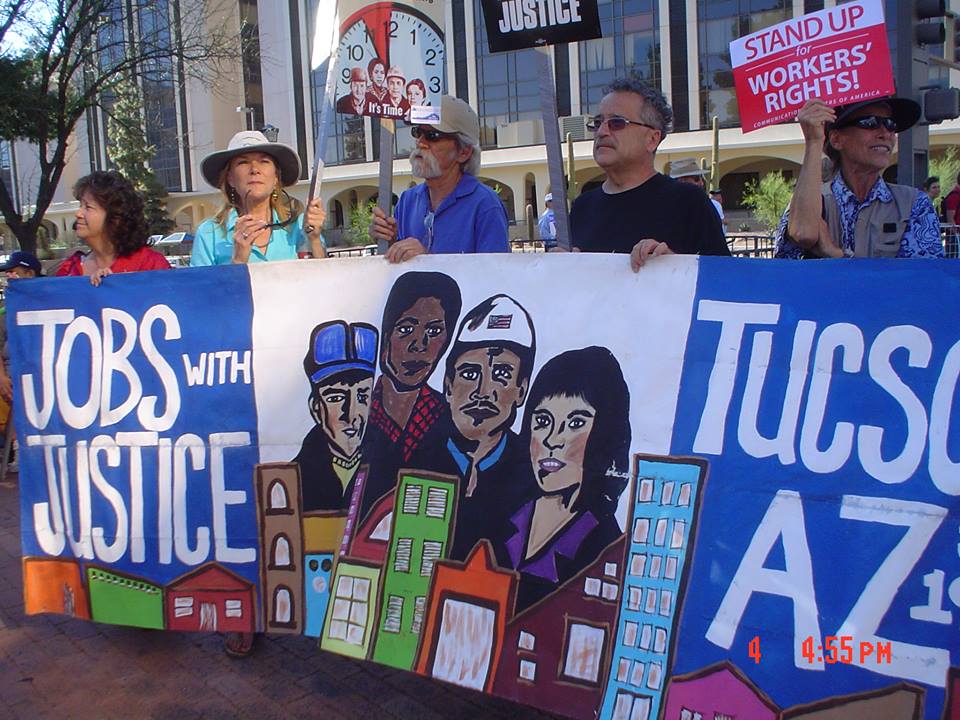 There are many forms, such as workers' centers, that function as bridges to connect labor, community and mass movements. Our experience in Tucson has been centered through our work in Jobs with Justice, and we have practiced its model of movement combination.
Jobs with Justice Coalition (JWJ) was created in 1987 as a bridge between labor, community groups and mass movements.   The coalition, whose leadership collective includes historically excluded workers, is involved in struggles around immigrant rights, domestic workers, Fight for $15, day laborers, collective bargaining, LGBTQ rights, opposing racist violence, transit issues, opposing the DAPL, and solidarity with the indigenous community.
Local JWJ groups are chartered by a vote of the national board if they meet a list of requirements.  In addition to having a decision-making process, a budget, a leadership collective, and regular meetings, each local group must have five labor unions and five community organizations affiliate to it.  JWJ classifies coalitions into three types: solidarity, leadership and flagship, based on their capacity to develop and implement a project or campaign.
In Tucson, the Jobs with Justice Coalition was founded in June of 1990. We have two meetings per month, have been involved in the majority of union campaigns, and actively assist community groups. The majority of local unions in our county are affiliated to the local Jobs with Justice coalition. We do outreach and table at mass actions from MLK Day festivities to May Day and Labor Day.  Despite having no staff, we are one of the longest running local JWJ coalitions in the country. We are an affiliate of the recently established Pima Area Labor Federation.
The Bernie Sanders campaign was a great opportunity to build organization.  The campaign resonated with a lot of people here and inspired them to action.
One young person created "Latinas for Bernie" and brought other young people around. We got to know them through Salt of the Earth Labor College, which was an organizing hub during the campaign.  Now, these young folks are in leadership of the Jobs with Justice coalition and play key roles in various economic and political struggles.
The Trump GOP's attack on democracy has also increased opportunities for organizing. I saw a sign, carried by a newcomer to action that read, "thanks to Jeff, Martha and Donald, for making me into an activist"! (Jeff Flake is a Republican Senator from Arizona; Martha McSally is a Republican representing Arizona's Second District, which includes Tucson, in Congress.)
Building a labor-community-mass movement coalition hasn't been without its challenges.
Arizona has been a right-to-work state since 1947.  Our state legislature has unleashed the most extreme right-wing laws and pursued an open and relentless attack on immigrants. Tucson's poverty rate is fifth in the nation, and a labor leader recently told me that our union density is only four percent.
As a coalition, we have struggled with the lack of capacity. For example, we're facing contract deadlines where Teamsters and Communication Workers have very important negotiations coming up and our forces are too small to carry on simultaneous strike support. We have been integral factors in contract fights over the years, so our participation is expected and necessary. It's going to be a rough patch if both unions go out on strike.
The situation that is most troubling is the struggle of copper miners, led by the United Steelworkers, where a contract with ASARCO/Grupo Mexico is still in limbo. And the fight to save our US Postal Service is at ebb right now, but could turn active at any time.
Another challenge we face is that local unions affiliate to our coalition, but we are not affiliated to the local unions. In other words, we wait for them to come to us. They may come during campaigns or when they need strike support, but that occurs infrequently. We don't have a structural, organizational tie, where we have direct continual interaction with the members. Perhaps solidarity committees or Jobs with Justice committees in the union locals would provide a forum for more sustained contact.
For all its challenges, though, Jobs with Justice Coalition is now a spring board and a stepping stone for youth that move around important sectors of the working-class movement: in the labor unions, in electoral work, in grassroots organizations, and in the pro-immigrant movement.
CPUSA has always emphasized the underlying unity of different struggles in the broad movement for justice, and Party members in Tucson were actively working to build labor-community coalitions before we joined Jobs with Justice.  As we see it, our task is to offer these young activists the very best of our knowledge and experience.
Photo courtesy of Tucson Jobs with Justice
Comments