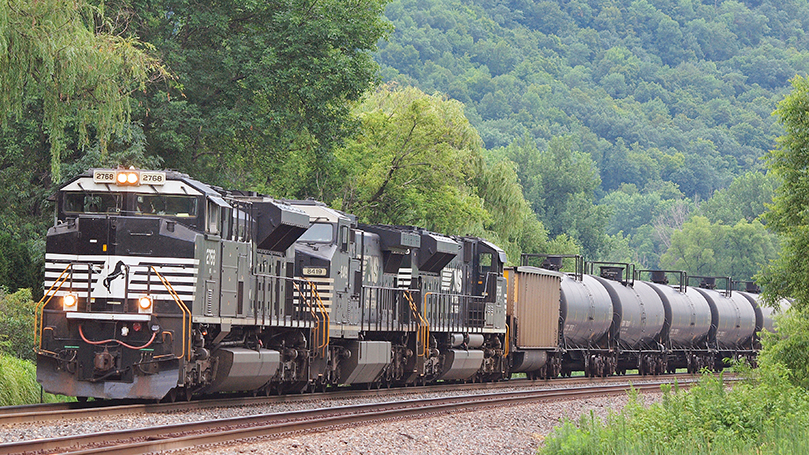 The Ohio District of the Communist Party USA stands in solidarity with the people of East Palestine and railroad workers nationwide in the aftermath of the catastrophic derailment of at least 50 train cars that occurred on Friday, February 3rd. The mounting humanitarian and ecological disaster has continued to develop in the days since the crash.
The result of the wreck is an enormous fireball looming over the border of Ohio and Pennsylvania, necessitating the evacuation of at least 500 residents. In an attempt to avoid a larger explosion and the expansion of ongoing fires at the wreck site, emergency crews vented thousands of gallons of phosgene and hydrogen chloride gas from the burning tankers on Tuesday. These chemicals were used as weapons of mass destruction in the battlefields of Europe during the First World War.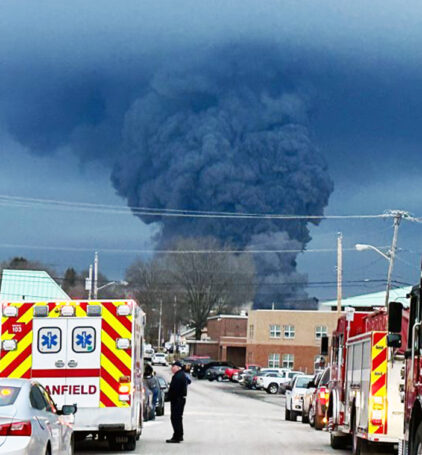 Other cars were known to be carrying vinyl chloride, a potent carcinogen. These lethal gasses are now dispersing across an area at least 2 miles in radius with unknown consequences to local residents. Local news and social media reports show dead wildlife and livestock in the area of the wreck. Ohio Governor Mike DeWine offered his advice to residents in the area of the wreck, saying, "You need to leave, you just need to leave. This is a matter of life and death."
Initial reports suggest that the train derailment may have been caused by overheated wheel bearings, an accident facilitated by the shameless profit-seeking behavior of the national railroad cartel. Norfolk Southern, the company responsible for the wreck in East Palestine, has perennially underfunded safety and maintenance, while relentlessly imposing overwork and understaffing on railroad workers. At the same time, they refused to make any concessions to the railroad unions, despite all-time record profits of $12.7 billion in 2022.
This disaster is the direct consequence of the private control of essential transportation infrastructure, and the subsequent profit-seeking behavior of its owners. The Ohio District of the Communist Party USA stands with all working people for a just and timely restitution of all damages inflicted on the residents of East Palestine, for fair wages and safe working conditions for all railroad workers, and for environmental restoration and protection in all affected areas. Finally, CPUSA-OH supports in the strongest possible terms the resolution adopted by Railroad Workers United calling for "the public ownership of the rail infrastructure of the U.S., Canada and Mexico, to be operated henceforth in the public interest, placed at the service of the people of all three nations."
Images: Norfolk Southern by Jim Bauer (CC BY-ND 2.0); Plume of smoke (cropped) by Jordan Miller News (used with permission).
Comments