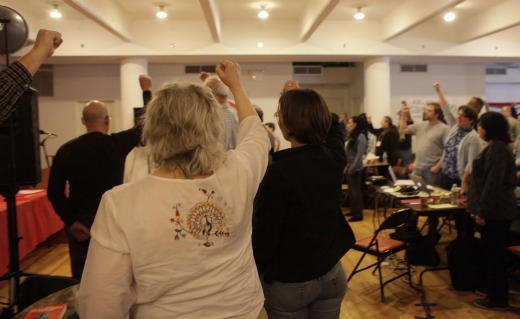 This is the welcome speech to the CPUSA first annual conference, April 16-17.
Welcome to New York and the first annual Communist Party conference. We are broadcasting live on Ustream.
My name is Terrie Albano and I am co-editor of Peoplesworld.org.
People's World traces its roots back to the founding of the Daily Worker in 1924 and the revolutionary, labor and civil rights-based, independent free press tradition in the United States.
It's an honor to welcome you all here in this room to New York and Winston Unity Hall, named after the former Communist Party chairman Henry Winston. Winston, like numerous other Communists, was a political prisoner.
He was locked up in a Jim Crow, segregated jail and denied critical health care because of his race. He lost his eyesight, but continued fighting for the American promise of worker rights, equality for all and Bill of Rights socialism.
When his release was finally won, Winston came out of prison and said, "They took my sight but they can't take my vision."
We gather today as millions across this land are in motion for a vision of an America where worker and collective bargaining rights aren't banned by the sweep of a politically and economically motivated pen.
Where women are paid equally and can decide their own fate.
Where gays and lesbians can participate on an equal basis with their married counterparts.
Where every young person can get an education, go to college and make a career.
Where child poverty is something we study in our history books.
Where the color of your skin, or your accent, religion or immigration status does not open the door to prison, harassment, dreams deferred or justice denied.
Where seniors or the disabled don't have to make the terrible decisions of whether to pay the light bill, buy food or get their medicine.
Where veterans are never homeless.
Where trillion dollar corporations and multi-billionaires and millionaires actually pay taxes!
Where air and water are clean, and so is the energy.
And truly, a vision — Where public schools get all the money they need, and the Pentagon has to hold a bake sale for a bomber; where, as John Lennon and Yoko Ono sang, "War is over."
Millions are in motion for that vision. And so is the Communist Party.
It was just over two months ago when the Egyptian workers, students and people shook the world by forcing the resignation of Hosni Mubarak with their peaceful revolution.
Three days later, the rumblings of another revolution began. This time in Madison, Wisconsin. It started on Feb. 14 with students and teachers delivering valentines to state lawmakers, opposing the Scott Walker's state budget and its attacks on teachers, nurses and other public workers.
The next day it grew and by the third day it was a massive occupation of the state Capitol. Protest signs such as No to "Hosni" Walker or "Mubarak of the Midwest" were carried. And it continued to grow.
By Feb. 18, the day I travelled up to Madison with John Bachtell and Michelle, an unemployed activist from Chicago, it was an uprising.
Fourteen brave Democratic senators — as John Nichols joked "made the ultimate sacrifice" and went to Illinois to protest this most vicious anti-worker bill in Wisconsin history.
Teachers had called in sick, effectively shutting down the Madison school district and six surrounding schools districts. The day we were there — the largest district in the state — the Milwaukee school district — was shut down because of so many teachers calling in sick.
The Capitol rotunda echoed with chants "This is what democracy looks like" and "Union-busting that's disgusting."
Later that night the Rev. Jesse Jackson called this moment a "Martin Luther King moment, a gandhi moment" a time of peaceful uprising and revolution. This is what democracy looks like.
Such moments and movements can make good presidents great ones, he said. That when we aren't active it hurts the president, it hurts democracy.
The 2012 election were already underway, and the prairie fire spread to Ohio, Indiana, Michigan and other states.
I am pleased to introduce to you our keynote speaker Sam Webb, the chairman of the Communist Party, with "From Wisconsin to Washington: Stand up for jobs, workers' rights and peace."
A few words about Sam. He was first elected chair of the CPUSA in 2000, and re-elected at the 2001, 2005 and 2010 conventions. Hailing originally from Maine, and spending many years in Michigan, Sam — as chair — has traveled throughout the United States and the world, speaking on socialism, the economic crisis and class struggle and Marxism today.
He's appeared on numerous radio and TV interviews, including the infamous Glenn Beck show, which was recently dumped by Fox.
Sam is a prolific writer, and writes weekly for Peoples World, and often for Political Affairs. He has published many articles on socialism and the nature and role of the Communist Party.
And just so you know his favorite color is red and his favorite beer is Bell's — from Michigan!
Sam Webb.
Comments
Related Party Voices Articles