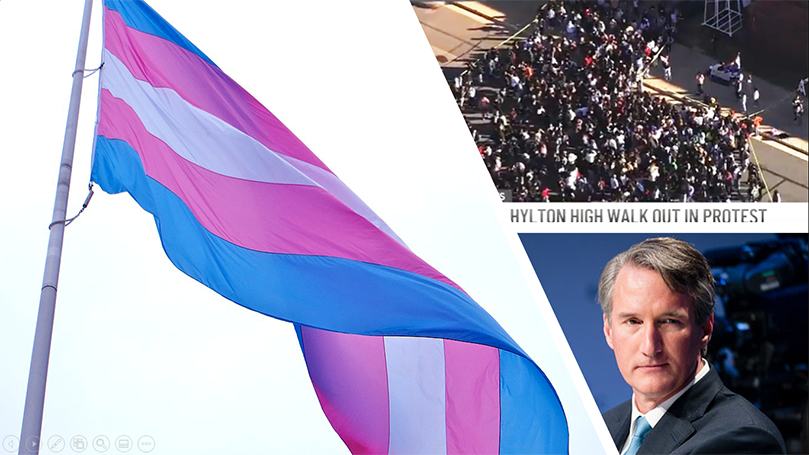 On Tuesday, September 27, thousands of students walked out of classes in scores of high schools all over Virginia. The purpose of the walkout, organized by the Pride Liberation Network, was to protest new guidelines for the treatment of transgender students in Virginia's public schools.
Governor Glenn Youngkin's policy draft, issued on September 16, substantially revises a policy instituted by Youngkin's predecessor in 2021, which had afforded official recognition to the needs and aspirations of LGBTQ+ students in Virginia public schools in terms of pronoun use, use of bathrooms, participation in sports programs, etc.
The Youngkin document, issued by the Virginia Department of Education, would supposedly "empower parents" to "take control" of their children's education by giving them veto power over the ability of teachers to address them by their correct names and pronouns. It would force students to participate in school programs on the basis of their "biological sex" assigned to them on their birth certificates. To get students' records changed in these matters would require "legal documentation."
Governor Youngkin was elected in 2021 as a supposedly "moderate" Republican. But he went "full Trump" as soon as he entered the governor's office in Richmond. Perhaps with presidential ambitions in mind, he has aligned himself with some of the most retrograde, ultra-right forces in this state. This initiative on education is one more reminder of the governor's true colors.
The fascist elements in the GOP are on a deadly rampage against minority groups.
The Virginia District of the CPUSA denounces the Youngkin document and salutes the courage and initiative of the students and others who have mounted such a huge, militant protest against it and in favor of LGBTQ+ rights. We note that the parents whom the new policy would supposedly "empower" are precisely the parents from whom LGBTQ+ students look to the schools for refuge and protection. Teachers, school counselors, and the students themselves attest to this, and they warn that the proposed changes will in fact cost the lives of some students, for example, due to increased rates of abuse and suicide. The "parents" to whom the document panders are people steeped in right-wing political and religious ideology. The fascist elements in the GOP that promote this kind of thing claim to be "pro life" but in fact continue on a deadly rampage against minority groups and sectors of the population.  The purpose of this is not to prevent child abuse but to provide a scapegoat to attack rather than to address the economic malaise that affects working-class Virginians and other inhabitants of this country. The CPUSA emphasizes that students and young people are human beings with legitimate rights of their own — rights that would be grossly violated under the new dispensation.
Moreover, another struggle which is going on in Virginia right now is aimed at getting collective bargaining rights for teachers and other school employees, as well as local government workers in general. The bigots to whom Youngkin is pandering are not supporters of such labor rights either, especially when teachers are being portrayed by the far right as villains trying to "groom" the children.
The Virginia CPUSA denounces the policy guidance document and demands an approach that fully recognizes and supports the rights of LGBTQ+ students. We commend the students who organized and participated in the September 27 walkout. We call on all our members and friends to support ongoing demonstrations and actions planned for the coming weeks.
We also ask all to comment on the Virginia government comment line here.
Images: Virginia school walk-out, Tram Nguyen (Facebook); Glenn Youngkin, World Economic Forum, photo cropped (CC BY-NC-SA 2.0); Transgender flag, torbakhopper, photo cropped (CC BY-SA 3.0).

Comments