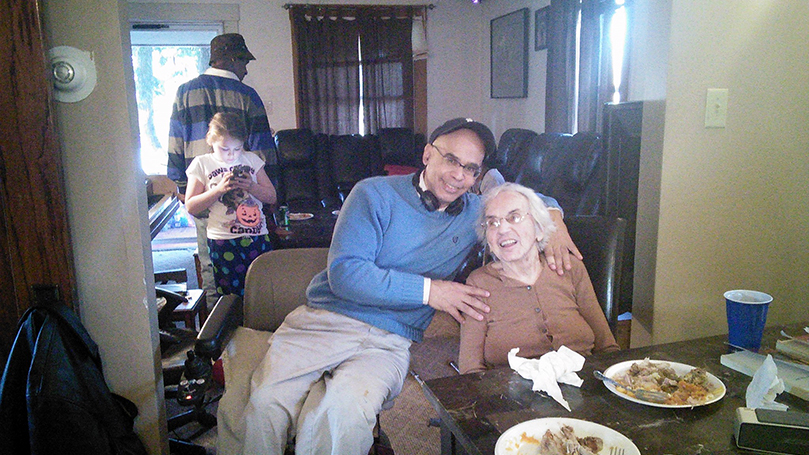 For the last 25 years or so, around this time I'd be at mom's, sitting at the table, first with onions, garlic, spice and olive oil, and then with a 12-lbs ugly-assed, off-white turkey in front of me. I'd chop, and cut and grind, and cry (the onions) and then fry. And then cut some more and stuff. And the house would be filled with all the seasoned best things, coming straight from the kitchen stove and mom's 50-year old pots and pans. And mom would be sitting in the living room watching the PBS evening news and then Friends or whatever and all was good in the world.

Then next morning, I'd wake up at 6:00 and have my coffee and by 7:00 start cutting, and chopping and dicing and crying all over again. Oh. And peeling. And then the water would boil and the corn bread would go in the oven for the stuffing. It took me years to get the stuffing right, but finally, aided by a can of cream of mushroom soup, I nailed it. By 8:30 or 9:00 the turkey'd go in the oven and then the real work would begin: popping green beans, stirring 3 cheeses in evaporated milk, boiling macaroni, and then sweet potatoes.
For years, Carl would come around 10:00 with his peach cobbler and then Fred. And they'd jump in and help and there'd be a parade on TV and after football. And finally around 1:00 the turkey would be brown and moist and done, the meat, hanging from the bone, now a thing of beauty really, and Freddy would make the gravy; and Craig would arrive and make his famous mashed potatoes. Dede would treat with candied yams.

And then at 2:00 the rest of the family, brothers, Dan and Robbie and nieces and nephews, and sometimes Monte, and other friends and we'd feast. And I'd get the best feeling ever when the kids would come back for seconds or sometimes, thirds and the turkey'd be reduced to back and gristle.

Well, mom's gone. And Carl too. And then Damon. Dad departed years before. And now we're scattered, here and there but still bound together, by spice, by love and memory, by the best seasonings that came out of our mother's heart and the half-century old pots in her kitchen.
Comments