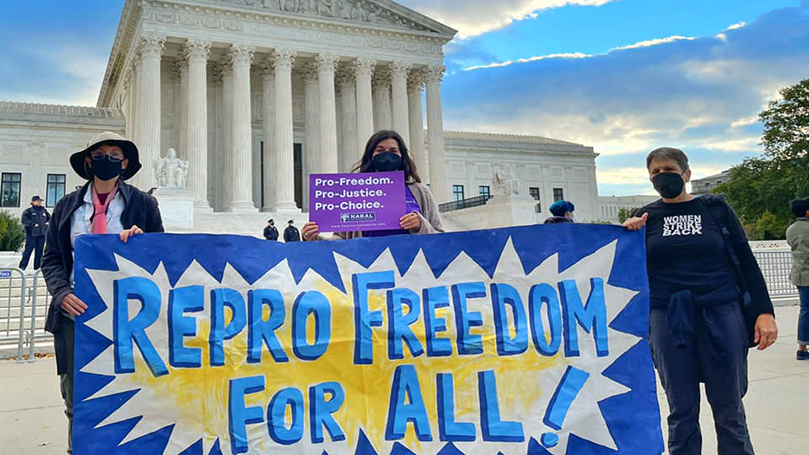 The following statement was issued by the Communist Party of Indiana, CPUSA.
Make Healthcare and Abortion Services Available to All Women Now!
Supreme Court: Uphold Abortion Access Today!
The Communist Party of Indiana, CPUSA, stands with women and their health providers to demand that abortion and women's health be under the control of the woman involved and not controlled by lying, sexist Republican males.
As two doctors, Herminia Palacio and Jamila Perritt, recently wrote in the Hill, looking at the impact of recent anti-women's health and anti-abortion legislation,
Abortion access is only part of the story. While the burdens of seeking abortion care are unimaginable for those who must navigate them, for many, these burdens are insurmountable. These are the stories we haven't yet heard. What will happen to the health and wellbeing of pregnant people and their children in Texas who were unable to access abortion care and are also unable to access quality prenatal and maternity care as a result of laws and policies that have decimated the social safety net? Moreover, as physicians specializing in providing care for people with complicated or high-risk pregnancies now fear offering medically necessary care — even in emergency situations — because of the ban, how will that impact the health outcomes of pregnant people and their infants?
Regressive abortion and women's health legislation does not impact the rich, who can always travel for their health care if needed. This legislation is directly targeting women workers and their families, and it is part of a broader anti-democratic and anti-worker sweep of legislation being enacted across the country, particularly in Republican areas. This legislation includes gerrymandering and attacks on democratic rights and extensions to anti-labor legislation. It is also associated with racist legislation limiting protesting or even the teaching of the reality of past and current systemic racism in the United States.
The doctors noted regarding the case now before the Supreme Court:
The Supreme Court will hear a case about a Mississippi 15-week abortion ban that challenges Roe v. Wade. Depending on how the Supreme Court rules, millions of people could lose their right to get abortions in their home state. Access for people in states where abortions remain available is likely to also be affected by burdens like increased wait times.
We encourage all anti-sexist and anti-racist democratic forces to join protests against this vile but legal anti-woman attack. Under capitalism, the legal system is too often a tool for oppression, not a tool for justice.
The Communist Party of Indiana stands resolutely against limits on access to health care for women and all working people. The capitalist denial of healthcare by linking health insurance to employment and limiting access to health care through legislation or insurance company controls is vile and geared to enhance the power of capitalists over workers and women. The United States has a brutal health-care system designed to deny health care rather than provide care to the mass of people. This must change, including winning the reform Medicare for All and eventually winning a national health-care service.
We stand in unequivocal support for abortion access and women being in control of their health care, and free or affordable quality health care for all women and children, and all workers.
December 1, 2021 – Indianapolis, Indiana
Eric Brooks, Chair, Communist Party of Indiana, CPUSA
Image: NARAL Pro-Choice America (Facebook).

Comments