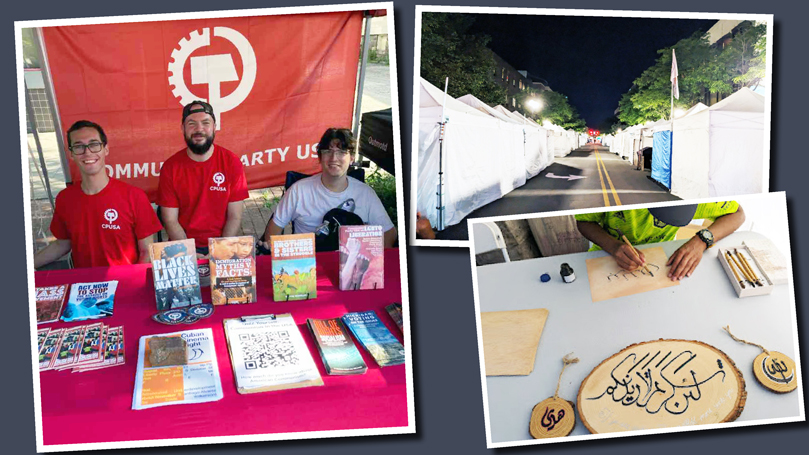 In Michigan, Art Fair is one of the largest events in almost every sense: it draws in almost half a million people over a three-day span, it involves about 1,000 artists, and it covers 30 city blocks. It is a confusing combination of three older, original art fairs, but has been going on in some form or another since 1960. It's fair to say that almost everyone in the area is at least somewhat familiar with it.
Less familiar, however, is a much smaller cluster of Washtenaw County nonprofits on the edge of the fair. As overheard between two attendees, "It's where all the political stuff is." Judging by the following comment — "Do you want to take the next street over, so we don't have to walk past it?" — it is also somewhat less popular.
People that come through this area are typically going to or from their parking spot, so it is the first or last thing they see, unless they're lost. There is a hodgepodge of organizations. Here is an incomplete list, to give some idea:
St. Paul Street Evangelization

The Aetherius Society (a spiritual organization based on a belief in advanced extraterrestrial intelligences)

Mars Society (advocates for the exploration and settlement of Mars)

Libertarian Party Of Washtenaw County

Washtenaw County CPUSA (that's us)

Fellowship Bible Church

Washtenaw County Republican Party

Michigan Falun Dafa Association (aka the Falun Gong)
Walking through this area, one might be bombarded with signs like, "Jesus made me Kosher," and "We need a convention of states NOW," or "Genital Mutilation Happens to Boys Too!" Whether or not you agree with any of these messages, let's face it: it's a lot for a Saturday morning.
We were stationed between Michigan for Single Payer Healthcare and Foxes Journey Sanctuary. I already knew many of the people from the first, and it wasn't long before the two women running the second were telling me about their alignment with socialist values and the intersections of capitalism and the mistreatment of animals. In short, they were awesome. I can only thank the event organizers for giving us such a great spot (I shudder to think of the alternatives), and it made all the difference when tabling twelve hours a day for three days.
One of the greatest things about being a Communist at an art fair is when someone walks up to your booth you have almost no idea what to expect. You might hear anything from, "Communism killed my grandmother, **** off!" to "Thank you so much for being out here; it's great to see." Each conversation can be frustrating or interesting or inspiring, and you're having dozens, maybe hundreds, of conversations each day.
The variety of responses can be seen even from people that don't approach the booth at all — there's the scowl and thumbs down, the smile and thumbs up (I saw both within a minute of each other!), the eyeroll, the smirk, the mouthing of "C-o-m-m-u-n-i-s-t" before turning to tell a friend or spouse. But mostly, there's just confusion.
That confusion, however, turned satisfying, as it spurred many people to come up to our booth to say, "I didn't know we had this out here!" or, "What is this? What do you guys do?"
We were able to use these opportunities to talk to people about how the city was going to defund a family emergency shelter program and toss over 54 families (150+ kids) onto the street before the school year was even done. And we were able to tell them that Communists helped lead the organizing efforts that ultimately pressured the County Commissioners to hastily extend the program — albeit, insufficiently and with more to do, of course. Most people had not known this was happening, and certainly did not associate fighting for something like that with Communists or communism.
We told them about our support of the GEO strike, the Starbucks workers, and soon maybe UPS workers. We tried to help them connect the party's efforts in those struggles with the party's history in this country. We had a QR code at the booth, inviting people to take a quiz we put together with the question "How much do you know about American communism?" We used some of our own questions and some from CPUSA's Marxist IQ tests. There were a few softballs, but also some surprising and perhaps difficult questions that offered little-known facts about CPUSA history. We ended with an average score of 10 out of 15 correct — not too bad!
Mostly, the Art Fair is long. You find a rhythm of talking with people next to you, going to other booths (the Republicans had some WILD buttons), and engaging with strangers in a sane and rational way about what communism is and what the party is actively doing to help improve Washtenaw County. One challenge was to not just give a spiel, but to instead really listen and actively understand where each person was coming from. This was especially difficult when, after talking to someone who already considers themself a Communist and is so excited to learn that the Party is in their area, you find yourself one minute later talking to a person who wants you to answer for every crime or perceived crime of Communist countries over the last century. It's like a stress test for your humanity, and succeeding means staying open to people and not shutting down. You learn to tap out if you need to, literally tapping a comrade on the shoulder to jump in if you're exhausted. It's difficult, tiring, fun, and I'd do it again in a heartbeat.
It probably sounds silly to say, but spending so much time in our little section moved me in ways that are hard to describe. Club members really showed up. It was heartening to see fellow comrades talking to strangers about communism, and do it with empathy and respect. After the fair, one of our booth neighbors, a friend of mine, told me how impressed they were with our club and how we interacted with people. I felt the same way, seeing my comrades struggle with such grace.
Friends, new and old, came out to support. They sat with us, talked with us, brought food, and helped tear down the booth when the fair was over. Ann Arbor Coalition Against War, Graduate Employees' Organization (GEO), Muslim Community Association (who had great pamphlets on Malcolm X) — these organizations are filled with truly beautiful people that consistently reached out a hand to lift us up. We made new friends, sharing food with each other, helping each other with the weather, going out for drinks, and talking about our shared victories.
On the last day of the event, after we had just finished stuffing everything into the car, an acquaintance came up to me and asked me for more information about the party and what it was we did. It caught me by surprise; I didn't expect it from them and I was excited to share. Also unexpected for me were the many many people who came up and talked with us, having no knowledge of the party but genuinely wanting to learn more. I could see them unfolding any preconceived notions they might have had and connecting dots previously unconnected. They probably won't join the party today or tomorrow, but they know a little bit more about who we are and what we want in the world. They know that we're here — newly formed and working hard in Washtenaw County. I hope we'll see them again at the fair next year.
Image: CPUSA
Comments