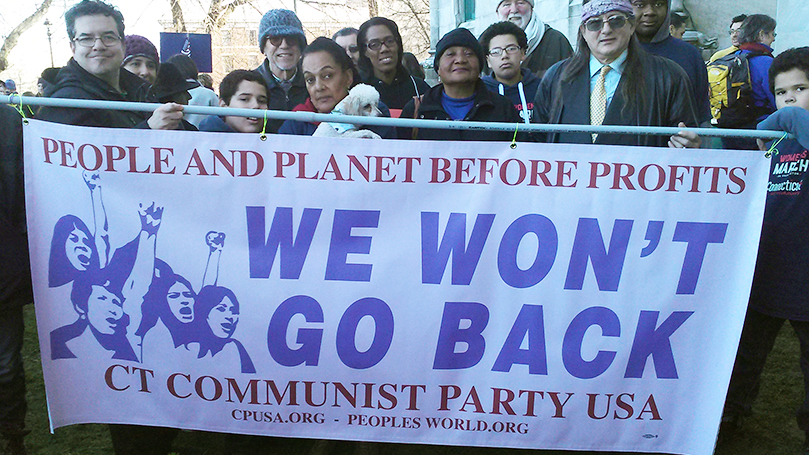 In Hartford, Connecticut most clubs are organized by neighborhood. Each neighborhood club has a particular constant political outreach based upon the issues they face.
The Asylum Ave club is focused on finding ways to provide political ideas for youth to get involved.  Many adults have joined based upon the need to organize among these young people.  Seven new members recently joined the club as a result of invitations to club meetings the club chair made to friends to whom he gives the People's World. Accompanying this has been the enormous amount of voter registration to change the many policies of the Trump administration that hurt the neighborhood where most everyone is struggling to make ends meet, such as the attack on the Affordable Health Care Act, Social Security and Section 8 housing. The neighborhood is majority African American. The club has 36 members and a core of 8.
The Broad Street club is located in a mostly Puerto Rican neighborhood and has played a role in the election of a Puerto Rican union leader as state representative,  including positions in the campaign staff.  The club also focuses on the immigrant rights movement, school questions and neighbors needing help for example responding to abusive treatment of tenants by landlords.  This club has 10 members and a core of 5.
The North Main club is also located in a majority African American neighborhood with a local focus on police brutality.  After helping lead a movement to form a Civilian Review Board in the city, they continue a consistent effort to strengthen it.   This club has 40 members and a core of 8.  Two long-time People's World readers have just joined the Party.
All members of the Hartford area neighborhood clubs receive the print newsletter edition of the paper (Connecticut People's World) every week at their homes as part of the "route."  This allows them to be constantly updated about discussions in the clubs if they can't attend the meeting.  Most of these members have joined the Party through reading the print edition over several years, or through family members already in the Party.
There are two other neighborhood clubs in Hartford similar to the Broad Street club, one in another African American community and the other in an African American/Puerto Rican neighborhood.
Over the years as some comrades have moved to surrounding smaller towns, clubs have been formed in East Hartford and Manchester, and further away in Meriden, expanding the Party's scope. Localized People's World routes have been established in the new neighborhoods.  Meetings reflect the entire town concern as well.
There is great enthusiasm about the present national membership drive.  The Connecticut state committee established a goal of 50 new members in the state in 2018, with at least 35 new members during the drive from May Day to Labor Day.  In addition,the goals of the membership drive include establishing neighborhood clubs in three new towns now in the process of forming.
.So far 17 new members have joined the neighborhood clubs in Hartford and adjoining towns since May Day.  All these new members have joined from neighborhood People's World routes.
The major discussion and action point is a history making state-wide election campaign for a young, woman, Puerto Rican union organizer with a strong working class agenda. The Hartford area neighborhood clubs as well as the workplace based clubs and neighborhood clubs in other parts of Connecticut are making sure all their members and friends are registered to vote, that they get absentee ballots if needed, and that they have a ride to the polls for the August 14 primary.  In addition to helping get thousands of votes through work in unions and other coalitions, the clubs have a goal to bring out 1,000 votes directly.
Background:
The Connecticut Communist Party has always maintained a concentration policy for work place and neighborhood clubs.  An innovation in the 1970's was establishing permanent distribution of our newspaper, then the People's Weekly World,  through door-to-door routes by  neighborhood clubs to create relationships with those in the neighborhood, opening the door to membership and leadership for the Party.  There was a realization that continual readership of the paper would give an understanding of our political line eliminating reaction as well as ultra left.  There was also a realization that just understanding our line was not enough, and that trust must be built.
Expectations were met on these points with some adjustments.  First trust was built not in weeks or months but in years.  Real recruitment came not from all readers but particular readers that then shared knowledge with family and friends, making family recruitment easier and critical.  Progress and attachment to the Party was dependent on not using Party jargon but explaining our concepts in ordinary language.  Attention was paid to the children when meetings were held, with the result that politics was something the children came to have pleasure learning about.  As a result since the innovation on the routes, there are now second, third and fourth generation "red diaper babies," some now taking leadership in the state committee.
The crisis of everyday living for the working class in these neighborhoods continues and people frequently have to move.  It means there has to be a constant effort at recruitment in these neighborhoods.  At the same time, those who have moved have started new clubs wherever they are.
As a result of members moving from the Hartford area, clubs now exist in East Hartford, Manchester, Meriden and East Haven. Clubs are now being formed in Middletown and New Britain.
This experience has been critical in the present membership drive for the Hartford area clubs.  People are constantly joining from the routes. During the membership drive there is a special effort to get to speak with specific people who are long term readers of People's World and  with whom it has not been possible to speak regularly due to schedules.
Comments