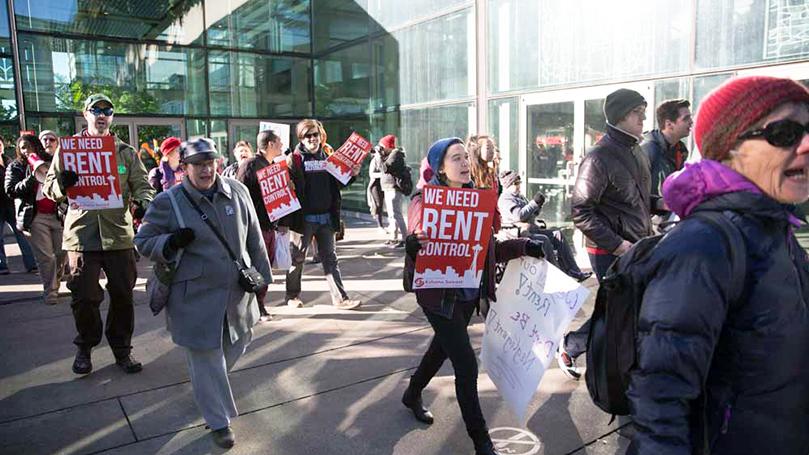 Members of the CPUSA Seattle club have decided to start a quarterly newsletter to be sent out to interested parties. These newsletters will include work we have been doing, work we plan on doing, local actions happening in the Seattle area and various interviews, articles and information we find interesting and worth sharing.
This first piece will be a reflection of the last year of our club's activities, including organizing with a tenant's union, a tidbit of our club's history, and the internal developments of our club.

Our First Year: A Reflection
Tenant union partnership
This past year, the work we have been most proud of has been our partnership with the Puget Sound Tenants' Union. We have been working with them to support their efforts in building an organized bloc of tenants in the Seattle area. We have tabled, door knocked, and strategized, and have seen real results. We have so much to learn from each other, and being able to send CPUSA members out to organize with them on the ground has been a great experience for all involved.
Our work with PSTU last summer was featured in an article by the Seattle Times.
All in the Seattle area are encouraged to volunteer with the PSTU!
Organization and education
Our club has significantly grown this past year. Despite the disconnection of much of the CPUSA Washington membership throughout the state, our club has managed to spearhead getting people reconnected and adding new members to the fold.
This past year, we have had a focus on our internal structure, and building ourselves up in a principled manner so we can begin to take real action in our communities. We held elections, restructured our social media, and began delegating tasks to a wider base of comrades to get more work to more people. We are excited and ready to have 2023 be our year of action! We have many exciting things planned and cannot wait to begin sharing them with you all.
In addition, our club has established a book club for internal party members as we educate ourselves further and learn from the comrades who have passed. Our first section of the book club included reading the Principles of Communism, On Practice, Combat Liberalism, and the Three Sources and Three Component Parts of Marxism. This book club has helped us in on-boarding new members to the core principles of Marxist thought as well as getting new members rapidly engaged with work the club is doing.

Looking forward: local politics
We have had an awesome first year of organizing and cannot wait to get to work in 2023, starting with initiative 135.
It is no secret that Seattle lacks quality affordable housing for our working class and people. An organization of housing advocates has acquired enough signatures to get a social housing proposal, I-135, on the ballot in Seattle. This proposal, if passed by the people, would establish a "Public Developer which will create publicly owned, social housing," according to House Our Neighbors!, the organization running the campaign for the initiative.
The Seattle club fully endorses Initiative 135. High rent prices have created a housing crisis that leaves many of our neighbors unhoused. We endorse this initiative because, as communists and workers, we support the general uplifting of our class and the relief of our suffering. We also know that we will need to fight for every gain we get, so it is our duty to use every tool at our disposal. The vote will be held on February 23 of this year, and we encourage those in Seattle to vote in favor of it.
Closing Remarks
Last year, we focused on building the party and strengthening connections within our local communities on issues that are affecting our working class and people. We more than doubled in size as a club, and we will continue to grow during 2023.
Join us at cpusa.org/join-us to become a part of our working-class and people's movement for democracy and socialism. Follow us on Twitter and Instagram @cpusaseattle!
Here is to a great year, comrades!
Images: Marching at a tenants' rally by Alex Garland / Backbone Campaign (CC BY 2.0); PSTU outreach crew by Puget Sound Tenants' Union (Instagram)
Comments