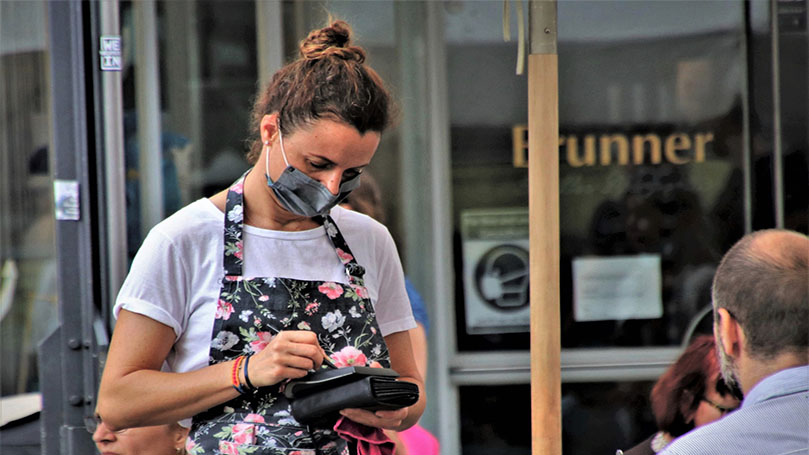 The famed Harvard economist — advisor to both the Clinton and Obama administrations, the ultimate insider economist with a reputation for both genius and gullibility about finance capital — Larry Summers, is terrified of an overheated economy and 6% inflation, which he thinks looms. He admits he is a pessimist, and that optimists — like Treasury Secretary Janet Yellen, Fed Chair Jay Powell, and several  top economists sitting on Biden's Council of Economic Advisors (CEA) — may be right that inflation is manageable, despite heavy government spending on income support for unemployed workers.
Dean Baker, among the most reliable progressive economists, surveys the recent inflation reports, and summarizes as follows:
Overall, this story is largely as predicted. There was a major bounce back in areas like airfares, car insurance, and hotels (up 8.8 percent). A temporary shortage led to a surge in used car prices and an unusual hike in new car prices. There is little basis for concern about lasting inflation.
The following items support Baker's analysis:
The overall CPI (consumer price index) was up 0.8% in April; the core CPI was up 0.9%, driven largely by bounce-back items in temporary short supply. For instance, used cars jumped 10.0%. (Core CPI is the costs of goods and services, excluding that of the more volatile food and energy sectors.)
The overall CPI is up 2.6% since February 2020, a 2.19% annual rate. Core CPI is up 3.1%, a 2.7% annual rate.
A jump in used car prices added 0.28 percentage points to the overall inflation rate in April and 0.35 percentage points to core inflation.
New vehicle prices rose 0.5% in April, up 2.0% year-over-year. This is due to strong demand and a semiconductor shortage.
Car insurance jumped 2.5% in April, reflecting more driving. This added 0.04 percentage points to core inflation. The price is up 6.1% year-over-year but still below its February 2020 level.
Most of the reputable experts in price forecasting are predicting at most a 2–2.5% annualized rate, in line with Baker's own, who is emphasizing the temporary factors, as opposed to structural inflationary bad actors, like health care. Goldman Sachs, for example, in addition to Biden administration experts, are on board with those projections. A 2.0 inflation rate is in fact recommended by many progressive economists as sufficient to 1) keep the rich from keeping all their billions in their pocket, rather than doing the job-creating, productivity-improving, investment thing; and 2) provide enough "growth" to exceed population growth and thus tighten the labor market, where, in accord with supply and demand, wages should rise. In reality, wages go up only if labor bargaining power in the "market" has sufficient political and trade union protection. Indeed, the ability of the working class to prosper at 2.5% inflation requires at least a 3% increase in pay or comparable benefit. But the fair distribution of the gains from productivity or growth presumes a level of economic or political bargaining power that has not been seen for a long time.
Summers' fears of inflation are not his alone. Inflation rising above increases in income leads to lower real income, a concern for all workers. But there is no alternative to sustaining the subsidies — and higher wages — until the pandemic and its depression are further in the rear-view mirror. Summers disagrees, citing the reported labor shortages in several industries still receiving unemployment or other income support. In the Trumper-led states, Summers' fears will be played like a beautiful strain in an anti-government symphony all too willing to cut the $300 unemployment benefit to force workers back to low-wage jobs.
But he overlooks the complexity — both economic and political — underlying the "shortage" numbers. In hospitality, for example, there is a shortage of restaurant workers, mostly women who were forced to stay at home during the pandemic because there is no child care and schools are only partially open, with homeschooling predominating in many areas and states. One cannot underestimate the impact on African American, Latino, and Asian communities where the hardships imposed by the pandemic leave few choices to avoid disaster.
The solution is to raise the minimum wage and wipe out the sub-minimum.
In a depressed labor market, workers paid a sub-minimum wage who are called back to a half-open restaurant where social distancing and higher restaurant prices (and costs) guarantee fewer tips may indeed not respond to that offer for their labor. The solution is not to cut these workers' subsidies, but to raise the minimum wage and wipe out the sub-minimum for restaurant workers. Force the back-to-work movement to sustain a living wage. Debt still plagues many families, and many are desperate and have suffered as yet uncounted levels of stress and trouble. Some, those able to fully work remote, have saved, and have money in their pocket to spend. Those are not the ones getting unemployment. And even if some were getting aid or benefits inappropriately, there is nothing pure that ever gets through Congress without tasting like sausage. Plus, there is no point in making concessions to Trumpers, who have no interest in corrections to aid, only its destruction. This is what makes Summers' political play a serious miscalculation, assuming he does really support the main direction of Biden's agenda. Unless he is doing this for money; more on that later.
In a CNN interview, Summers objected to the 2% inflation projections, falling back on his unhappiness with current price indexes, which don't agree with him.  For a man known for knowing the data behind an opinion, his argument that "they are undercounting mortgage and real estate inflation" was very weak and without foundation. That's taking a "I know it's true but I can't prove it" position.
Many find Summers' motives suspect — is someone paying him to cause trouble for Biden, or he is causing trouble for Biden because other interests have their hooks in him? Who knows? Personally, I doubt it. Summers has always been an independent thinker, an iconoclast, an original. He is also a bit numb, politically. He has lectured others in the past, like Massachusetts Senator Elizabeth Warren, about the virtues of being an "insider" where the president will listen to you, or an "outsider" posturing but with little impact on actual policy.
Now that he is on the "outside," he seems to have completely forgotten his own advice or worse, has started to believe his own prior reputation: if an analysis of his was refuted by experience, then the truth itself must have changed. Therefore, he committed no error. Good luck with that one, Larry.
Image: pasja1000 (Pixabay).

Comments