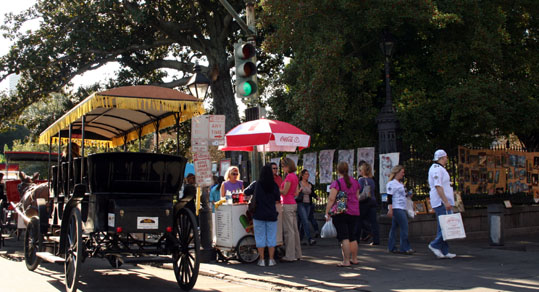 NEW ORLEANS – Scott Marshall and I took the Southern Organizing Tour to its southernmost extremity on November 21. In the French Quarter, we met with comrades who turned out to have a good grasp of issues here.
Oddly, the British Petroleum oil spill is not dominating the headlines lately. Instead, education seems to head the list of social problems. In a switch since the Katrina hurricane, there are many more charter schools in New Orleans than public schools, and the authorities rate them higher. At the same time, the Times Picayune reports that Catholic school attendance is dropping because of competition from the public schools.
Our comrades said there is a much larger issue: some children have no neighborhood school at all! Going far back into the history of the area, they said that education has always been an "elitist thing" here. Loyola University, an elite private school, has plenty of new students even though tuition has risen to $30,000/ year. The main hope of working class students, University of New Orleans, is facing drastic cuts in staff! A strong Communist club here could take on the issue of equal access to good education, and it's needed!
Katrina changed New Orleans in ways that may never be restored, our comrades said. Wealthy people had no trouble returning after the devastation, but low-income people have an extremely difficult time trying to return to their beloved home town. Tourism, which is still not reaching pre-Katrina levels, is rising. Some of the fishing boats have returned to the sea, and others are getting ready. Freight is moving in the harbor and the oceanside chemical plants are functioning.
The economic crisis is rough here, just as it is everywhere. People in New Orleans aren't sure what to do. They need political education and leadership.
Comments