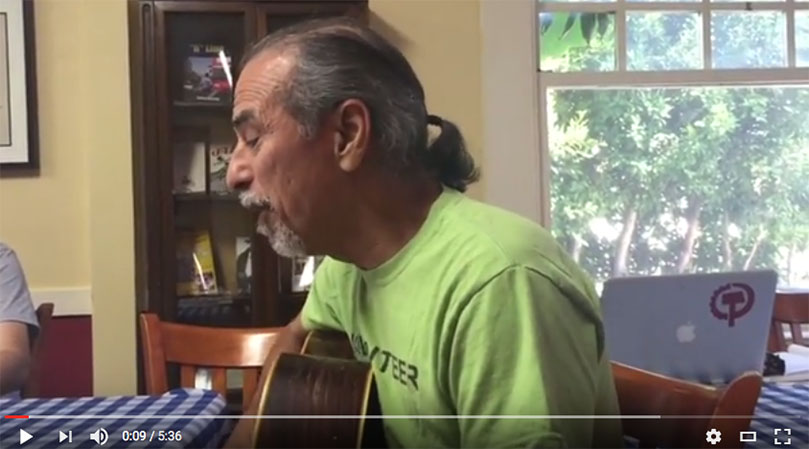 At a recent meeting of the Communist Party in Los Angeles comrades were treated to a new song set to an old rhythm.  Check out the video and sing along!
Now the times we hope are changing, socialism's gonna rise
Dump the Trump and Trump the racist don't let fascists close your eyes.
But for Bernie and his program there would be no common ground
So take notice, keep on going, Socialism coming round.
If you want a better world, without killing, hate and war
Without military weapons, and the young sent off to war
If you want some peace and justice, want some love instead of hate
Socialism is the answer, starting now is not too late. (chorus)
So you say you want to live,  in a world that's full of hope
Stop the fascist and the racist get your friends to go and vote
Vote for progress and progressives, don't accept just any dope
Economics is the answer,  justice programs are the road.
Socialism is the answer but it takes much more than votes
It takes time and organizing, and it needs a plan of work
So start thinking and uniting, join a campaign, bring your friend
We can build a better world and solve the problems all as friends.  (chorus)
It has things like public public health care, Public banks that make you loans,
For your mortgage, at no interest, Even some small business loans.
Homelessness is done away with, Medicines prescribed for free
So that people with their problems still can live in dignity.
And the prisons they are changed, and the jails they are too
Rehabilitation is the work that they will really do.
No more guards that beat the inmates, no more time spent in the SHU.
For your progress when you come out, counselors, work and training too. (chorus)
Think of things you'd like to see, in a wondrous happy life
You can have these in a system that gives earth and people rights.
Child care is free for all, if you work or go to school,
If you stay home as a parent, socialism's also cool.
Public transportation's free, electric cars will save the bees
There's no fracking or coal mining, solar power's all we need.
Jobs are payed well and vacation is a month long when you start
You get paid for forty hours, but you work for 32.  (chorus)
Chours: Go ahead and tweet your neighbor, go ahead and call a friend
Do it in the name of justice, for a (future/planet) we can all defend
The trumpets will be blowing, come election day
When the people in democracy, finally vote and have their say.
(The melody of the song was by Dennis Lambert and Brian Potter.)
Comments