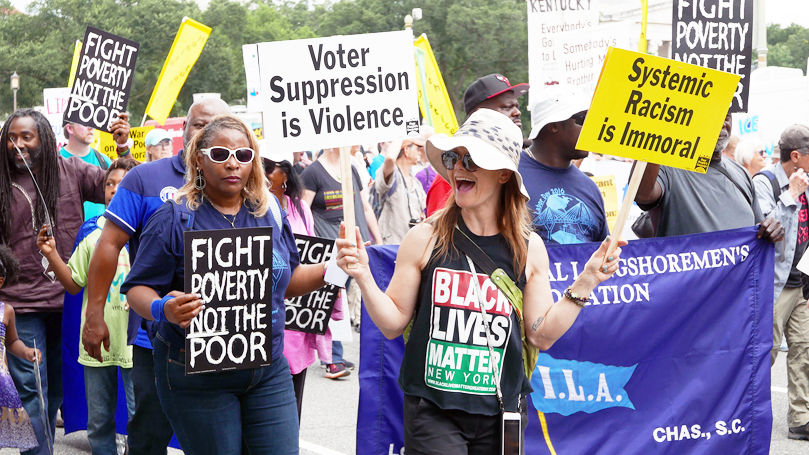 Presented to the CPUSA National Committee by Joelle Fishman, chair of the Political Action Commission, on Saturday, June 24th.
Joe Sims' report hit the ball out of the park! Thank you for laying out the challenges and opportunities in this critical moment. We need unity to block the fascist threat, while strengthening the rising fightback on all fronts and building our party.
I'll give a few general thoughts on the approach to our work in the 2024 election. Others from the Political Action Commission will speak on specific topics, including Joe Henry on the Latino vote and Lee Dlugin on the housing crisis.
How can we best build all-people's unity, defend our rights, and build working-class power in 2024?

Focus on the issues
First, 2024 is all about the struggle for the right to live — with a roof overhead, dignity on the job, and safety from racist violence. It is a struggle for ourselves and the planet. The struggle for democracy is entwined with our vision for socialism.
The lies, bigotry, divisions, and anti-immigrant fear whipped up by MAGA Republicans calls for deeper organizing, bigger coalitions, and a collective approach to voting. This approach is needed not just for the elections, but year-round and long term.
The 2024 election is not about Biden. It's about us, and it's about democracy. A focus on issues, issues, issues can win the victory and build a lasting movement.
With their early endorsement, and with big contract fights and organizing drives underway, unions will now begin to discuss issues with their members and address the question: "What election results will strengthen our ability to fight and win?"
We should leave this meeting with a sense of purpose and urgency to study Joe Sim's report in our clubs and districts and map out plans of action.

Winning support for the all-people's front
Second, it is our responsibility to win the entire party membership to full support for the all-people's front strategy, and put theory into practice by getting out the vote in 2024.
Joe's report offers concrete examples of election victories won this year that dramatically changed the balance of forces and peoples lives. We can be proud of our role.
The lessons are that it was possible to prevail against self-funded, corporate billionaires in Los Angeles and Chicago because of independent, progressive, multi-racial labor–community coalitions built over years of consistent, strategic, door-to-door organizing.
It was possible to win control of the governorship and legislature in Minnesota and Michigan — and then win big gains for voting rights, workers' rights, and abortion rights — because of united front coalitions and consistent organizing over many years. (Today, marches are being held to mark one year since the barbaric Dobbs decision)
There are many more examples. Congratulations to Philadelphia for a great campaign to elect Seth Oberman Anderson!
The fightback is also underway in states where the balance of forces is in MAGA Republican control, and attacks on voter rights and all democratic rights are in full force. How can we increase our organizing in the South, alongside labor and its allies, to help strengthen those labor–community coalitions and deliver massive turnouts, including in key Black and Latino communities, so the people's voice can prevail?

Engaging in the battle of ideas
Third, if we are well-grounded in our strategy and tactics, we can provide clarity as the twists and turns of the election unfold. In the battle of ideas, the People's World is our most powerful tool, along with CPUSA.org. Our media is in a position to counter the right wing MAGA narrative of hate, racism and bigotry with working-class messaging that is pro-immigrant, pro-LGBTQ, pro-public education, that is in support of unions, climate action, and abortion rights, and that builds unity. We can take that into the streets.
The People's World is in position to take on Cold War 2.0 rhetoric and war policies in a way that keeps the focus on unity against the fascist threat. Trillion-dollar military spending endangers the world and undermines the Build Back Better jobs and infrastructure agenda. A push to support the bills to cut the military budget, and to embrace the UN treaty to end nuclear weapons, can strengthen the campaign.

Concentration and collective action
Fourth, we should plan strategically to prioritize key election districts and multi-racial working class communities. Concentration enables organizing for the long term. Club concentration can build a base, pull out decisive votes, and be part of ongoing coalitions for emergency, everyday needs.
We all have a part to play. It will take a collective approach in each district and then each club, working together with the CPUSA National Committee. The Political Action Commission is committed to do its part.
This election is literally a matter of life and death for millions of people. If we build unity in action around the issues people are facing, we will grow among the multi-racial working class and come out stronger to continue the fight as we prepare for our national convention.
Image: Poor People's Campaign DC 2018 by Susan Melkisethian (CC BY-NC-ND 2.0)
Comments