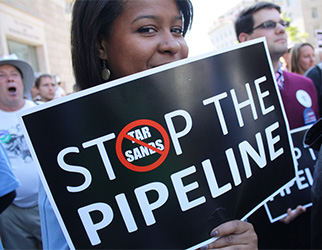 The Keystone XL Pipeline is a proposed pipeline running from Hardisty, Alberta to Steele City, Nebraska, ultimately carrying tar sands oil from Canada to refineries in tax free "Foreign Trade Zones" on the Gulf Coast.
Circumventing Midwestern refineries and consumers, Keystone XL is intended to transport tar sands oil across America's heartland, without paying taxes to America's communities or providing jobs for America's workers!
Jobs for the Future
We need a real jobs program to create living wage jobs that don't harm the environment!
There are thousands of infrastructure projects which could put tens of thousands of unemployed construction workers to work, hundred of thousands of jobs retrofitting both residential and commercial buildings and cut heating bills, and millions of jobs building the new energy economy and smart electrical grid to have a sustainable future.
In March 2012, President Obama tried to end oil company subsidies, but was blocked by a GOP filibuster. That money could be put to better use building good, green jobs for America's workers, not lining oil executives' pockets! Add in corporate taxes at their lowest point in forty years, and you get government of and for companies, not citizens!
Everyone is affected by the environmental crisis, including workers and oppressed people. We must all fight to stop transnational corporations from deciding our future. Only by uniting can we win security for our jobs and our environment! Together, we can choose-
People Before Profits!
The Keystone pipeline is part of ever increasing efforts by global corporations to exploit resources across international borders, placing profit above the safety of working people, their environment, and the future of humankind!
The oil companies tell us this is price of job creation. but it doesn't have to be this way.
One Week of Oil Spills 2013

March 26:

Minnesota

Derailed train: 30,000 gallons

March 29:

Arkansas

Broken pipeline: 156,000 gallons

April 3:

Texas

Broken pipeline: 30,000 gallons

April 3:

Ontario

Derailed train: 16,642 gallons
Resources

For more information about legislation and action visit these websites:
Comments