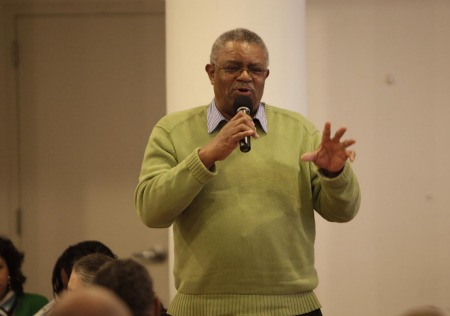 The following is based on remarks given at the CPUSA's conference, April 16-17, 2011.

I think we all agree that to meet the challenges of today, we need a much larger, better organized, more working-class based, more multi-racial and more youthful party. Working side by side with the party, we also need a much larger, much more active Young Communist League.
Qualitatively growth for our movement is an imperative in these challenging times. Building up the ranks of the party and YCL by several thousand in my view would be a good start.
To do that would require a serious effort by the entire party and league.
We currently have members in every state but we should also aim to have stable party organization in all 50 states. We need an active YCL starting wherever there is party organization.
We need many more readers of our press and much better functioning clubs in every district. We need functioning networks where individual members who are too spread out to physically meet can be in touch with each other. And we need strong/popular party system of consistent party education to develop and solidify new members.
Above all we need to be an active movement.
We can work out the goals and timetables with the districts as we develop a working plan.
I am confident that we can achieve that kind of growth in the next period.
In fact recent experience shows we are on our way.
For example, applicants for membership in:
2009 equal 297
2010 equal 700
The first three months of this year we have already reached 219 and if we extrapolate by the end of the year the number could be close to 1,000.
We are just setting up a system to follow up on these new members to get them connected and active.
Some on their own have paid dues and have recruited others but the party's leadership has to work with them and build relationships with them to help them integrate into the party organizationally and politically.
History of joining
In the old days you had to have two people sponsor you in order to join the party.
Some clubs required a screening process and probation.
By the old method we could not have recruited the overwhelmingly good people who are joining now.
The National Board looked at this and decided in the meantime, that we consider them members and not applicants.
They are coming to us and I think to remove any obstacles in the way of them joining is the right thing to do.
We have to work with them and get them attached, activated and paying dues.
Our experience is that this approach is working and as I said overwhelmingly, these are good people, honest people. They are from diverse racial and national backgrounds. They are women and men, young and older.
We have not been able to compile all the demographics but we know that the largest group are young men.
Geography of new members
From Jan. 1, 2010 to Nov. 17, 2010 California had the most with 75 – no one else came close.
The next category of 30 – 40 includes Florida, Massachusetts, New York, Ohio, Pennsylvania and Texas.
As a result of the new growth, we now have a number of new clubs in key states most importantly in the Deep South where there are clubs and clusters in a number of Southern states.
As we know there is a new more progressive voting block rising up in the South. Trade unions are organizing and progressive forces are active politically. And there is an increase in the black, Latino and young voters. They are reshaping the political landscape of the South.
Today 57% of African Americans now live in the South. The great migration from South to North of the last century is now reversing.
The people we are attracting are, in many instances, new to the left yet bring enthusiasm to building the party and support for socialism. Some are recruiting their friends and family
I should add that some former members are rejoining as well.
YCL staffer Jordon, who is a whiz on the new media, reports that the frequency of applications for YCL memberships has increased. We currently have a database of almost 700 names that have come in just in the last 2 years.
We have YCL branches springing up in different parts of the country. There are comrades in every state including Hawaii and Alaska.
(Note: Some of the new members attended the April Conference. Many of them made wonderful inspirational speeches.)
Factors for growth
Our new presence on the Internet has greatly expanded our reach. We now speak to, on a regular basis, tens of thousands when we used to reach only tens and hundreds.
I think we are growing because our political strategy and tactics are very much in line with the thinking and concerns of millions of working people.
Our party's assessment that the main danger from the ultra right is on target.
Our tactics on how to "decisively defeat" the right and build a broad progressive democratic movement are in harmony with the most sectors of the people's, labor and progressive forces. Building broad labor and people's unity to beat back the attack on the working class has broad public support.
Our approach on how to defeat the racism, and bigotry has majority support. Our political outlook to block the right's strategic goal to "bring down Obama" has wide support and many believe that is key to moving the whole struggle in a progressive direction.
This principled fighting posture of our Party has kept us politically aligned with the great mass of working people, trade unionists and minorities.
Because of this, people are joining.
Some are joining because they want to work with others on the left to push Obama to be more consistently progressive and not compromise so much with the right.
And some see us as a working class revolutionary voice that fights principally and has the mass tactics that could realize our socialist future.
We are growing because we are a part of a new progressive radicalization in the country. Demands like "Tax the rich," and slogans like "People before profits" are very popular these days. Sections of the political center have even adopted these slogans.
Public opinion
Look at the latest public opinion polls on socialism and communism. They show remarkable growth in mass anti capitalist consciousness.
Eleven percent of U.S. voters says that communism is morally superior to capitalism and the free enterprise system.
That number represents about 15 million people, who in the face of the most vicious, long-term red baiting campaign, still consider basic flaws in capitalism and are open to alternatives.
Our challenge is how do we reach them.
I am confident we can make it happen.
Photo: Jarvis Tyner, CPUSA executive vice chair, speaks during the April conference in New York City. (Colin Douglas Gray/PW)
Comments