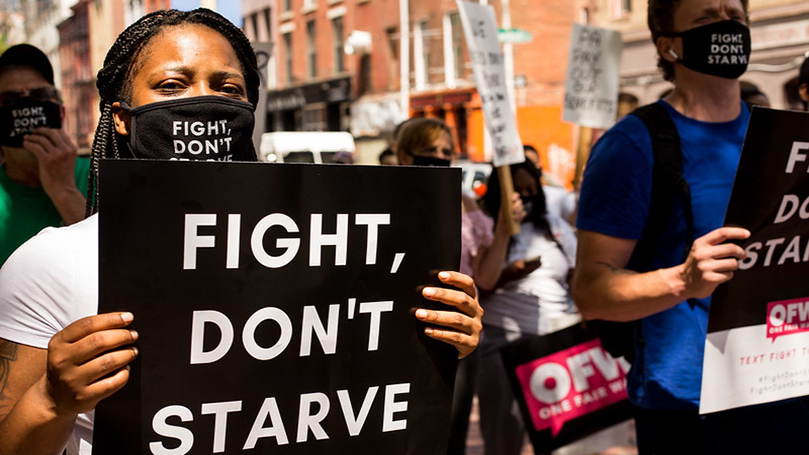 Our country faces a combined economic and public health crisis of epic proportions. We stand at the edge of a cliff. Not only have measures to contain the virus been inadequate, but the Trump regime has actively sabotaged public health efforts and promoted the resurgence now under way.
Thirty million Americans today depend on regular and Pandemic Unemployment Compensation (PUC) to survive. When those benefits end or are drastically reduced in two weeks, they will not be the only victims. Their families, landlords, mortgage holders, neighborhood businesses, and local governments will be hurt as well. And the resulting insecurity, evictions, homelessness, and desperation will undermine efforts to fight the pandemic.
The HEROES Act, passed by the House, would extend and expand unemployment and other programs. But Senate Republicans have been blocking the HEROES Act for two months. If they act at all, we can anticipate they will be as stingy as possible for workers and their communities, and demand still more goodies for the corporate elite, including measures to force workers back to jobs that are unsafe, and further attacks on workers' rights and safety.
The HEROES Act is not perfect. But there is no more urgent fight than to preserve it and pass it before the end of July.
Background
* U.S., and most of the world, is in a deep economic crisis.
* The COVID-19 pandemic public health crisis triggered the economic crisis, and has made it the worst in at least 90 years. But the pre-crisis "prosperity" was an illusion that hid underlying weaknesses that have deepened the crisis and will prolong and delay recovery.
* The crisis has exposed Trump's incompetence, as well as the corruption not only of Trump but the entire Republican Party in using the health crisis as an occasion for looting and for accomplishing political goals that are racist and anti–working class. These have not only made the U.S. stand out as a public health disaster, but will likely contribute to worse economic performance.
* For commentators, this is an economic crisis. But for millions, this is already an emergency threatening survival. This emergency is likely to engulf a large part of the working class in the coming months.
Jobs
* In January, the U.S. civilian labor force was 165M; among these 159M had jobs and 5.9M were officially unemployed.
* As of July 1, there were over 30M unemployed nationally.
* In Connecticut (CT), during the Great Recession of 2008–2011, CT lost 120,000 jobs over two years. In this crisis, CT lost 300,000 jobs in two months!  There are still more than 238,000 without jobs in CT, and the real unemployment rate is probably still above 20%.
* One survey showed that in CT 14.5% of African Americans, 13.9% of Hispanics, and 13.8% of Asian-Americans filed for unemployment, compared with 11.2% of the white population.
* In CT, at least 12,400 workers lost their jobs last week (week ending July 4).
* In CT, hospitality and food service workers were hardest hit, with 44% unemployment in May.
* Many workers have been kept on company payrolls thanks to PPP loans which cover eight weeks of payroll costs. Those eight weeks are or soon will be over for many businesses—if they are not able to reopen, their workers will be laid off.
* Although statistics are not available, anecdotal evidence indicates that small, minority-owned businesses were less likely to receive PPP in the first place, and are more likely to close.
* A significant number of businesses, large and small, have or will close for good. In the case of some large retail and restaurant chains, this was in the cards even before the pandemic hit.
* Five out of six job openings in CT are for low-wage, entry-level positions.
Lifelines
The CARES act has been the main lifeline keeping many working-class families from complete disaster. It goes far beyond what Trump and the Republican Senate wanted, and, presumably, they signed off on it because it also gave the administration an enormous slush fund for big business and corporate profiteers. Provisions keeping people alive include the following:
* $1,200 initial payment to almost every adult
* $600/week Pandemic Unemployment Compensation payments on top of regular unemployment;
* PPP—forgivable loans to small businesses to keep workers on the payroll
* moratorium (until July 24) on evictions for tenants in some rental housing (In CT, Gov. Lamont declared a statewide ban on all evictions through August 25.)
* moratorium on foreclosure of federally backed mortgages until August 31. CT has a similar moratorium.
* some funds for states and cities to cover some pandemic-related costs
* funds to health providers to cover some pandemic-related costs
However, the CARES act has some major holes.
* Overwhelmed with claims, it took weeks for many to receive their benefits, and some have never received them.
* Funds to support small businesses and their workers ran out quickly.
* Funds for states and cities were inadequate and tied up with unnecessary restrictions—unlike some of the big business bailouts also in the act.
* The biggest failure: undocumented immigrants and their families were excluded from all benefits. In CT, this affects between 150,000 and 200,000 people in roughly 50,000 households.
Housing
Despite the lifelines, evictions have already accelerated, and a tidal wave of evictions and foreclosures is threatened. This could result in massive dislocation and homelessness, have a major negative impact throughout the economy and the financial system, and undermine public health efforts to combat the pandemic. Most urgently, this is a life-threatening disaster looming over working-class families.
*  In the U.S., 44 percent and 41 percent of adult Latino and Black renters, respectively, said they had no or slight confidence they could pay their rent next month. About 21 percent of white renters felt the same.
*  "140,000 CT residents don't believe they can make rent [in July]—three quarters of them Black, Latino or another minority" (Hartford Courant, 6/11/2020).
* In June, 30% of Black renters, 19% of Hispanic, and 12% of white renters were unable to pay their rent.
* The CARES act (and to some extent state moratoriums) have no mechanism to enforce the moratorium on evictions. So in many states, some landlords and judges are evicting tenants anyway.
When the $600/week PUC unemployment payments end on July 25, the number unable to pay rent will shoot up. "Without an extension [of the moratorium] or a direct renter assistance program . . . the U.S. could be headed toward historic dislocations of renters and business failures among apartment firms, exacerbating both unemployment and homelessness" (National Multifamily Housing Council).
* Without lifelines like unemployment insurance, half of all unemployed workers have fewer than two weeks of liquid assets (cash and savings) to meet expenses.
* Of the 110 million Americans in rental households, 20 percent are at risk of eviction by Sept. 30.
* Landlords will also be affected, especially in areas of high unemployment. Evicting a non-paying tenant won't help the landlord if there is no one with a job to take the apartment.
* Working-class landlords who live in a two- or three-family house are most likely to face foreclosure.
* The Great Recession 10 years ago resulted in a significant decline in the home ownership rate for African Americans (from 48–49% to 42%)—this crisis threatens a similar loss.
Recognizing the problem in CT, Gov. Lamont has ordered some stop-gap measures. But they are only enough to help 5,000 renters and 5,000 homeowners for 2 months, and 2,500 undocumented families for 1 month—a drop in the bucket of what is needed.
State and Local Governments and Their Services
The current crisis is national (even global) in scope, and only a massive national response can adequately address it. But despite the CARES act, much of the burden is falling on state and local governments, which were already on the edge of crisis after decades of austerity. Even before the crisis:
* CT public schools are underfunded by at least $1.2 billion.
* Since 2010, CT public health staffing has fallen by 16%, similar to national declines.
* In the last 20 years, support for Unemployment Insurance administration has declined by one-third.
The current crisis has greatly increased demands on local governments, while taking a huge bite out of already-inadequate revenues. Our governments are in the position of a tenant whose rent doubles at the same time they lose their job.
* 1.3–1.5 million state and local workers have already been laid off (Bureau of Labor Statistics).
* In response to the public health crisis, at least 14 states have already cut their health departments (People's World). More are likely.
* CT state revenues have dried up since the shutdown in April.  One study shows state revenue falling by one-third, leaving a $6.5 billion gap this year.
* CT municipalities have already lost $407 million in revenue, while expenses mount.
* To re-open schools safely, "the $8.5 million that New Haven received from the CARES Act will not come close to covering the costs of building retrofits [including HVAC], PPE, technology, testing, training, and hazard pay required to reopen schools responsibly" (CT Mirror).
*A higher proportion of Black workers with good jobs are government workers, compared with whites. African American communities are hit hardest by government cutbacks.
 What Is to Be Done?
The uprising around #BLM is a broad rejection not only of systemic racism and inequality, but the system that has produced them. It builds on and reinforces an upsurge already under way in response to the pandemic crisis. In CT as elsewhere we are seeing
* union struggles to keep jobs and benefits,
* union and community self-help and solidarity,
* cancel the rent movement, and
* campaign for assistance for undocumented.
Some victories have been won. Relief, and important solidarity and organizing, can be achieved at the local level. But immediate national action is essential.
The Republican-controlled Senate is blocking action on the HEROES Act, which would:
* continue $600/week supplemental unemployment benefits (PUC);
* provide rental assistance and halt evictions and foreclosures;
* provide a second $1,200 payment to all adults, including most undocumented immigrants; and
* provide substantial funds for state and local governments.
Other bills have been introduced to address specific areas of the crisis, including CT Congresswoman Rosa DeLauro's bill to provide $50B to keep child care centers open.
If they do not act by the end of July when the current benefits expire, working-class conditions may quickly rival those of the Great Depression of 90 years ago. This is a key "which side are you on" struggle. Unfortunately, Gov. Lamont has come out against continuing the $600/week unemployment supplement.
A Broader Vision
The fight against the crisis has opened the door to new possibilities. A proposal for a 10% cut in the military to fund the COVID response is getting serious support, and it ties in with the #DefundPolice movement and the New Haven ballot referendum.
CT's budget crisis should be met with our slogan, "No cuts, no layoffs, tax the rich!" The Arizona tax-the-rich referendum is a model.
As long as billionaire hedge fund managers are escaping the pandemic at their country houses in Fairfield County, there is no excuse for unemployed workers to lose their apartments. As long as the Pentagon can afford nuclear submarines and stealth bombers, there is no reason for schools to open without enough teachers, nurses, and supplies.
There is a growing recognition of the systemic roots, not only of racism, but all forms of inequality. Last year's radical demands are now mainstream. Our national chair, Joe Sims, calls this a "socialist moment." Not that socialism is on the immediate agenda in the U.S., but that growing numbers, including majorities of young people and people of color,
* are questioning and rejecting capitalism;
* are horrified at the climate, economic, and social destruction caused by capitalism;
* embrace fundamental transformative change and some form of socialism; and
* reject militarism and embrace global cooperation, not confrontation.
We are and must be rooted in the everyday struggles of the working class to survive in this crisis, on every level. This includes food distributions and eviction battles and fights for workplace safety. It means political fights, including elections at every level of government.
But as a Communist Party, we also should find ways to project a vision for a socialist future which completely transforms our society and economy to meet the needs and aspirations of our working class—to put people and planet before profits.
Report presented to the State Committee, CT CPUSA, July 12, 2020, and expanded to include national data.
Image: Joe Piette, Creative Commons (BY-NC-SA 2.0).

Comments