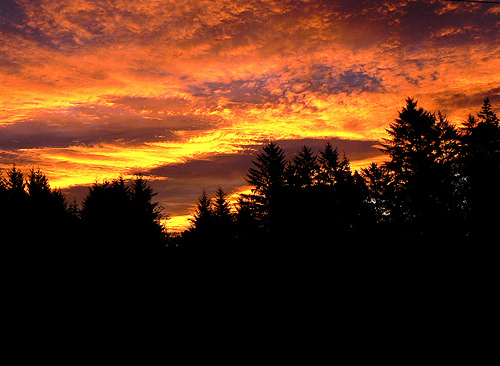 McKinleyville, Calif. Behind the Redwood Curtain up in Humboldt County, Calif., the Communist Party is on the run. By on the run, I mean were not being chasedwere doing the chasing for the common people.
Daily, I and other comrades and associates work at providing for, advocating and representing the common folks. Sometimes the work is light, but most times the labor is long. Example of people and projects are many.
For instance, on Tuesday, I meet a pregnant woman in a conversation at the local soup kitchen. Rain is falling outside. Her pickup camper residence is leaking. I ask the soup kitchens minister for some cold-patch to use on her roof. In the parking lot, I and a few of my irregulars successfully mend her roof. She thanks us all, and the opportunity arises to tell her about my involvement in the CPUSA. I tell her that many of us in the Mother Jones Club find great satisfaction in helping out others within the community. I tell her we are working for equality, labor, human rights thats what the party is founded on. She smiles and tells me, lets have soup more often, Michael. She is now very interested.
Wednesday: I have a homeless friend named Neil. He rides his bicycle around town collecting recyclables, and has a semi-permanent camp near town on the beach. Years ago, Neil was injured in an industrial manufacturing accident in Michigan. At that time his arm was rendered almost useless. He collected what little compensation he could, and moved out here to California. Now he makes his way by recycling collectibles beside the road.
Neil carries no ID and receives no funds from the government. He is one of the millions that are invisible. Among the many things we in our club have done for him recently is to secure for him a proper pair of glasses and help him relocate his camp after being evicted by the beach police.
Neil is like so many without health care. He is often sick and goes without his needed high blood pressure medication. He relies on the charity and good will of his friends, when the government could easily provide for his basic needs.
Thursday: Neil and I ride our bikes to the parking lot where I recently patched the womans camper. She is happily dry, but her delivery date is at hand. After taking some notes I return home to make phone calls. Neil stays to help her pack the camper and move it to a new outlaw camp site. After hours on the phone I have secured a motel room for her, where she can go and wait for her delivery. Ive also found her a midwife associated with a doctor, who will provide her needed care.
Besides my regular duties of first aid, referrals and consultations, I spend a great deal of time talking to the politicians within the community. The Mother Jones Club is known for its activism. Some of the names of its members are known far and wide and are given respect. To these politicians, we are not just a fringe element on the horizon, we are the true people representing the needs and wants of the community.
Photo credit:
Comments