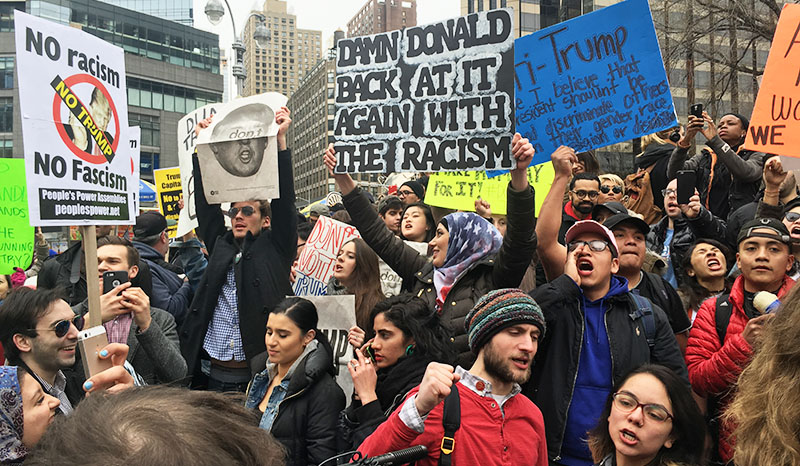 Folks are gearing up for a big protest outside of the first presidential debate at Hofstra University on September 26th and the NY district of the Communist Party plans to be there in full force.
"We're working with 11 other neighborhood groups to fill a bus from uptown Manhattan," said Estevan Nembhard-Bassett NY district organizer. "So far it's half filled and the seats are going fast because people are pissed off."
Buses are being organized throughout New York and the surrounding states. The party is organizing a bus from Brooklyn as well.
Cameron Orr who is also working on filling the bus concurred, "We are not going to Long Island to listen to the candidates debate, but to speak to the U.S. people. Our message is simple: we stand up for peace and justice. We stand against hate and intolerance."
GOP standard bearer Donald Trump has been accused of organizing his campaign around racism and hate, most recently by General Colin Powell.
According to the protest organizers demonstrations at candidate forums have become commonplace. By all accounts they've had an impact. During one of the Republican primary debates for example, the first question was on raising the minimum wage to $15.
Neil Cavuto asked them, "As we gather tonight, just outside and across the country, picketers are gathering as well. They're demanding an immediate hike in the minimum wage to $15 an hour. Are you sympathetic to the protesters' cause since a $15 wage works out to about $31,000 a year?" Donald Trump responded, "I can't be, Neil. Taxes too high, wages too high, we're not going to be able to compete against the world. I hate to say it, but we have to leave it the way it is. I would not raise the minimum."
Movements like the #Fightfor15 are having a huge impact on the election.
Protests movements like the #Fightfor15 also influenced the Democratic nominee. Hillary Clinton for example, originally said she would support a raise to $12 an hour. As a result of the people's movements and the Bernie Sanders campaign, which revealed a huge base of public support for far-reaching progressive reforms, the Democratic Party platform Clinton represents now supports a $15/hour minimum wage.
But the focus of the Hofstra protests will be on Trump. Given Trump's position as real-estate mogul, special attention will be given to the housing question. He owns properties worth over $2 billion dollars in New York City alone, selling "some of the most expensive properties in the U.S.," and has manipulated his political connections to relieve himself of 40 years worth of taxes on a luxury hotel near Grand Central.
Trump's racism is another major concern according to the NY CP leader. "Look, his race-baiting did not begin during his presidential run. When the Central Park Five were unjustly targeted as culprits in the raping of a woman in 1989, he spent $86,000 to run full-page ads in major newspapers screaming, "BRING BACK THE DEATH PENALTY! BRING BACK OUR POLICE!"
The NY district is encouraging people to check out the Party's 10-point strategy to win a landslide vote and build ongoing grassroots power. Those interested in participating in the rally can RSVP today.
Comments