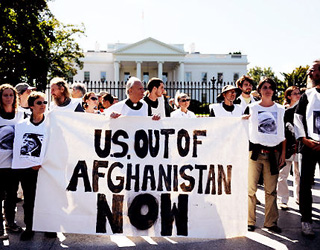 Video Presentation
NATO Summit & Counter-Summit: Two Visions for the Planet
Thurs, May 17
5:00Pm pacific / 6:00pm Mountain / 7:00PM Central / 8:00pm Eastern
This month's live video presentation will be dedicated to the NATO Summit, Counter-Summit and the protests in Chicago.
The North Atlantic Treaty Organization (NATO) is the main imperialist military force in the world today, being the vehicle for war and occupation in Afghanistan and Libya. Though it is an "alliance" it is an unequal one. The U.S. government has long used NATO as a tool of its military goals, originally to challenge the Soviet Union and the socialist countries and now to expand its geopolitical power and influence.
Despite being a Cold War relic and claiming to be a defensive alliance for Europe, NATO today continues its expansion in Eastern Europe, threatening Russia as well as pushing into Africa, Asia and elsewhere.
NATO is not a protector of peace, but an aggressive force that reinforces militarism, wars and military spending at a time when the U.S. and the world needs peace, real diplomacy and domestic spending for human needs more than ever.
Libero Della Piana, National Vice-Chair of the Communist Party USA will make a brief presentation about the history and role of NATO, the anti-NATO protests planned for Chicago and an alternative vision to NATO war and militarism. Questions can be submitted live during the event.
For more information on the various protests during the NATO Summit and the Counter-Summit for Peace & Economic Justice, click here.
Comments