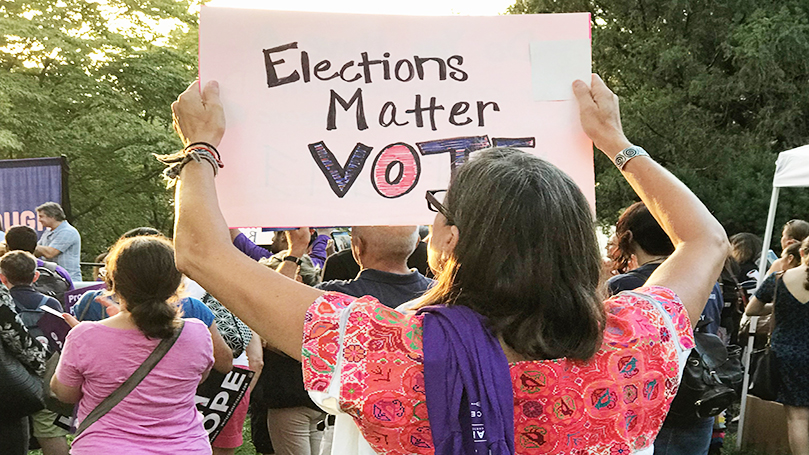 The following is adapted from a report presented to the National Committee, Sept. 18, 2022.
The fascist danger we identified is very real. Everything we do in the next weeks can make the difference in the outcome of the election and in the huge upsurge battles of the multi-racial working class underway. As Joe says, will we have the child tax credit, abortion rights, the PRO Act, voting rights, police accountability? Will we be in a stronger position to build the climate change and peace movements? It's a matter of survival. As the Starbucks workers say, "enough is enough!"
There are the battlegrounds that will determine if Mitch McConnell gets reinstalled into control of the Senate and if MAGA Republicans get to control the House. There are the battlegrounds in states across the country that will determine if MAGA Republicans get to control governorships, offices of secretaries of state and attorneys general, and state legislatures. We are fighting for the right of the people to determine elections.
So how do we meet the moment? We collaborate with allies in the union movement especially, but also the abortion rights, civil rights, and voting rights movements. We communicate with existing voters and inspire new voters to register and cast their ballots. We can give voters practical information, such as the location of their polling place and whether they can vote absentee. Just as important, we also talk with people about the issues they face and encourage them to see their place in a movement to win change.
Most of all, don't believe the hype still being pedaled in the media that the Senate and House are likely to change hands. If we and labor and women and young people and people of color and retirees all do our part, they won't change hands.
Nothing can be taken for granted in this election. It's about our lives and our future. We are up to the task, and if we put everything we have into this exciting and history-making moment, we will come out of it bigger and stronger.

Election resources
Our CPUSA national plan of work for the critical 2022 midterm elections calls for a united front to defeat the fascist elements and be in position to bring all the new labor and people's organizing onto the offensive. Here are some resources as an addendum to that plan:
Sign the CPUSA Pledge to Get Out the Vote.
Circulate articles from peoplesworld.org and from cpusa.org:
Joe Sims National Committee report: A YouTube video of the presentation and a written version on CPUSA.org.
Latino Vote by Rosalio Munoz
Anti-Racist Unity by Eric Brooks
Use Our Right to Vote Not Lose It / ¡Debemos usar nuestro derecho al voto para no perderlo!  By Political Action Commission
Get involved in your neighborhood and volunteer with your union.
Poor People's Campaign — Oct. 15
The PPC prioritized getting out the vote of low-income voters to make the difference in 15 states. Read their report, "Waking the Sleeping Giant."
On October 15 at noon on Main Street in many states the PPC is holding marches about voter rights, along with a national event.  Contact your state PPC here.
The AFL-CIO special election website says Freedom is On the Ballot: Freedom to vote, freedom to join a union, freedom to healthcare, freedom to earn a living wage.  It highlights the battleground states (MI, PA, OH, AZ, MN, NC, FL, WI, GA, NV) and has a function to make sure you are registered to vote and know voting rules.
Each state AFL-CIO is organizing Labor Walks for union members to visit union members and find out what is on their mind and how to vote in their own interests.  To connect with your state organization visit this site.
Working America  If you are not a union member, you can participate in the AFL-CIO Labor Walks as a member of Working American the AFL-CIO community affiliate.  Sign up here to join Working America.
SEIU Let's Vote  Pledge to vote and get a list of SEIU-endorsed candidates.
National Nurses United  Text and phone banking to battleground states. Start by filling in the volunteer form.
Planned Parenthood Votes  Women can make the difference in this election. Many organizations are mobilizing including Planned Parenthood Votes. Contact here.
Black Voters Matter — Website
Mi Familia Vota  unites Latino, immigrant, and allied communities to promote social and economic justice through citizenship workshops, voter registration, and voter participation in Arizona, California, Colorado, Florida, Georgia, Nevada, and Texas. Visit their website.
Youth Vote — "Vote Ready"
GLAAD — Vote with Pride
Ballot Initiatives
IL Workers' rights ballot initiative to amend Illinois's constitution affirming the right to collective bargaining and outlawing "right to work" legislation.
MI Ballot initiatives for constitutional amendments to protect reproductive rights and voting rights.
CA Governor initiative to put legalizing abortion on ballot statewide. Plus a Los Angeles city-wide ballot initiative to tax the rich and end homelessness.
Image: Ziggyfan23, photo cropped (CC BY-SA 4.0).

Comments