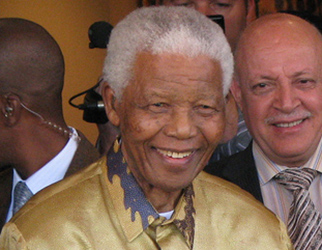 TO THE SOUTH AFRICAN COMMUNIST PARTY, THE AFRICAN NATIONAL CONGRESS, THE CONGRESS OF SOUTH AFRICAN TRADE UNIONS AND THE PEOPLE OF THE REPUBLIC OF SOUTH AFRICAFROM: THE COMMUNIST PARTY OF THE UNITED STATES OF AMERICA (CPUSA)
We learned today that Comrade Nelson Rolihlahla Mandela, South Africa's and our beloved Madiba, has at last set out on his journey. This news was no less of a blow for having been so long expected. We express our heartfelt condolences to the family, to the SACP and the Tripartite Alliance, to the South African people and to comrade Mandela's millions of friends and admirers worldwide.
Very few of us in the CPUSA can remember a time when Madiba was not in our thoughts. The Freedom Charter, the treason and Rivonia trials, the "Free Mandela" campaign and the joy with which we greeted Mandela's release and his election as South Africa's first democratically elected president, helped shape our consciousness for generations.In our own country, the Free Mandela campaign, as part of the whole solidarity movement against apartheid, helped bring together the civil rights movement, the trades unions, the progressive religious people of all faiths, the minorities and many others. This unity still stands us in good stead, in many other struggles. It helped millions to hone their understanding of the nature of class and racial-ethnic oppression, of capitalism and of empire. For these things, we are eternally grateful.
Then, when Mandela was released, there was more to surprise and delight us. Instead of, as might be expected, retiring to a-well deserved rest as a respected elder statesman, Mandela plunged immediately and vigorously back into the struggle for a more just South Africa and world. Those powerful people, in and out of South Africa, who sought to use him for their own narrow ends were sorely disappointed. Yet Mandela always looked out for practical ways to improve his people's lives, and resisted narrow-minded or revenge-tinted approaches.For wisdom, integrity, dignity and humanity, Nelson Mandela will always stand as a figure for emulation, for the whole of mankind and for all time.
Fortunate indeed is the nation that can bring forth such a person.
PHOTO: South Africa The Good News / CC-BY-2.0, via Wikimedia Commons
Comments