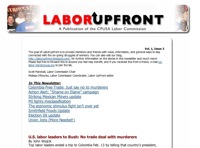 Vol. 1,
Issue 2

The
goal of LaborUpfront is provide members and friends with news,
information, and general ways to stay connected with the on-going
struggles of workers. Please feel free to forward this on to anyone
you feel may benefit, and please send us the e-mail addresses of anyone
you think would like to receive this. You can also visit us at our
blog, http://laborupfront.blogspot.com/
for further information on the stories in this newsletter and much more!

Scott Marshall, Labor Commission Chair
Melissa ORourke, Labor Commission Coordinator, Labor UpFront editor

In This Newsletter:
Economic
Stimulus Plan
Action Alerts: UE, CLUW, CWA
Dangers
of Columbia Free Trade
Support the Mexican
Miners
LA Security Workers
Victory
Portland
School Workers Fight Back
Don't forget
about the Congressional Races!
Union Jobs
(More Needed!)

Economic Stimulus
Plan falls way short
By Scott Marshall
The economic stimulus plan negotiated between Bush and the House of
Representatives falls way short of what working families need. It
really amounts to another huge tax give-away for big business. No one
should scoff at the rebates, however. Even a few hundred dollars will
help many families in trouble. But the fundamental immediate stimulus
needed includes paycheck-to-paycheck unemployment compensation for the
duration of joblessness, a big boost in food stamps and utility bill
subsidy programs, and an immediate moratorium on foreclosures on family
homes. Story continues here.

We think the AFL-CIOs proposed
stimulus plan is a very good start in this direction. We also
encourage everyone to click here
to send a message to tell your senators to work for a real stimulus
package for working families today.

Action
Alerts
UE: Urgent: Workers at
Hishi Plastics need your help in their long fight for a union. You can
help these workers win their struggle to bargain a fair union contract.
Please take a minute and visit this site and
follow the simple instructions on the web page to send a postcard to
the Hishi parent company, Mitsubishi Chemical Holding Company of Japan.
Your effort is appreciated, and with your participation we will win
justice at Hishi!

CLUW: Please support
the Fair Pay Restoration Act and Lilly Ledbetter by signing the Fair Pay Campaign Pledge.
Click here
to read a message from Lilly Ledbetter, who lost a recent wage
discrimination case against Goodyear Tire and Rubber Co. in the Supreme
Court, in a ruling that gives employers little incentive to correct pay
discrimination.

CWA: Help the
Washington Post Production Workers Get a Fair Deal! Imagine going five
years without receiving a single pay raise. Sound like a bad dream?
For production workers at the Washington Post it's a harsh reality.
Click here
to take action.

International
Labor News
The Dangers of the
Columbia Free Trade Agreement
In last weeks State of the Union, Bush again brought up the need to
pass the Columbia Free Trade Agreement. The United Steelworkers,
though, are doing what they can to highlight why this egregious trade
agreement shouldnt be passed and how union organizers in Columbia risk
death everyday. Why would the United States make a free trade deal with
a country that The International Trade Union Confederation (ITUC) has
declared to be the most dangerous place in the world to be a union
member? Hear about it from a native union activist forced to flee for
his life here.
To read more from the USW, go here.

Mexican Miners day of action
The following is information contained in a notice sent out by the
organizers of the Second Continental Conference Against NAFTA and
Privatizations (Mexico City, April 4-6, 2008), a major
national/international rally in solidarity with the striking Mexican
copper miners will be held Cananea, Sonora (Mexico) on Saturday,
February 2, 2008.

The Mexico Conference organizers and the leaders of the Mineworkers'
union request messages of solidarity, and, more important still, the
presence of U.S. unionists and labor rights activists at this rally.
The embattled copper miners need our support. For information, along
with ways to send messages of support, go here.

U.S. Labor News
LA Security Workers Victory!
Service Employees International Union (SEIU) Security Officers United
in Los Angeles Local 2006 announced January 21 that they have achieved
a tentative agreement on their first union contract. The contract is
the best ever of its kind in the country, raising total compensation
wages and healthcare by nearly 40 percent. The tentative five-year
pact is with the security firms that service 80% of the commercial real
estate throughout Los Angeles County including Universal Protection
Services (UPS), ABM Security Services (ABM), Securitas, Guard Systems
and Allied Barton. The contract will cover 4,000 workers at hundreds of
worksites throughout Los Angeles County in commercial office buildings
75,000 square feet and above.

The announcement marked an end to the negotiations that began in June
2007. Security officers struggled against the citys corporate building
owners for more than five years to form the union of their choice with
SEIU.

Portland school workers
fight back
500 custodian and food service workers have been without a contract in
Portland Oregon since last June. The school district wants to roll back
wages and conditions.

Now this workers fight has erupted on the web because of a story in the
Portland Tribune reporting on a rally that their union (SEIU) held at
the school district office. It brought out some real anti-union,
anti-worker sentiment in the comments responding to the article on the
newspapers we site. Read the article and comments here.

We also have a new club in Oregon that has jumped into the middle of
this fight. Some are SEIU activists and they are appealing to the party
and our labor activists for help. Several comrades around the country
have already responded. Also you can call the superintendent of the
Portland Schools and demand a fair contract for the school workers at
503.916.3200. And you can read more about the struggle in Portland on
the Willamette Reds
website.
Add your voice of solidarity for these embattled workers!

Election 08 Congressional
focus
While the presidential race tends to occupy most of the media
spotlight, the Congressional races are equally important. There are a
whopping 28 senior Republican incumbents who are not seeking
re-election, and the number may still increase. This exodus makes it
highly unlikely that Republicans will regain the House, and puts the
Democrats that much further along the road to gain the veto-proof
majority we so desperately need. It also signifies a shift in popular
sentiment and support for a real change in policy favoring working
class people.

Union Jobs (We need more
listings!)
Chicago: IBEW 134 is going to be accepting applications for all three
classifications this year. They are going to take apps for
Communications apprentices in January. All the info is available at www.ejatt.org.
Its expected that
they will take apps for residential
this summer (likely around July) and for construction early fall
(around September, maybe even August). If you would like further
information you can also contact Melissa O'rourke via e-mail: morourke@cpusa.org.

Keep them coming!!!! In an effort to assist young
workers in finding decent-paying union jobs, Im requesting that anyone
who knows of job openings or apprenticeships, in all fields and across
the country, please forward that information to me
(laborupfront@cpusa.org).

To remove your name from our mailing list, please e-mail cp-labor-leave@cpusa.org

We're welcoming questions, comments and stories for our next
newsletter. Send them to us at laborupfront@cpusa.org
or call (773)
446-9920, ext. 212.
Comments