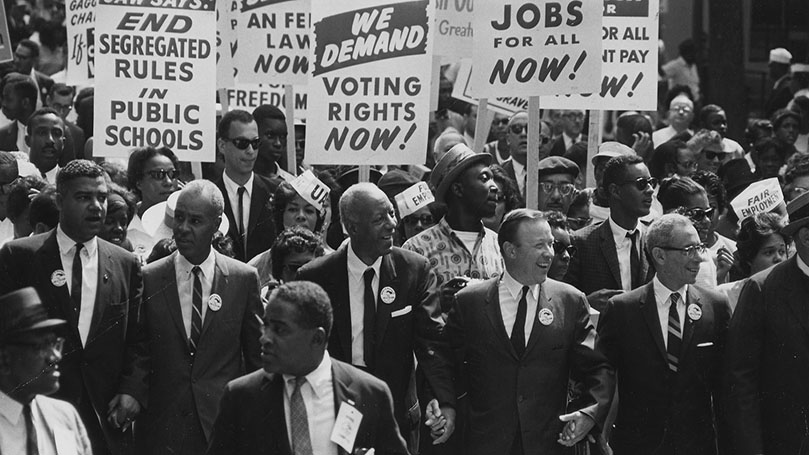 John Hope Franklin, the author of academic and popular works of African American history over six decades, lived to be 94. More than any other U.S. scholar, he advanced the study and teaching of African American history in U.S. universities in the second half of the twentieth century.
Franklin was born in Tulsa, Oklahoma, in 1915 in a remarkable area known as "Black Wall Street": a neighborhood of successful business and professional African Americans, with the highest per capital income of African Americans in the U.S. at the time. His father, Buck, was a prominent civil rights attorney of African American and Native American background, and a defender of African American and Native American rights.
Franklin was six years old when the Tulsa race massacre occurred. On May 31 and Jun 1, 1921, white mobs, including some who were "deputized" by police and local officials, burned and looted hundreds of buildings, murdered many African Americans, and destroyed the Greenwood district. Some observers compared the  "riot," for which no one was prosecuted, with the pogroms launched against Jewish ghettoes in the Czarist Russian empire with the collusion of Czarist police and officials1
Buck Franklin was known in Oklahoma for his defense of the land claims of African Americans and Native Americans against the oil companies which seized their lands. (Oklahoma had been the "Indian territory" to which Native Americans were forcibly removed under Andrew Jackson's genocidal "Indian Removal Act" before the Civil War. The discovery of oil later led to extensive "white" settlement and its gaining statehood.)
John Hope Franklin graduated from the segregated Booker T. Washington High School and then from Fiske University, a Black college, in 1935. Thanks to his own remarkable abilities and the work of a generation of pioneering scholars, especially W. E. B. Du Bois, he earned a PhD in history at Harvard University (1941), suffering many indignities at segregated research facilities as he began his lifelong journey to study African American history and "weave" it "into the fabric of American history . . . so that the story of the United States could be told adequately and fairly." In 1947, he published From Slavery to Freedom, a general history of African Americans which has gone through eight editions and sold over 3 million copies worldwide.
In many respects Franklin's life mirrored the struggles and achievements of the African American people, although he was spared the most recent abuses of the Trump administration. From 1947 to 1956, he taught at Howard University, the most prestigious Black university in the U.S. In the early 1950s he joined other African- merican scholars in providing research assistance to the NAACP's Legal Defense Fund as it developed the Supreme Court Case, Brown v. Board of Education, which declared school segregation to be unconstitutional.
In 1956, a year after the Montgomery Bus Boycott, he went to Brooklyn College, a tuition-free, integrated public college in New York, to become the chair of its all-white history department—the first African American to hold the chair of any history department outside African American universities, even though he faced discrimination as he sought to purchase a home.
Franklin was known for his kindness and generosity to colleagues and especially students of all backgrounds. He also was a consistent defender of civil liberties. David Levering Lewis, a former colleague of mine at Rutgers and the winner of two Pulitzer prizes for his biography of Du Bois, recalled that Franklin had defended Du Bois's right to think and write as he saw fit in the 1950s, the essence of academic and intellectual freedom, at a time when most figures in the arts, sciences, and professions were either hailing or remaining silent about the denial of such freedoms to advocates of Marxism, communism, or any point of view which could be linked to Marxism and communism.
In 1964, the year that the most important civil rights law of the 20th century was enacted, Franklin went to the elite University of Chicago, where he later became the history department chair. As the Civil Rights movement and scholarship into the experience of African Americans grew and re-enforced one another, Franklin served as president of the American Studies Association (1967), the Southern Historical Association (1970), the Organization of American Historians (1975), and the American Historical Association (1979). In 1980, the Carter administration appointed him to the U.S. delegation to the UNESCO General Conference at Belgrade, in what was then socialist Yugoslavia. In 1995, the Clinton administration awarded him the Medal of Freedom, the highest civilian award given by the U.S. government.
To use an analogy that I think he would have liked, Franklin was a kind of Jackie Robinson among U.S. historians, the first in so many areas to break down barriers of segregation and discrimination. There were other—and in one important instance—greater African American intellectuals and scholars (Du Bois), as there had been greater baseball players in the Negro leagues than Robinson, but they did not gain the access Franklin gained to the "mainstream" scholarship, government, and mass media.
Like Robinson, Franklin faced and prevailed over countless indignities and showed that scholarship—like sports teams— and society as a whole—would be better and more productive for all when there was integration and inclusion.
The honors mounted over the years—membership on presidential commissions, a research center named after him at Duke University where he spent his final years before formal retirement and then continued to be active as Professor Emeritus. But Franklin was never a token for a conservative or "liberal" establishment. He continued to write and lecture for the rest of his life, to seek to educate Americans and people everywhere on the history of African Americans and all other Americans, a history that he struggled to see fully merged through racial equality.
Franklin died on March 25, 2009, five months after witnessing the election of Barack Obama, whom he endorsed, to the presidency. Had he lived longer, Franklin would have written and spoken against the Tea Party Republicans who declared war on the Obama administration, and used his knowledge to expose and condemn their and Donald Trump's monstrous distortions of history as a cover for their assault on civil rights and civil liberties.
In his last years, Franklin strongly supported investigations by the state of Oklahoma into the 1921 "Tulsa Race Massacre," as the atrocity is now known. In 2010, a year after his death, a park commemorating the horror of the massacre in Tulsa was established and named "John Hope Reconciliation Park," although real reconciliation will only be possible with the eradication of systemic racism though the U.S.
The finest tribute to John Hope Franklin would be to continue that fight against systemic racism at both its economic foundation and its ideological expression and to read his accessible and insightful works of history. Americans of all ethnicities will learn much about both African Americans and themselves.
Note
1. Buck Franklin's previously unknown written eyewitness account of the massacre, a 10-page typewritten manuscript, was discovered and subsequently obtained by the Smithsonian's National Museum of African American History and Culture.
Recommended books
From Slavery to Freedom: A History of African Americans. 1st ed. New York: A. A. Knopf, 1947. Last update with Evelyn Brooks Higginbotham, 9th ed. McGraw-Hill Education, 2010.
Reconstruction after the Civil War. Chicago: University of Chicago Press, 1961. An early answer to the pro-Southern treatment of Reconstruction.
The Negro in Twentieth-Century America: A Reader on the Struggle for Civil Rights. By Franklin and Isadore Starr, New York: Vintage Books, 1967.
Color and Race. Boston: Houghton Mifflin, 1968.
Racial Equality in America. Chicago: University of Chicago Press, 1976. A significant historical analysis as the Civil Rights movement began to recede in the midst of the new stagflation economy.
Race and History: Selected Essays 1938–1988. Baton Rouge: Louisiana State University Press, 1989. Half a century of Franklin's essays on African Americans and their place in history.
The Color Line: Legacy for the Twenty-First Century. Columbia: University of Missouri Press, 1991. A significant work and warning about the persistence of racism and the need to understand it and eradicate it at the dawn of the 20th century.
My Life and an Era: The Autobiography of Buck Colbert Franklin. Edited by John Hope Franklin and John Whittington Franklin, Baton Rouge: Louisiana State University Press, 1997, 2000. Autobiography of Franklin's father.
Mirror to America: The Autobiography of John Hope Franklin. Farrar, Straus & Giroux, 2005.
Image:  Wikipedia (public domain).

Comments