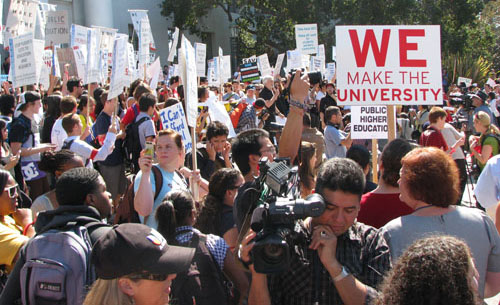 Peoplesworld.org has an opening for a full-time Campus Coordinator. The position is based in the People's World editorial office in Chicago. It will begin in late 2015.
Under the direction of the People's World Editorial Board, the Campus Coordinator is responsible for creating multi-media content forpeoplesworld.org, growing its network of student correspondents, readers and supporters and developing campus speaking opportunities for correspondents and news analysts.
Description of duties:
Working with Peoples World editorial collective, regularly produce written/graphic/video content for People's World (and its social media outlets) centered on issues of young people and the student movement.
Develop a network of young volunteers and activists on campuses, including community colleges, across the country to contribute topeoplesworld.org and the broader People Before Profits network which includes the Speak Progress Speakers Bureau.
Submit weekly work plans and monthly reports on activities.
Qualifications:
Strong writing ability. Journalism experience preferred; knowledge of social media strongly preferred.
Minimum of one year of experience in community, labor, or student organizing.
Demonstrated commitment to social justice and building progressive movements.
Demonstrated ability to work with diverse populations.
Friendly, outgoing personality with a willingness to "meet people where they're at." A strong ability to motivate people, coordinate volunteer activity and delegate responsibility.
Proficiency in word-processing, spreadsheets, email, online research, social media, etc. Basic knowledge of desktop publishing, WordPress, and Salsa are a plus.
Ability to work long hours and travel frequently.
Bi-lingual Spanish/English is desirable.
Fundraising experience is desirable.
Compensation and benefits: This is a full-time staff salaried position. We offer health benefits, a flexible health spending account, vacation, paid holidays, and 401k with employer contribution.
Peoplesworld.org is a daily news website offering news and analysis on the movements for the environment, jobs, peace, equality, democracy, civil rights and liberties, labor, immigrant, LGBTQ and women's rights, and socialism. The direct descendant of the Daily Worker, peoplesworld.org is part of the People Before Profit Network and enjoys a special relationship with the Communist Party USA . Peoplesworld.org and its Spanish language edition, Mundo Popular, are published by Long View Publishing, Inc.
People's World is a member of the International Labor Communications Association and is indexed in the Alternative Press Index. Staff members belong to The Newspaper Guild/CWA, AFL-CIO.
To apply, please send a resume and cover letter explaining why you would like to work at People's World to rwood@peoplesworld.org.
Comments