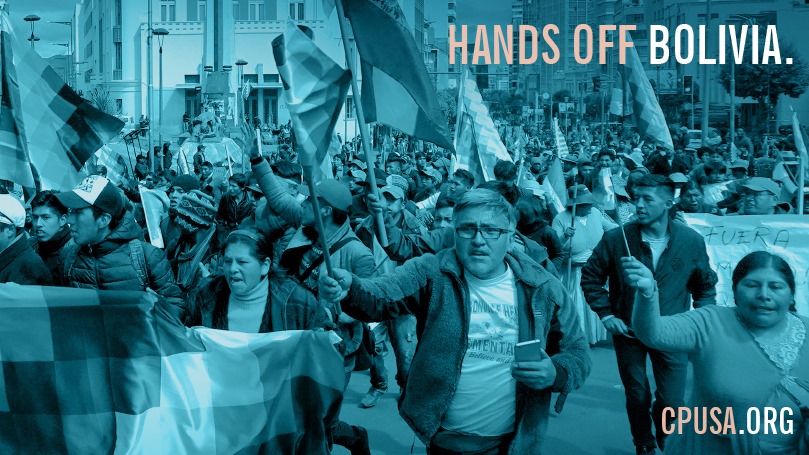 The following was reported to the November 15 CPUSA National Committee meeting by Henry Lowendorf, chair of the CPUSA Peace and Solidarity Collective.
Sequence of events:
This past week right-wing fanatics orchestrated a military coup against the constitutional government of Bolivia headed by Evo Morales. We should view this coup in light of previous U.S.-engineered coups in Bolivia, throughout Latin America and the world.
A presidential election held on October 20 gave President Evo Morales a substantial plurality, 47.1% of the vote, enough to forestall a runoff. Morales ran for his fourth term after the Bolivian Supreme Court overturned term limits.
The opposition along with the Trump administration and corporate media cried foul. The US-dominated Organization of American States (OAS) sent a team to examine the election results and without providing a shred of evidence declared them fraudulent.
Serious street violence ensued, in which police participated against the government. Initially the military stayed out. Morales offered to run a new election. But right-wingers torched the homes of Morales and other government leaders, destroyed government buildings, and assaulted a socialist female mayor. Then the generals demanded that Morales step down. He and some other leaders fled to Mexico, others took refuge in the Mexican embassy.
"Bolivian coup leader Luis Fernando Camacho [can be described] as a far-right multi-millionaire who arose from fascist movements in the [largely white, affluent fossil-fuel rich] Santa Cruz region, where the U.S. has encouraged separatism."
"Bolivia's self-proclaimed president Jeanine Áñez Chavez is on record as having said, 'I dream of a Bolivia free of satanic indigenous rites. The city is not for Indians; let them go back to the highlands or the Chaco'. Apart from everything, this was a racist coup."
Background:
Bolivia has been one of the poorest countries in South America. The election in 2006 of Morales began to change that. His government is of course not above criticism.
But the military deposed him without doubt at the instigation of the U.S. 1% not because of his failures but because of his successes.
Morales is the first indigenous leader of Bolivia—indeed any American state—a country whose majority is indigenous. Since Morales' first win in 2006,
"poverty plummeted from a boggling 60% to 35% by 2018, with those in extreme poverty declining from nearly 38% to 15% in the same period."
"Bolivia has seen per capita income increase threefold and has rapidly transitioned from a low-income country to a lower-middle-income country in the eyes of the World Bank. Inflation and the exchange rate have remained exceptionally stable. And all the while, Bolivia levels of inequality went from well above the Latin American average to well below it."
Morales "redistributed [land] to landless peasants. He placed the natural gas, oil, telecommunications and electricity industries under state control. And he continually raised the minimum wage, which has tripled since he entered office."
Morales "dramatically increased social spending. He poured money into building roads, schools, and hospitals, an expansion of infrastructure that was particularly transformative in the countryside."
Bolivia contains the world's largest reserves of the mineral lithium, which is used in electronics and batteries. Morales nationalized Bolivia's incredibly valuable lithium deposits. The rich despise the idea that the vast expected income from sales of lithium would under Morales be fairly distributed to benefit all Bolivians.
the corporate media have, as always, described this coup according to the perspective of the billionaires.
President Donald Trump has threatened Venezuela and Nicaragua with similar coups.
Resistance:
U.S., Brazilian, and international trade unions have denounced the coup and military interference in Bolivia, including National Nurses United, AFL-CIO president Richard Trumka, the Trade Union Confederation of the Americas (TUCA), the International Trade Union Confederation (ITUC), and the leader of Brazil's National Federation of Nurses (FNE). They urge an end to political repression and violence. Not long ago the AFL-CIO would have actively taken the other side of this issue.
Political leaders Bernie Sanders, Ilhan Omar, and Alexandria Ocasio-Cortez in the U.S. and Jeremy Corbyn in the UK have denounced the coup. Too many others are silent.
Emile Schepers has reported from the Spanish-language press: "Huge demonstrations in el Alto, La Paz [the capital], Cochabamba and other places, thousands and thousands of indigenous people in the streets proudly displaying the Wiphala [checkered rainbow flag]. Some police and military appear to have disobeyed their officers and joined the pro-Evo demonstrations.
"The Bolivian congress, in which Evo's MAS party has a two-thirds majority, is refusing to recognize the coup government. [It has] chosen one of [its] own to head the Congress.
"Four Cuban health workers have been arrested in El Alto, [an] indigenous city. Large numbers of indigenous people have been marching down from El Alto to La Paz to demand that the coup government resign."
Actions:
Join or create a vigil: Hands Off Bolivia; Hands Off Venezuela; Hands Off Nicaragua; Hands Off Cuba; No Sanctions, No Wars.
Letters to the editor or op-eds.
Utilize social media to call for the coup to be reversed and Morales safely reinstalled.
Phone/email/visit members of Congress to condemn this coup and demand a public investigation into the U.S. role.
Useful references:
"The Trump Administration Is Undercutting Democracy in Bolivia," The Nation
"Bolivia Coup Led by Christian Fascist Paramilitary Leader and Millionaire–with Foreign Support," The Gray Zone
Bolivia Does Not Exist: The 46th Newsletter (2019), TriContinental
"Bolivia Coup against Morales Opens Opportunity for Multinational Mining Companies," People's World
"Bolivia's Remarkable Socialist Success Story," The Nation
"The Bolivian Coup Is Not a Coup–Because US Wanted It to Happen," Fairness & Accuracy in Reporting
"AFL-CIO President Trumka and Other Union Leaders Condemn Bolivian Coup," People's World
Comments