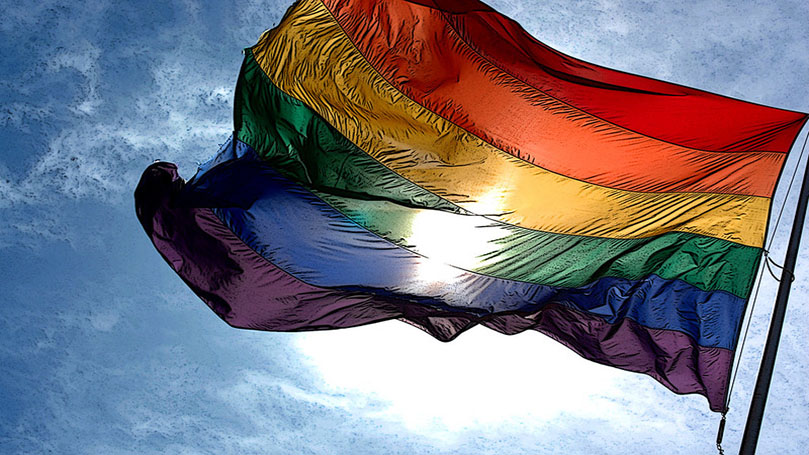 My queer Black life officially began in 10th grade when I sneaked away to gay youth meetings. In those days, lesbian and gay elders opened up their homes for us to meet because there were no such public places in the 1980s. We talked about the Gay Liberation Front, Daughters of Bilitis, and Harry Hay—names that grew in significance as I got older. Here are a few Gay Pride recommendations of movies and books that have meant the most to me.
Harry Hay kind of dominates the list, as he should. An aspiring actor turned labor organizer, Harry joined the Communist Party when his lover, Party member Will Geer (Grandpa from the TV show The Waltons) took him to help organize the 1934 San Francisco general strike. Harry went on to totally refurbish how we look at lesbians and gays. He's a hero. Former CPUSA member Bettina Aptheker, daughter of Herbert Aptheker, tells me she's spending her shelter-in-place time finishing a book on lesbians and gays in the Communist movement—Queering the History of the Communist Left. Rather than remain in the closet, Bettina left the Party in 1981.
June is Gay Pride month, marking the June 1969 rebellion at Stonewall. There was a time when gay pride parades were political marches, organized by political groups struggling for gay liberation. Then they became contested ground. You get a glimpse of this at the end one of my picks, Pride.
Fiction Films
Pride (2014, Amazon Prime). A sanitized version of the creation of Lesbians & Gays Support the Miners (LGSM) and Lesbians Against Pit Closures and their solidarity work with the 1984 Union of Mineworkers strike in Britain, but nonetheless engaging. Sanitized because the film only gives you some visual clues that these men and women were comrades with the Communist Party of Great Britain and the Young Communist League. In one scene when a lead character is introduced, a club goer yells "Commie!" at him. The film is a great tribute to how solidarity is supposed to work. In another scene taken from an actual documentary interview, Mark Ashton is asked why he's supporting miners who don't support gay rights. Ashton fires right back about how the miners dig the coal so they can have electricity. Ashton, a gay man and the lead organizer of LGSM, was also general secretary of the YCL.
Strawberries and Chocolate (1993, DVD). Directed by two Cubans, this film was a revolutionary moment in Cuban cinema where an openly gay character challenges the anti-gay prejudices of a young militant.
La Mission (2009, Amazon Prime). Set in San Francisco's Mission District, this film is the creation of the local San Francisco Bratt family. Peter Bratt is the director, actor Benjamin Bratt stars, and the family produced it. Bratt's character is an ex-con who discovers his son is gay and has to deal with his own machismo.
Longtime Companion (1990, DVD). Released when AIDS was often a death sentence, this is one of the first films to deal theatrically with the impact of the AIDS pandemicon the lesbian and gay community—and brave health-care professionals who cared for them.
And the Band Played On (1993, YouTube, Amazon Prime). Based on the nonfiction book by San Francisco Chronicle reporter Randy Shilts, this film dramatizes the appearance of the "gay cancer" that began to impact our community, the tug-of-war between U.S. and French researchers to claim discovery of the virus, and the mobilization of the community.
Documentaries
United in Anger: A History of ACT UP (2012, Amazon Prime). One of the best documentaries about how activists, like the late Larry Kramer, organized to found the AIDS Coalition to Unleash Power (ACT UP). The AIDS pandemic mobilized a disparate group of men and women, most with no medical experience or education, to save their lives by becoming experts on the medical research field, local and federal governments, and the health-care industry. The doc is full of amazing archival footage and interviews.
Tongues Untied (1989, YouTube). Black gay filmmaker Marlon Riggs's documentary short about sexuality and race. This film, like the works of artist Robert Mapplethorpe at the time, aroused attacks from the right (and silence from the left) because they had been partially funded by the National Endowment of the Arts (NEA). U.S. Sen. Jesse Helms led a crusade to defund the NEA and public television. The controversy widened the already apparent splits in the lesbian and gay movement, as mainstream "LGBT" groups were encouraged to shun these fringe works for more mainstream, hetero-friendly stuff.
We Were Here (2011, YouTube). Interviews with gay men looking back on their move to San Francisco, their expectations, and the AIDS pandemic.
How to Survive a Plague (2012, Amazon Prime). Like United in Anger, this is a documentary about how the AIDS pandemic mobilized a community.
Screaming Queens: The Riot at Compton's Cafeteria (2005, Amazon Prime). When San Francisco's Castro District was an Irish-Catholic, working-class neighborhood called Eureka Valley, the marginalized lesbian and gay community was centered mostly in the downtown Tenderloin District. This doc is about a group of transgender women who made a community, got beaten up, often had to hustle in the absence of labor rights, and, two years before Stonewall, staged a riot against police harassment.
Books/Literature
The first four works listed I might label "Queer Nation Readings" because they were introduced to me in one form or another when I joined Queer Nation/San Francisco in 1990. These were required readings not just because they were insightful, but the early organizers of Queer Nation were intentionally defying a trend where the voices of Third World women were obscured by white women. Grahn's book rounds out as a fourth but for different reasons.
Sister Outsider: Essays & Speeches by Audre Lorde (1984; Crossing Press, 2015). Without a doubt required reading for us in Queer Nation/San Francisco. The book is a compilation of her nonfiction works, most famously her "Master's Tools Will Never Dismantle the Master's House," which she gave as a lecture to an audience of mostly white feminists who sorely needed to hear it. There is also an essay about her trip to the USSR. Lorde, a Black lesbian poet, though not a known member of the Communist Party, was a communist who was blacklisted in the 1950s for her work defending Julius and Ethel Rosenberg. She moved to Mexico where she met many blacklisted Party members from Hollywood.
This Bridge Called My Back: Writings by Radical Women of Color by Cherrie Moraga and Gloria Anzaldua (1981; State University of New York Press, 2015). Like Sister Outsider, this was originally published by an all-women-of-color publisher, Kitchen Table Press, led by socialist Black lesbian Barbara Smith. The books came as a counternarrative to many of the second-wave white feminist works that overlooked the organizing of Latina, Indigenous, and Black radical feminists.
The Truth That Never Hurts: Writings on Race, Gender, and Freedom by Barbara Smith (1998; Rutgers University Press, 2000). Included in this collection is Smith's groundbreaking "Toward a Black Feminist Criticism," "We Must Always Bury Our Dead Twice: A Tribute to James Baldwin," her reflections on the Anita Hill–Clarence Thomas hearings, and the L.A. riots after the Simi Valley acquittal (erroneously called the "Rodney King verdict," and I don't know why people persist in this). Smith was also a founder of the Combahee River Collective, a Black feminist lesbian collective based in Boston.
Along with the contributions of Claudia Jones's "End to the Neglect of the Problems of the Negro Woman" and Angela Davis's "Reflection on the Black Woman's Role in the Community of Slaves," the Combahee River Collective Statement of 1979 must be seen as a continuation of the liberation struggle of radical Black women.
Another Mother Tongue: Gay Words, Gay Worlds by Judy Grahn (1985; Beacon Press, 1990). This is a self-described "sashay down the lavender trail" of lesbian and gay history and spirituality, from the ancients of indigenous societies to modern antagonism to gay culture. Grahn's book was embraced by us young queers as something that logically came from Harry's insistence that we were a people unto ourselves and not aspiring to be heteronormative. This book was an affirmation of this stance.
The Celluloid Closet: Homosexuality in the Movies by Vito Russo (book: 1981, Harper & Row, 1987; documentary: 1995, Amazon Prime). For me one of the two most impacting books/documentaries on film culture, along with James Baldwin's Devil Finds Work.
Works on Harry Hay

Hope along the Wind: The Life of Harry Hay (2005). This is Harry Hay's story in documentary form. I've seen only clips of this film, and what I've seen is fabulous. It tells the story of Harry Hay, who founded the first gay rights organization, the Mattachine Society, joined the Gay Liberation Front (Harry was kicked out of Mattachine for being a communist), and went on to found the Radical Faeries in 1979. Amazon Prime removed this video, and it is very hard to find.
The Trouble with Harry Hay: Founder of the Modern Gay Movement by Stuart Timmons (1990; White Crane Books, 2012, Kindle).
Radically Gay: Gay Liberation in the Words of Its Founder by Harry Hay and Will Roscoe (1996; Beacon Press, 1997).
"Harry Hay and the Quest for a Revolutionary Politics," paper presented by Bettina Aptheker, CUNY Graduate Center, September 2012. Unavailable in print or online, this paper will be part of Aptheker's forthcoming book.
Since writing Hay's biography, Roscoe has doubled down even more on what Bettina maintains in her CUNY presentation: that Harry may have left the Communist Party, but he remained until his death a dedicated Marxist. Drawing on his studies of Marx, Lenin, and Stalin, Hay insisted that we were a cultural minority due to our own liberation struggle. But his fierce, uncompromising principles got him into trouble with the wing of the "LGBT" movement that sought to assure heterosexuals not to fear us, that we were just like them. When Jesse Helms attacked the NEA, some in the lesbian/gay establishment conceded that some of the NEA-funded art, like Mapplethorpe's erotic photography, was questionable or over the top. Harry was right there cautioning the lesbian and gay organizations not to concede ground to Helms.
Image: Kevin Wong, Creative Commons (BY 2.0).
Comments