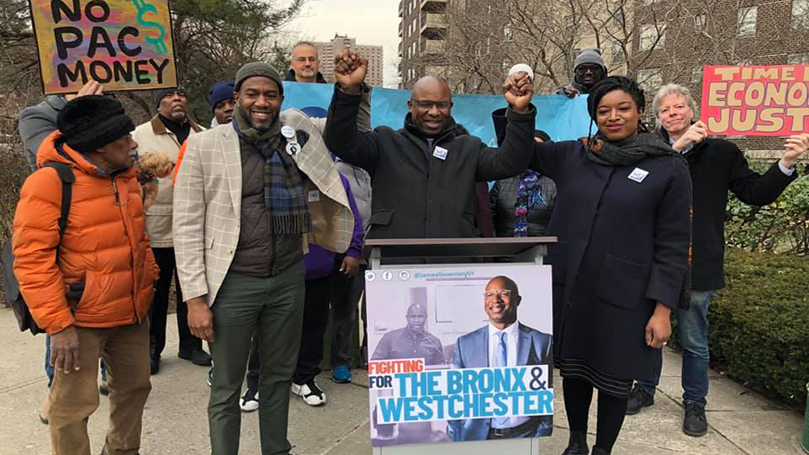 The Hon. Jamaal Bowman, newly elected representative of the 16th Congressional District, on the campaign trail.
This year's New York State Democratic primaries (June 23) occurred during one of the nation's most troubling times—in the midst of a spontaneous, nationwide outpouring of grief and anger set off by the release of video showing the police murder of George Floyd on May 30 in Minneapolis. This tragedy occurred after a rash of lynchings of people of color that was brushed aside by the judicial system. Meanwhile, a disproportionate number of people of color are incarcerated for non-violent criminal offenses. The primary had originally been set for April but had to be postponed because of the raging pandemic, which has taken a disproportionate toll on communities of color. It occurred while New York City faced the highest unemployment rate (25%) in the country because of the collapse of the tourist industry.
This year's primaries occurred two years after Alexandria Ocasio-Cortez, in the 2018 primaries, defeated the fourth-ranking Democratic leader in the House, Joseph Crowley, and after progressive candidates defeated seven of the eight members of the state Senate's Independent Democratic Conference (IDC). The IDC members essentially traded their votes, surrendering control of the Senate to Republicans in return for special dispensations, thereby denying Democrats their rightful control of that chamber (they did so, I might add, with the silent acquiescence of the Democrat governor, Andrew Cuomo). Thus for several years the Republicans were able to pigeonhole or kill outright every progressive piece of legislation adopted by the Democratic-led Assembly. By sweeping out the IDC, the Democrats gained control of the Senate and, along with the Assembly, adopted a series of progressive bills, including measures on rent regulations, criminal justice reforms, no-cash bail, and election reforms.
To provide some additional historical context, note must be made of the Occupy Wall Street movement, initiated in New York City during the Bloomberg administration; the economic crisis of 2008; and the fact that 19 counties in New York State that had given the edge to Obama in both 2008 and 2012 voted for Trump in 2016.
Why was Congressman Engel rejected?
In this political climate, historic upsets took place in this year's primaries across New York. What stands out is the defeat of a "liberal" congressman, Eliot Engel.
Engel's defeat certainly did not come from nowhere. Engel's loss was only one among many defeats of neoliberal Democrats. In the Bronx, as well as in numerous other districts in the state where Democrats constitute a plurality of registered voters, winning a primary is tantamount to victory in November. In the 15th congressional district (CD), in the South Bronx—probably the poorest CD in the nation and predominately Hispanic—a fierce battle among 12 candidates opened up for the House seat vacated by one of the most progressive members, Jose Serrano, who retired for health reasons. One of the candidates was a rabid reactionary, Ruben Diaz, Sr., a minister and City Council member who flaunted his anti-LGBTQ and anti-abortion positions and vigorously supported Trump. There was concern that the progressive candidates would split the anti-Diaz vote and thus allow his evangelical followers to give him that seat.
Fortunately, Ritchie Torres, a young gay Council member, made headway against the competition. Endorsed by the Congressional Hispanic Caucus, the New York Times, and a number of Hispanic newspapers, Torres, at the same time, amassed a sizable treasury. We all breathed a sigh of relief when he pulled ahead on primary night. Coming in second was William Blake, endorsed by the Congressional Black Caucus, followed by Diaz and then Samelys Lopez, who was endorsed by the DSA. Five weeks later, the Board of Elections declared Torres the winner.
In Westchester County, the House seat vacated by retiring Nita Lowey was won by a young progressive gay candidate, Mondaire Jones, who fended off the reactionary pharmaceutical millionaire Adam Schleifer by 41.6% to 16.6%
Despite these notable gains, the historic upset in 2020 that bested even AOC's victory was the thrashing, in the 16th CD, of Engel, the chair of the powerful Foreign Affairs Committee. He was defeated by a political unknown and former public school principal, Jamaal Bowman. Engel's political rise and fall is a classic example of how racism and opportunism corrupt. The son of a union ironworker, raised in public housing, and educated in the city's public schools, Engel became a public school teacher and union member. In the early 1970s he founded an insurgent Democratic club in Co-op City, the largest working-class housing cooperative sponsored by the Amalgamated Clothing Workers Union (since defunct). At that time, Co-op City was 70% white (mostly Jewish) and 20% people of color (as noted later, the demographics would change over the decades). After a turbulent 13-month rent strike in the community, Engel triumphed in his first political battle in 1977: running on the Liberal Party line, he defeated an entrenched Democrat and a Republican for a state Assembly seat.
Engel's progressive background
 Engel's neighbors and friends in Co-op City helped get him elected; together, we smashed the corrupt Democratic Party machine, some of whose members went to jail. In 1988 Engel challenged and defeated Representative Mario Biaggi, who was indicted for bribery and later jailed. So began Engel's 31 years in the House. Until 2020, he faced little if any challenge to his reelection. His progressive record was impressive. He received 100% ratings from the AFL-CIO, seniors, women's groups, and gun control advocates, among others. He was endorsed by a number of unions, including the AFL-CIO, AFT, UFT, NYSUT, the American Nurses Association, 1199, DC 37, Teamsters, and 32BJ, as well as by many of his colleagues in public office. He co-sponsored Medicare for All, the Green New Deal, the Dream Act, and the Payment Fairness Act. Robocalls were made on his behalf by James Clyburn, Bronx Borough president Ruben Diaz, Jr., Hillary Clinton, and speaker of the House, Nancy Pelosi. His campaign treasury was bloated with corporate contributions—he didn't bother to solicit small grassroots contributions. Flush with funding, he flooded the mail with glossy campaign posters.
The question is why, and how—despite an admirable progressive record—he was trounced by a political newcomer, in a matter of weeks, while everyone was cooped up at home because of the pandemic. Engel had two flies in his progressive ointment that sullied his record and, I argue, would finally bring his political life to an abrupt end. For one thing, he was beholden to his corporate donors, who buried him under tens of millions in contributions, so that he didn't need to appeal to his constituents for financial support and thus became alienated from them. And of course, he did their bidding, voting on many of their congressional bills. Second, since entering Congress, he linked his political interests to those of the American Israel Political Action Committee (AIPAC), a lobbyist front for that nation. He lent unwavering support to Israel, which has received $3.8 billion in military aid annually, but not once did he question or challenge Tel Aviv's brutal, racist anti-Palestinian policies and Israel's violation of the human rights of its neighbors. While we appreciated Engel's calls for peace during the Vietnam War, he apparently veered away from his progressive stand beyond the 1960s–70s. In 1991 he supported American unprovoked aggression against Iraq, under Bush I—we picketed his office at that time—and, under Bush II, he voted for the US invasion in 2003, with the blessing of the Israeli government. He approved every bloated military budget and opposed Obama's Iran nuclear agreement, with the blessing of Israeli Prime Minister Netanyahu. More recently, Engel circulated a letter, signed by 400 elected Democrats, that falsely justified an invasion of Iran.
During his tenure, Engel has repeatedly ignored the concerns of his constituency, such as jobs, lack of affordable housing, institutionalized racism, police misconduct, and the underfunding of public schools. In fact, he supported No Children Left Behind, the national pro-charter school program that would drain money from their public counterparts. He rarely convened town hall meetings with his constituents because, I believe, his foreign policies and his reliance on the corporate class became indefensible. When he did convene a meeting in our community, he was grilled for casting pro-war votes and for turning a blind eye to the atrocities committed by Israel against the Palestinians. In the mid-1990s, Engel and his family moved to Riverdale, a predominantly white, largely Jewish, higher-income enclave in the northwestern corner of the Bronx. Co-op City's demographics had drastically changed since he entered Congress, from 70% white/Jewish and 20% minority, to 60% African American, 30% Hispanic, and 20% Jewish. The significance of his relocation was not lost on his constituency—it was classic white flight.
When I ran into Bowman early this year, just after he had declared his candidacy, I cautioned him about his opponent's progressive record. However, I also shared with him what I perceived as Engel's reactionary and potential vulnerabilities—his war hawkishness in general and his unquestioning pro-Israel, anti-Palestinian positions. While acknowledging Engel's progressive record, Bowman was determined to challenge him on his egregious foreign policies and his failure to attend to the needs of the district. Raised in public housing and educated in the public schools, Bowman was drafted by Justice Democrats, an offshoot of Bernie Sanders's former campaign staff. The organization, led by a young woman, Alexandra Rojas, was committed to challenging Engel and electing a progressive candidate.
"Well, if that is so, then I guess I am a socialist," said Bowman.
The organization helped Bowman pull together a campaign strategy and a platform, raising funds by soliciting small individual contributions, refusing corporate donations, and reaching out for endorsers. Bowman called for a New Marshall Plan to invest in our cities, the nation's infrastructure, affordable housing, education, and similar progressive causes; he supports both Medicare for All and the Green New Deal, and wants Congress to create well-paying union jobs, end institutional racism, and overhaul the racist criminal justice system. He has rolled out a New Reconstruction program that includes reparations. When Bowman was interviewed on the radio, the host commented that much of Bowman's program was socialist. "Well, if that is so, then I guess I am a socialist," he conceded unapologetically. And after the victorious primary, he admitted that he had joined the DSA a year ago.
Bowman's challenge to Engel won him endorsements from Bernie Sanders and Alexandria Ocasio-Cortez; thus they rejected Engel even though he had co-sponsored their bills. The soon-to-be member of Congress also won the backing of the Sunrise Movement, which provided his campaign with scores of volunteers and who made over a million phone calls on his behalf. The endorsement of Bowman by the New York Times was a major blow to Engel. The list of Bowman's individual backers is impressive: they include Senator Elizabeth Warren; State Senators Alessandra Biaggi, Gustave Rivera, and Robert Jackson; NYC Public Advocate Jumaan Williams; City Comptroller Scott Stringer; Naomi Klein; and Jessie Ramos. His organizational endorsements included UAW, CSA, NYS Nurses Association, WFP, Move-On, NY Progressives, and Jewish Vote. His campaign raised over a million dollars in small donations. Record numbers of voters turned out on primary day. Overall, Bowman defeated Engel 55.38% to 40.55%, a 15% spread.
Engel's defeat: A victory for progressives and anti-Trump forces
In Co-op City, where Engel's political career began, he was defeated 2 to 1. He lost by every category, among youth, among seniors, even among Jewish voters in Riverdale. It is interesting that Nancy Pelosi endorsed Engel even though he was a co-sponsor of Medicare for All and the Green New Deal, two proposals she was critical of. I believe that his unwavering support of Israel and his votes for every war—key features of the centrist neoliberal Democratic position—helped lead to his loss. The defeat of Engel is a setback for centrist Democrats and a major setback for AIPAC and the reactionary Israel leadership.
A look in the rearview mirror might shed light on Engel's loss. President Lyndon Johnson successfully ushered through Congress the Civil Rights Act and the Medicaid bill, but these admirable domestic measures could not salvage his presidency. His expansion of the Vietnam War was, as he admitted, intended to please his donor class, but it brought his political downfall. The defining slogan that brought him down was "Hey, Hey, LBJ, how many kids did you kill today?"
And for a look to the future, we should note that, in the primaries, AOC and Julia Salazar turned back challenges to their candidacies for Congress and state Senate by overwhelming margins—suggesting that once elected, progressive legislators are likely to retain their seats. In several other races, new candidates of color and women, some of whom had declared themselves socialists, defeated incumbents. It has galvanized progressive forces and strengthened the forces to defeat Trump and elect Biden for president. These new political activists would surely work to keep a Biden presidency from doing the bidding of the military-industrial complex and from launching unprovoked wars and steer his administration in a progress trajectory. And in Albany they will press adoption of bills despite Cuomo's opposition to tax New York State millionaires and billionaires.
Adapted from a report made to the CPUSA National Board in June 2020.
Image:  Jamaal Bowman, Facebook.

Comments