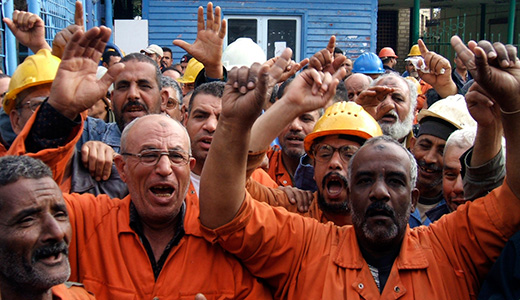 The Communist Party USA congratulates the people of Egypt for their great people's victory. After 18 days of popular protest led by the youth and joined by workers strikes and all sectors of society, you successfully toppled U.S.-backed dictator Hosni Mubarak.
We support you in your ongoing and just demands for a new democratic Egypt. The power of the masses in the streets will certainly ensure the transition to democratic civilian rule continues according to the demands of the people.
We are dedicated to helping fight for a new U.S. foreign policy and relationship with Egypt based on mutual respect, sovereignty, and peaceful development.
(Resolution passed at Feb. 13, 2011 National Committee meeting of the CPUSA.)
Photo: Suez Canal Company workers rally as they began an open-ended strike in front of the company's headquarters in Ismailia City, Egypt, Wednesday, Feb. 9. Workers demanded the resignation of their immediate boss Admiral Ahmed Fadel, the chairman of the Suez Canal Authority. They also demanded a pay increase and social equality. (AP Photo)

Comments