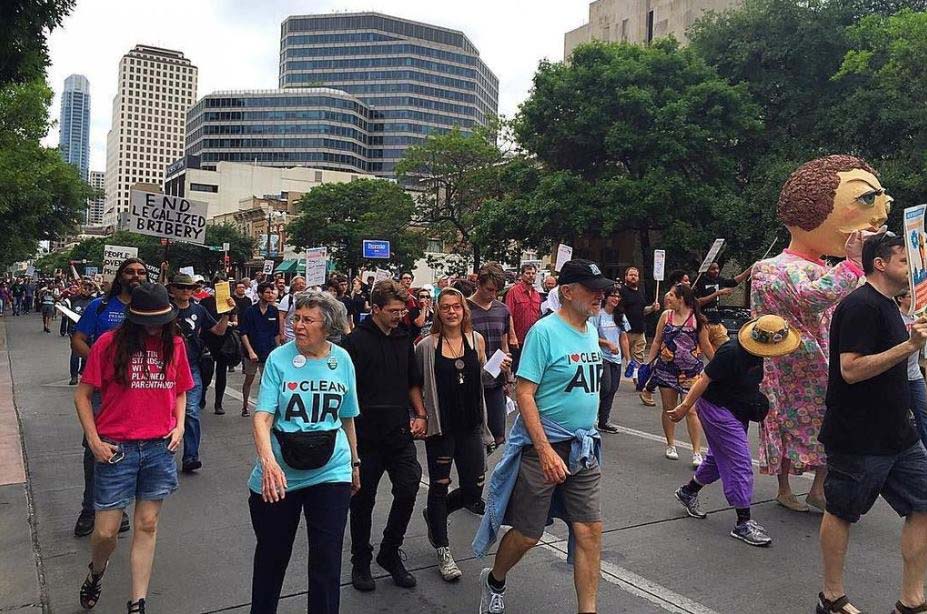 Five members of the north east Baltimore Club, CPUSA joined with other Baltimore activists on Sunday, April 17, hopping the early-morning Marc train to DC for the "Democracy Awakening" rally and march which capped a week of "Democracy Spring" events in the nation's capital.
The CPUSA was one of 300 groups endorsing the events of the week which included teach-ins, lobbying and 650 arrests for sitting on the steps of the US Capitol.
Once in DC the Baltimore group headed for the rally site facing the US Capitol building and joined 5,000 other protestors to hear such speakers as the Reverend William Barber II, of Moral Monday fame and to enjoy the music of the renown acapella group, Sweet Honey in the Rock.
The Baltimore CP members met up with members from other districts from as far away as Chicago and Connecticut and helped hold the attractive CPUSA banner which the Connecticut District contributed.  There was lots of interest in the banner, the Communist Party and in the pamphlet "A Handy Guide to Capitalism, Socialism and Democracy" which the comrades distributed to the crowd.
The spirited march began, and the CP was in the thick of it, up the hill past the Capitol and then north past the Supreme Court building which lent special meaning to the three demands of the march:  protect voting rights, get big money out of politics and bring an up or down vote on President Obama's Supreme Court nominee.
At the end of the day the tired Baltimore comrades met up with the other Baltimoreans on the Marc train home, exchanged impressions of the day and contact information and snacks, and agreed with the vow of Democracy Spring/Awakening organizers: "This is only the beginning."
"A Handy Guide to Capitalism, Socialism and Democracy" is available by writing to its author, Rick Nagin, at ricknagin1@yahoo.com.
Comments